Yankees' Judge breaks homer record
SQUEAKY CLEAN: Although Maris' record had been beaten before, all were tainted by the stench of steroids, with many fans rejecting records set by Bonds, McGwire and Sosa
Aaron Judge on Tuesday took a smooth, mighty swing, then broke into a big smile as he trotted around the bases. Heading home, his teammates backed away, letting him touch the plate alone.
At last, the New York Yankees slugger had the American League home run record all to himself.
Judge's 62nd home run of the season breaks Roger Maris' American League record and set what some fans consider baseball's "clean" standard.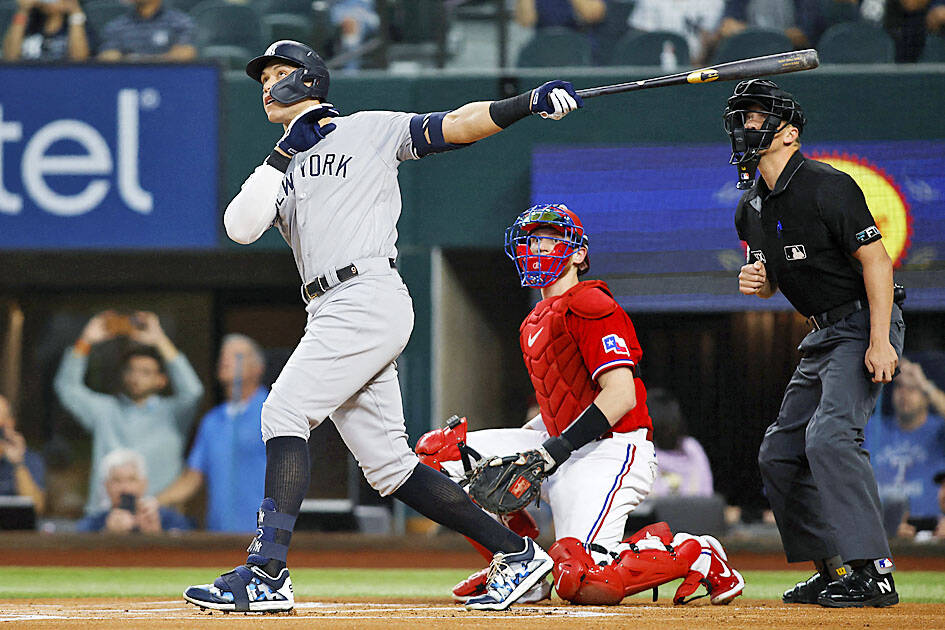 The New York Yankees' Aaron Judge hits his 62nd home run of the season to break the American League record during their MLB game against the Texas Rangers in Arlington, Texas, on Tuesday.
Photo: Tim Heitman-USA TODAY
"It's a big relief," Judge said. "Everybody can finally sit down in their seats and watch the ballgame. It's been a fun ride so far, getting a chance to do this... Getting a chance to have your name next to someone as great as Roger Maris and Babe Ruth and those guys is incredible."
Judge said he felt "quite a few emotions" after connecting, thinking about his family and fans and supporters. He said it would probably be after the season until he would truly soak in and appreciate the significance of his achievement.
"In my book, it's just another day," the stoic Judge said.
After slamming his helmet in a rare show of frustration when he went without a homer in the first game of the doubleheader against the Rangers in Texas, Judge hit the third pitch of the nightcap into the first row of seats in left field.
That trip around the bases after a long chase was certainly a mixture of pure joy and relief for No. 99, whose only homer in the previous 13 games had been when he tied Maris' 61 on Wednesday last week away against the Toronto Blue Jays.
Judge did it just in time, too, homering on the next-to-last day of the regular season.
Barry Bonds holds the major league record of 73 home runs, set with the San Francisco Giants in 2001.
Judge's milestone ball was caught by Cory Youmans of Dallas, who was sitting in Section 31. When asked what he was going to do with the ball while being taken away with security to have it authenticated, Youmans responded: "Good question. I haven't thought about it."
After the Yankees 3-2 loss, Judge said he did not have possession of the home-run ball.
"I don't know where it's at," he said. "We'll see what happens with that. It would be great to get it back, but that's a souvenir for a fan. He made a great catch out there, and they've got every right to it."
Maris' 61 for the Yankees had been exceeded six times previously, but all were tainted by the stench of steroids. Along with Bonds' record, Mark McGwire hit 70 for the St Louis Cardinals in 1998 and 65 the following year. Sammy Sosa had 66, 65 and 63 for the Chicago Cubs during a four-season span starting in 1998.
McGwire admitted using banned steroids, while Bonds and Sosa denied knowingly using performing-enhancing drugs. The MLB started testing with penalties for drugs in 2004, and some fans — perhaps many — until now have considered Maris as holder of the legitimate record.
The Maris family was not in Texas after following Judge around for a while, but Roger Maris Jr congratulated him on Twitter.
"You are all class and someone who should be revered," he wrote. "For the MAJORITY of the fans, we can now celebrate a new CLEAN HOME RUN KING!!"
Comments will be moderated. Keep comments relevant to the article. Remarks containing abusive and obscene language, personal attacks of any kind or promotion will be removed and the user banned. Final decision will be at the discretion of the Taipei Times.