Taiwan head to U-18 baseball final
Defending champions and world No. 2 Taiwan on Saturday blanked the Netherlands 3-0 to advance to the WBSC U-18 Baseball World Cup final in Bradenton, Florida.
Taiwan starter Lin Shao-en pitched five scoreless innings, striking out six while giving up two hits and three walks at LECOM Park to help his team clinch a 4-1 record and secure a spot in yesterday's final.
Lin, who had pitched 11.2 innings in the tournament with no runs, was credited with the win. Reliever Wu Yu-cheng also left no chance to the Netherlands, pitching two perfect innings and striking out four of six batters.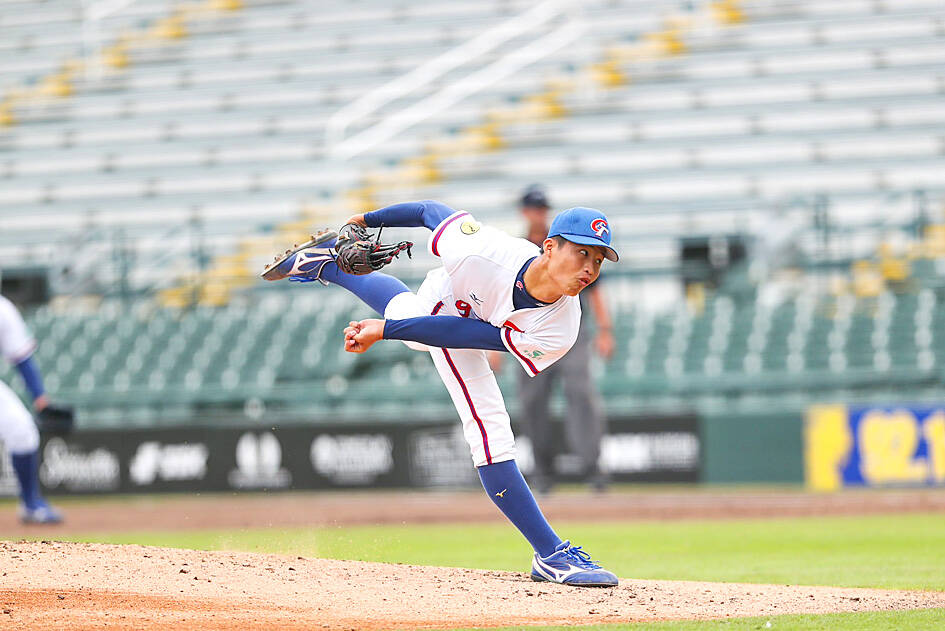 Taiwan's Lin Shao-en pitches during their WBSC U-18 Baseball World Cup game against the Netherlands in Bradenton, Florida, on Saturday.
Photo courtesy of the CTBA via CNA
Taiwan took control in the first inning, with right fielder Chen Chih-yu scoring after a single by center fielder Lin Chia-wei through the middle of the diamond.
Both sides remained scoreless for the next four innings before Taiwan capped the scoreboard with two more runs in the sixth thanks to an RBI double off pinch hitter Huang Yung-chuan, who singled to left field, sending first baseman Wang Nian-hao and designated hitter Sun Yi-lei into home.
Taiwan and South Korea are tied for first place, and the US could join them atop the standings with a win over Japan in their rain-delayed game, necessitating a Team Quality Balance assessment to determine the second finalist.
A Team Quality Balance calculation already determined that Taiwan qualified for the final.
Japan on Saturday was leading the US 3-2 in the third inning, when play was suspended. The final was to be played 40 minutes after that game finishes at Ed Smith Stadium in Sarasota, Florida.
Taiwan was to play for the U-18 title for the 12th time, having previously won three golds and eight silvers. It won the title in their two previous finals, against the US in 2019 and Australia in 2010.
Comments will be moderated. Keep comments relevant to the article. Remarks containing abusive and obscene language, personal attacks of any kind or promotion will be removed and the user banned. Final decision will be at the discretion of the Taipei Times.