Kaohsiung Aquas drop Herobears in thrilling T1 opener
The Kaohsiung Aquas on Saturday rallied in the final minute of the T1 League opener to edge the Taiwan Beer Herobears 107-106 in a nail-biter in Taipei.
The game at the University of Taipei's Tianmu campus gymnasium was the opener of the new six-team league's inaugural season. The 3,456 fans in attendance, about 80 percent of capacity, were treated to a game of huge swings decided in its final seconds.
The Herobears were up by four with less than 90 seconds remaining, when the Aquas' Filipino-American guard Jason Brickman nailed a three-pointer to narrow the deficit to 104-103.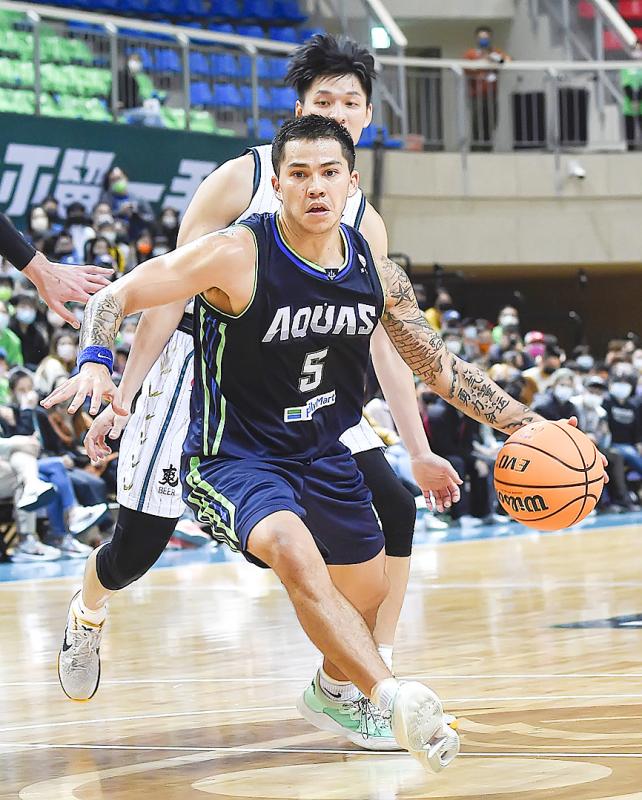 The Kaohsiung Aquas' Jason Brickman dribbles during their T1 League game against the Taiwan Beer Herobears on Saturday in Taipei.
Photo:Chen Chih-chu, Taipei Times
A lay-up by Herobears captain Chiang Yu-an widened the lead to three, but American Ferrakohn Hall pulled the Aquas even at 106 with a bomb from behind the arc.
With 10 seconds left, Brickman drew the defense toward him before dishing the ball to Lithuanian Mindaugas Kupsas, who was fouled while taking a shot. Kupsas sank the first free-throw, but missed the second, giving the Aquas a 107-106 lead.
The Herobears grabbed the rebound, but missed a desperation shot just before the buzzer.
Herobears center Diamond Stone of the US led all scorers with 44 points and also snagged 13 rebounds.
Brickman, known for his passing and playmaking ability, led with eight assists.
Aquas head coach Brendan Joyce, the former head coach of the Australian Opals, said he was happy with the win and how the team's plans came together.
"We talked about having to play to the last possession before the game, and it came down to that, so I'm very happy for the players," Joyce said. "It's our first win, but it's only the beginning."
The Herobears had sped off to a 14-point lead after the first quarter, but found themselves down by 10 after a disastrous third quarter in which they only scored 11 points.
They came back and gave themselves a shot to win in the final minutes before the Aquas rallied.
In the league's second game, the Herobears on Saturday face the CTBC DEA in New Taipei City.
The T1 League is one of two professional basketball leagues in Taiwan, along with the P.League+, which starts on Saturday in Taipei.
Comments will be moderated. Keep comments relevant to the article. Remarks containing abusive and obscene language, personal attacks of any kind or promotion will be removed and the user banned. Final decision will be at the discretion of the Taipei Times.