Failed ski resort looms over Pyeongchang's legacy
Only an hour's drive from the Winter Olympics venues in South Korea, a stained mattress lies in an abandoned ski resort, a possible harbinger of the gleaming new facilities' fate.
The Alps Ski Resort was one of the nation's first winter sports destinations, attracting tens of thousands of skiers every year until it abruptly shut its doors in 2006.
South Korea has spent US$800 million on the sporting facilities for next month's Winter Olympics, but the International Olympic Committee has expressed concern over the absence of future plans for several of them, saying the Games' legacy should be addressed "as a priority."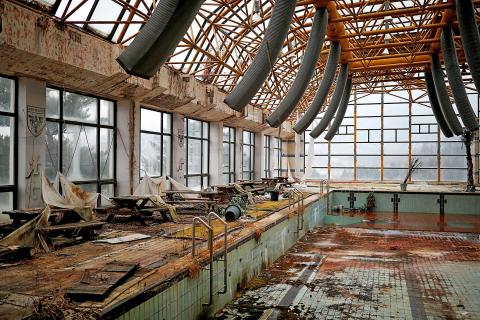 A ruined swimming pool at the abandoned Alps Ski Resort in Goseong, South Korea, is pictured on Tuesday.
Photo: Reuters
The remains of the former holiday destination in Heul-ri — a tiny settlement of around 250 people in the country's far northeast — are not a good sign. Aged, fading buildings stand below unweeded slopes, where a few bright red chairlifts dangle lifelessly from the cables.
The villagers are bitter.
"It's completely in ruins," said Oh Geum-sik, who used to run a ski rental shop next to the resort. "All the businesses are practically dead."
At an altitude of 1,052m, the resort boasted the heaviest natural snowfall in South Korea, with skiers coming to the village long before the facility opened in the 1980s, laboriously trudging up the slopes to enjoy a brief downhill thrill.
A handful of elite athletes grew up with its abundant snow, among them Jung Dong-hyun, who will compete for South Korea in alpine skiing in neighboring Pyeongchang.
Villagers say that in the resort's heyday, cars lined the streets every weekend as skiers from as far as China and Southeast Asia packed its eight pistes, with about 30 percent of customers foreigners.
However, its owner went bankrupt in the face of increased competition from more accessible rivals with newer facilities, an official at the Goseong County office said.
Heul-ri was left in disarray.
"The closure has cost me probably about 700 million won [US$654,500]," said Koo Jae-kwan, who moved to the village 16 years ago to open an inn and a ski rental shop.
Now a rusty clock tower looms over the disused resort, its hands permanently pointing to 6:50 in the bright midday light, and three guard dogs bark furiously at the sight of a rare visitor.
A grubby mattress greets visitors in the lobby and a faded banner promising that "customer satisfaction begins now" droops loosely above a dried-up swimming pool.
On the wall of a hollow banquet hall hangs a painting of the bustling resort in its prime and dead plants lie on the dirty floor, wrapped with holiday decorations from more than 10 Christmases ago.
South Korean winter sports destinations have to contend with short slopes, sometimes brutally cold temperatures, and intense competition from Japan, and an official at the Korea Ski Resort Business Association said that most are struggling.
"There has been a drop in the number of visitors and a number of ski resorts have closed," he said.
Beijing last year banned group tours to the country in a row over the deployment of a US missile defense system, crippling its biggest market.
"What will happen after the Pyeongchang Olympics is worrisome," the official added. "Right now, there are a lot of government-led efforts to create a ski boom ahead of the Olympics, but even now, that hasn't really helped with reviving the ski industry and that will all come to a stop after the Olympics."
Attempts to reopen the Heul-ri resort with new funding have come to naught. The latest plan from Korean investor Alps Seven Resort promised 80 billion won to renovate the existing slopes and condos, and build more accommodation plus a theme park, a government document showed.
However, it failed to meet the deadline for payments and the scheme was scrapped.
Alps Seven Resort could not be reached for comment.
If it had gone ahead, the renovated facility would have opened for business last month, just in time for the Games.
"Maybe one of the ski competitions could have taken place here," Heul-ri village chief Shin Dong-gil said, adding that the resort's 500 rooms could have been a welcome additional accommodation option for Olympic visitors.
Instead, sacks of concrete are piled in the buildings.
Oh now farms bell peppers for a living, but still has his 250 sets of ski equipment, hoping that one day he might be able to rent them out again.
However, like springtime snow, the villagers' expectations for the resort are steadily melting away.
"I don't think it will ever reopen," said Koo, who has also mothballed his kit — and his guesthouse. "It's that 1 percent of hope — that's the only thing I'm holding on to."
Comments will be moderated. Keep comments relevant to the article. Remarks containing abusive and obscene language, personal attacks of any kind or promotion will be removed and the user banned. Final decision will be at the discretion of the Taipei Times.