South Korea naturalizes athletes for Olympics
What does it mean to represent your country at the Olympics? For Brock Radunske, the question has some nuance given the towering, blond-haired Canadian will be suiting up for South Korea at the Winter Games.
The ice hockey forward is one of 16 foreign athletes granted South Korean citizenship ahead of February's the Games in Pyeongchang, South Korea, under changes to the nation's immigration laws that came into effect in 2011.
The changes were aimed at boosting competitiveness in sectors such as sport, science and the economy, the South Korean Ministry of Justice said.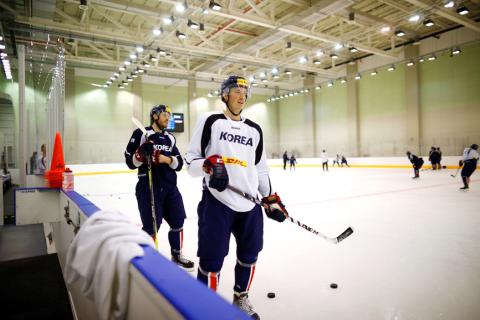 Naturalized athletes on the South Korean ice hockey team Brock Radunske, right, and Alex Plante on Dec. 1 attend a training session in Jincheon, South Korea.
Photo: Reuters
The key point was that dual citizenship was now an option for those deemed to have "outstanding ability" who could "contribute to the national interest."
The first athlete without any Korean lineage ever to be naturalized, Radunske said it was an "honor" to be chosen for Team Korea, but that being able to retain his Canadian passport had been a key factor in his decision.
"I grew up in Canada and I'm proud to be a Canadian, and in a sense I'm representing Canada too ... when I'm playing for Team Korea," the 34-year-old said. "I'm proud to have lived in both countries, so when I'm on the ice I'm going to do everything I can for Team Korea."
Radunske has played professional ice hockey in South Korea since 2008, when he became the tallest player ever to sign for Anyang Halla. The signing was hugely popular with female fans, who fawned over his imposing 1.96m frame and good looks.
However, their nickname for him appears to have got lost in translation, with Radunske unlikely to encourage the use of "Canadian Big Beauty" after retiring.
A third-round draft pick by the Edmonton Oilers in 2002, Radunske never made it to the NHL and representing Olympic champions Canada was always out of reach.
South Korea was therefore an attractive option, but becoming a citizen of one of the world's least ethnically diverse countries was no easy task. Radunske had to pass a battery of tests, including of his Korean-language skills and knowledge of local culture and history.
His fellow Ontario native Matt Dalton also came through the notoriously difficult process and said his decision to take on citizenship had caused some confusion back home.
"Being in Canada, some people didn't even know where Korea was," the goaltender said. "And some people were asking, they thought I was representing North Korea, they just didn't know the difference."
At a tournament in Russia earlier this month, Dalton said he had conflicting emotions during the playing of the anthems when South Korea took on Canada — as they will in their final group game in Pyeongchang.
"When O Canada was going on, it was special, but it was definitely a little awkward," he told Yonhap news agency. "I didn't sleep very well that day."
South Korea will have seven naturalized players on their men's ice hockey team and forward Park Woo-sang said his teammates had proved their worth on the ice as well as their love for South Korea off it.
"We don't think of them as naturalized players, we think of them as Korean players," he said. "You could say they are foreigners that love Korea more than Koreans themselves."
With about 100 registered professionals in the nation, South Korea needed all the help they could get just to secure an Olympic spot in a sport where the hosts are not guaranteed a berth.
Previous hosts have also relied heavily on foreign-born players to bolster their ice hockey squads.
In 1998, Japan's "Seven Samurai" featured six Canadians and a Swede, while Italy had nine Canadian and two US-born players in their 2006 squad.
South Korea also has naturalized athletes in women's ice hockey, figure skating, luge, biathlon and skiing set to compete in Pyeongchang, but not everyone is on board with the policy.
Hanyang University Sports Industry Department professor Roger Park said the practice could run counter to Olympic ideals.
"In most cases, [they] maintain their original citizenship and go back to their original country after the Games," he said. "If they gain citizenship here solely to compete and earn a lot of money, it's also against the Olympic spirit."
"If these foreign athletes do not have any attachment for or relation to South Korea, what is the point of them competing for the national team? If they leave South Korea after winning medals, can we still consider those medals earned by South Korean athletes?" he asked.
Several South Korean sports federations said that naturalized athletes were offered greater financial support than locals, but declined to elaborate on figures.
An official from the Korea Biathlon Union, which has four Russian-born athletes on its roster, said such athletes were in high demand.
"Internationally there is a kind of competition going on to attract athletes who are willing to be naturalized," said the official, who did not wish to be identified.
However, ice hockey association media officer Kim Jung-min said no financial package was needed to persuade the players to take on dual citizenship, as they were already playing on professional contracts.
Kim also rejected the notion that South Korea was trying to "buy" a medal.
"Clinching qualification was our goal, because that is still such a big thing for us," he said. "Getting a medal at the Olympics is simply beyond our reach."
Comments will be moderated. Keep comments relevant to the article. Remarks containing abusive and obscene language, personal attacks of any kind or promotion will be removed and the user banned. Final decision will be at the discretion of the Taipei Times.