Taipei Universiade: Hsu Kai-kuei ends wushu career with gold
Martial artist Hsu Kai-kuei yesterday added another gold to the nation's medal count at the Taipei Summer Universiade with an unshakable performance in the wushu men's combined taolu.
Hsu stepped onto the floor for his nanquan routine in good position, having secured first place in Sunday's nangun competition with a score of 9.62.
Hsu's solid stances and fluid transitions in the vigorous "southern fist" style earned him a score of 9.56, behind only Huang Junhua of Macau with 9.57.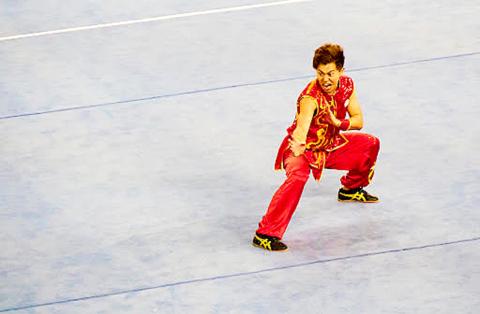 Taiwan's Hsu Kai-kuei strikes a pose during his nanquan set at the Taipei Summer Universiade men's combined taolu finals at the Hsinchu County Gymnasium yesterday.
Photo: Kayleigh Madjar, Taipei Times
However, the combination of the two scores was enough to put him ahead of his 11 competitors and secure a place on top of the podium.
Despite a strong showing by Huang yesterday, he failed to make the top three, coming in fifth overall after Sunday's eighth-place finish.
"I will never forget this day," Hsu said at a news conference after the competition.
The win was especially meaningful for the 26-year-old, as it is to be his last.
He said that with the victory, he can write a perfect ending to his wushu story.
He plans to teach and promote wushu, Hsu said, adding that he hopes to someday coach Taiwan's national team to win medals.
Yesterday's match was the end of a career spanning from junior-high school, when he started practicing wushu after dabbling in karate and swimming in elementary school.
He grew up in his family's temple watching dintao — a traditional Taiwanese form of temple performance — which inspired his taolu practice, he said.
Wushu taolu is an "overwhelmingly" rigid disciple, but he wanted to incorporate a bit of the dintao he grew up watching, Hsu said, adding that he feels happy that he was able to put a bit of Taiwanese culture into the sport.
He had many words of thanks for his family, who he said have supported him from the beginning.
"Especially this past year, he was always coming and going," his father said, adding that his son has sacrificed many summer and winter vacations to practice.
To show his appreciation, Hsu draped his medal around his father's neck to beaming smiles from each.
In other wushu events yesterday morning, Macau and China continued their dominance, with Cai Liuyan and Li Mengnan of China and Li Yi of Macau snagging gold in their respective taolu events.
The sanda events were scheduled for the afternoon, featuring an anticipated matchup between Lin Yi-ju of Taiwan and Jiang Xianting of China.
Jiang proved victorious in the end, defeating Lin 2-0 in the women's sanda 60kg final.
Iran had a strong showing in the other matchups, with Jafar Shirzadeh Topraghlo defeating Ruslan Libirov of Kazakstan 2-0, and Hamid Reza Ladvar downing Li Shengnan of China 2-0.
Comments will be moderated. Keep comments relevant to the article. Remarks containing abusive and obscene language, personal attacks of any kind or promotion will be removed and the user banned. Final decision will be at the discretion of the Taipei Times.