Russia rout Taiwan 4-1 in Fed Cup
MOSCOW MAULING: Chang Kai-chen and Lee Ya-hsuan both lost in straight sets in the singles, before the Taiwan team's miserable day was completed by a doubles defeat
Russia crushed Taiwan 4-1 in their Fed Cup World Group II tie at the Druzhba Arena in Moscow on Sunday, ending a three-match losing streak and advancing to the World Group playoffs in April.
Ekaterina Makarova defeated Chang Kai-chen 6-4, 7-5 in the first reverse singles rubber to give the hosts a 2-1 lead, before debutant Natalia Vikhlyantseva — who replaced Anna Blinkova — crushed Lee Ya-hsuan 6-1, 6-2 in just 58 minutes.
The visitors miserable day in Moscow was complete when Blinkova and Anna Kalinskaya beat Chan Chin-wei and Hsu Ching-wen 6-3, 7-5 in the doubles rubber.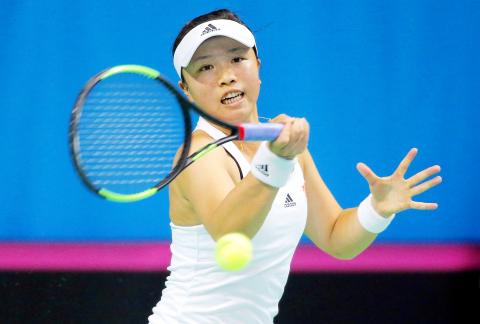 Taiwan's Lee Ya-hsuan returns to Natalia Vikhlyantseva of Russia in their Fed Cup World Group II reverse singles rubber at the Druzhba Arena in Moscow on Sunday.
Photo: EPA
It could have been so different if Chang had managed to take her chances.
The Taiwanese was the first to break serve in the first set to take a 4-2 lead, before Makarova fed off the energy of the crowd to win four straight games and claim the set.
Chang broke first again in the second set and held a 5-2 lead, before Makarova dug deep to win five straight games and claim the win.
Makarova admitted she had needed the inspiration provided by Russia captain Anastasia Myskina to help her pull the match around.
"When it was 4-2, then 5-2 then I just told Nastya [Myskina] I was so tired, I don't know what to do now," Makarova told the Fed Cup Web site. "She told me it doesn't matter what the score [is], let's fight, we can. I won the first set when I was down 4-2, then I stand up, and I felt a little bit more relaxed and more powerful, and I just started to hit the ball and it started working out."
The home crowd also helped, the Russian said.
"They [the crowd] were helping so much … this stadium, it's so compact and you feel it when they are really clapping and screaming, because some other times it looks like they are clapping, but you don't hear it at all," she said.
Comments will be moderated. Keep comments relevant to the article. Remarks containing abusive and obscene language, personal attacks of any kind or promotion will be removed and the user banned. Final decision will be at the discretion of the Taipei Times.