Tsai Wei takes dunk title, All-Star Game ends in tie
Fubon Braves forward Tsai Wei, a last-minute replacement, yesterday beat out tough competition to win the Super Basketball League's (SBL) All-Star Game slam dunk contest at New Taipei City's Sinjhuang Gymnasium.
Tsai thanked Fubon teammate Joseph Lin, younger brother of injury-plagued Jeremy Lin of the NBA's Brooklyn Nets, for serving balls courtside during the competition.
Winning on points from successful tries, including a high-flying one-handed dunk and a reverse jam, 1.9m Tsai defeated Pauian Archiland forward Wang Lu-chih in the event's final.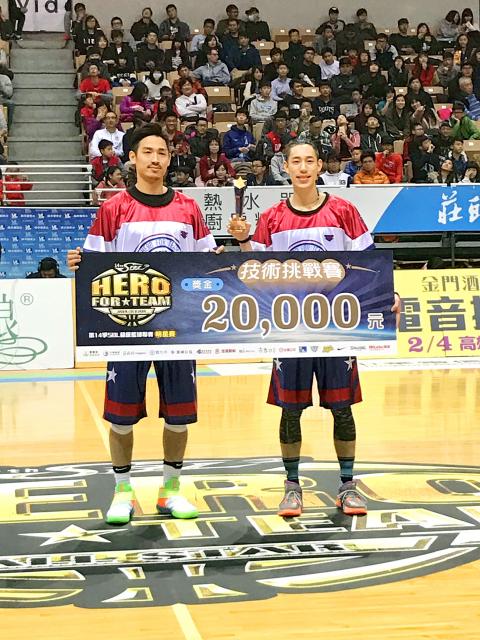 The Fubon Braves' Tsai Wei, left, and teammate Joseph Lin hold up an award and trophy after Tsai won the Super Basketball League All-Star Game dunk contest at the Sinjhuang Gymnasium in New Taipei City yesterday.
Photo: CNA
Tsai collected NT$20,000 in award money and was crowned Slam Dunk Champion, which surprised even his coach and Fubon teammates.
He did not plan on entering the contest, but was persuaded at the last minute to replace Taiwanese-American T.J. Burke, who was injured in training on Friday.
In the first round of the competition, Tsai and Wang eliminated challengers Kuo Shao-chieh of Bank of Taiwan and Huang Tsung-han of Taiwan Beer respectively.
"Most people, myself included, thought Kuo Shao-chieh had the best chance to win it, because he has good skills," Tsai said.
"I had been practicing some trick shots, so today I thought I would push my limits and tried for a couple of high-flying slam dunks. T.J. Burke helped me with ideas on shots for the win," he said.
"I would also like to thank Joseph Lin for serving me up some good balls," Tsai added.
In the three-pointer competition, Taiwan Beer forward Yu Huan-ya defended his title from last year, coming out on top of a field of 12 marksmen.
Yu's victory was only the second time in SBL history that one player has won consecutive titles for three-point shooting, following Lee Hsueh-lin in the third and fourth SBL seasons.
Yu clinched the title by hitting the net for 18 points in the first round and 20 points in the second round, the best overall among all contestants.
In the All-Star Game, US import Eugene Phelps of Kinmen Kaoliang outshined all other scorers with 43 points and was voted the game's Most Valuable Player, as the Red and White teams battled to a 123-123 draw.
Red Team captain Sim Bhullar of Canada thrilled the crowd with an alley-oop dunk and an outside shot for three points in the first quarter in his starting assignment as big center to direct the offense.
It was the third time in league history the All-Star Game ended in a tie.
Comments will be moderated. Keep comments relevant to the article. Remarks containing abusive and obscene language, personal attacks of any kind or promotion will be removed and the user banned. Final decision will be at the discretion of the Taipei Times.