AFD politician says national team is 'no longer German'
A German politician yesterday said that the national team is "no longer ... German in the classical sense."
Alexander Gauland, of the Alternative for Germany (AFD) party, also questioned the loyalty of German-born international Mesut Ozil, who is of Turkish origin, for making the Muslim pilgrimage to Mecca.
Gauland told news weekly Der Spiegel that professional soccer is "no longer a question of national identity," but "ultimately a question of money."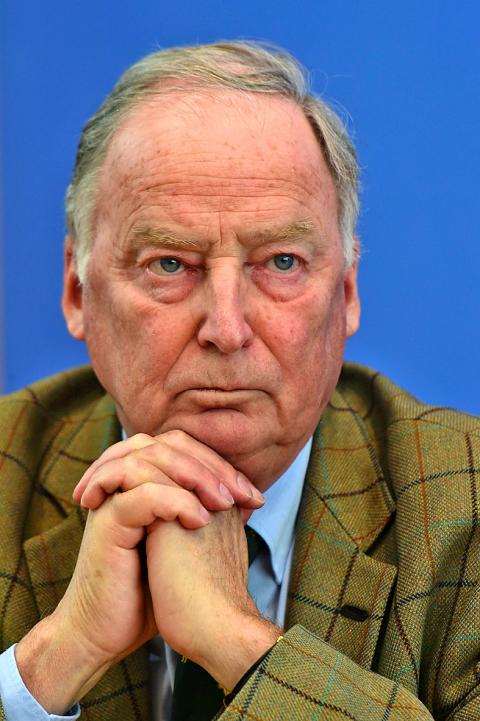 Alternative for Germany deputy chairman Alexander Gauland attends a news conference in Berlin on March 14.
Photo: AFP
"A German or an English national football team is no longer English or German in the classical sense," he was quoted as saying.
Gauland said the fact that many players were born overseas was no proof that Germany is an immigrant society.
Although most Germans "cheer at the football ... this multicultural world is still alien to most of them," Gauland said.
He also said that he found Ozil's journey to Mecca "hard to get used to."
While he could accept a player making the pilgrimage, he said: "For officials, teachers, politicians and decisionmakers, I would indeed ask the question: Is German democracy the right place for someone who makes the pilgrimage to Mecca?"
"Does their loyalty lie with the German constitution, or with an Islam that really is a political Islam?" he asked.
France has also become embroiled in a Euro 2016-related racism controversy after striker Karim Benzema claimed he was left out of the squad following "pressure from a racist part of France."
The 28-year-old Real Madrid star, who is of Algerian origin, was charged earlier this year with complicity in an attempt to blackmail France teammate Mathieu Valbuena over a sex video.
France legend Eric Cantona questioned the motives for excluding Benzema and fellow forward Hatem Ben Arfa, who is of Tunisian extraction, but leading political and sporting figures have denied racism was the reason for their non-inclusion.
Comments will be moderated. Keep comments relevant to the article. Remarks containing abusive and obscene language, personal attacks of any kind or promotion will be removed and the user banned. Final decision will be at the discretion of the Taipei Times.