OLYMPICS: White tiger unveiled as mascot for Winter Games
A cheerful white tiger cub was unveiled yesterday as the official mascot for South Korea's 2018 Pyeongchang Winter Olympics.
Tigers traditionally represent the country and the white tiger is considered sacred there, organizers of the Pyeongchang Winter Olympics said.
The mascot was named "Soohorang," a combination of the Korean words for protection and tiger.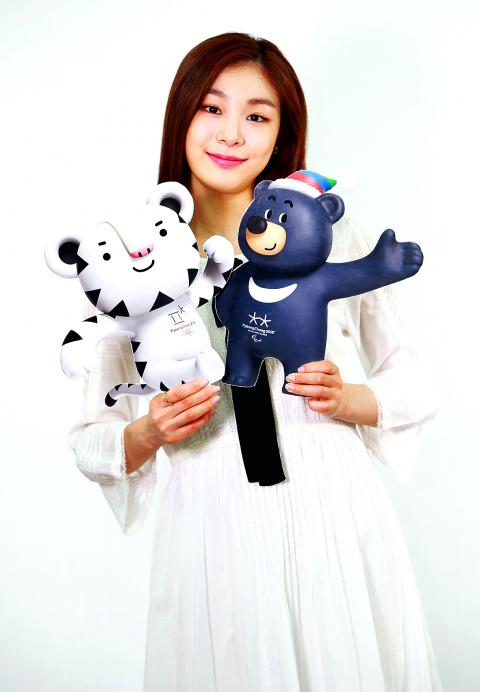 Former South Korean Olympic figure skating champion Kim Yuna holds mascots in Seoul yesterday for the 2018 Olympic and Paralympic Winter Games.
Photo: EPA
The mascot's white color represents snow and ice.
"It's a beautiful animal, strongly associated with Korean culture," said Gunilla Lindberg, chair of the International Olympic Committee's Coordination Commission for the Pyeongchang Games.
"It also symbolizes the close link between the Olympic Winter Games and the natural environment," Lindberg said.
An Asiatic black bear wearing a bobble hat and named "Bandabi" was also unveiled as the mascot for the 2018 Paralympic Games.
Both animals feature in South Korea's national foundation mythology and are closely linked to folklore from the peninsula.
Comments will be moderated. Keep comments relevant to the article. Remarks containing abusive and obscene language, personal attacks of any kind or promotion will be removed and the user banned. Final decision will be at the discretion of the Taipei Times.