HK's Kary Chan set to blast Taiwan's bowlers
After blazing her way to 132 in a women's Twenty20 match in Hong Kong last month, Kary Chan is in Tainan to play local teams at Chang Jung Christian University today and tomorrow.
The Craigengower Cricket Club are to play a university team, Shih Hu Junior High School and the Darling Daredevils in a mixture of 11-a-side and Sixes matches, with men and women from Hong Kong and Taiwan involved.
Chan told the Taipei Times by e-mail that she is excited to visit Taiwan.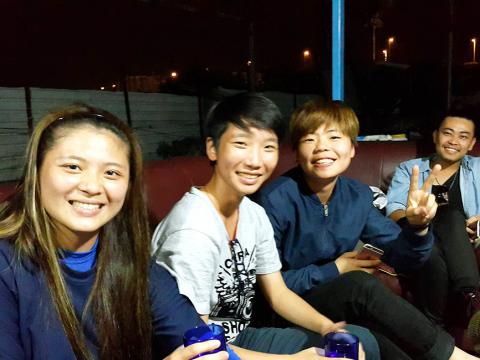 From left, Hong Kong women's national team players Li Yi-ching, Alison Siu and Charlotte Chan and supporter Man Hei relax on Thursday in Tainan ahead of a cricket event at Chang Jung Christian University today and tomorrow.
Photo courtesy of Taiwan Cricket
"This is my first time to come to Taiwan," she said. "I know a lot of cricketers in Taiwan come from a baseball background, so they are very skillful at batting... I can foresee they will have more opportunities to improve their skills."
Chan knows something about skills. On March 19, she made the season's top score in their 131-run victory over USRC in a Hong Kong Cricket Association Cup game at the Po Kong Village Reservoir ground.
"I didn't expect that I would achieve the highest score in the match against USRC women. I just kept encouraging myself to unleash the power to bat well," Chan told the South China Morning Post after her innings.
She said there is a chance she will represent Hong Kong on the biggest stage.
"In the future, I hope to go to an ICC [International Cricket Council] World Cup, so I will keep improving my skills with my Hong Kong teammates," Chan told the Taipei Times.
The organizers described the Tainan event as a way "to promote the development of local cricket players" and Chan — who attends Hong Kong Baptist University — said the goal was "to play some good cricket and also get to know new friends."
"Playing with different people and [in] different places will enrich our experience and increase our exposure to cricket," the sport and recreation studies student said.
"We feel honored that players of such a caliber would travel here and play against our developing young players in less-than-perfect playing conditions," said Darling Daredevils captain Mary Mullan-Christie, one of the organizers of the event. "It would be a dream come true if some of our local teams could play in Hong Kong too in the very near future."
"I hope that a Taiwan team can come to Hong Kong one day and play against us," Chan said.
Comments will be moderated. Keep comments relevant to the article. Remarks containing abusive and obscene language, personal attacks of any kind or promotion will be removed and the user banned. Final decision will be at the discretion of the Taipei Times.