Jeremy Lin's Hornets snap playoff skid
Jeremy Lin scored 18 points to lead a balanced Charlotte attack on Saturday as the Hornets beat the Miami Heat 96-80 for their first NBA playoff victory in 14 years.
After two deflating defeats in Miami, the Hornets fed off their home crowd to trim the deficit in the best-of-seven Eastern Conference first-round series to 2-1.
In the late game on Saturday, Damian Lillard scored a game-high 32 points as the Portland Trail Blazers beat Los Angeles 96-88 to cut the Clippers lead in the series to 2-1.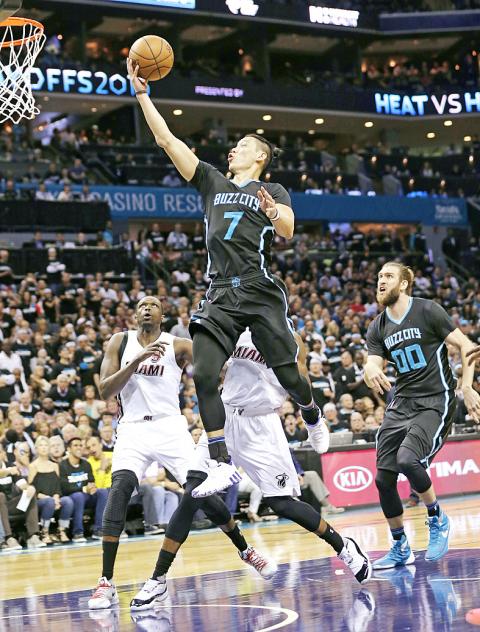 Jeremy Lin of the Charlotte Hornets, top, drives to the basket against the Miami Heat in the second half of Game 3 of their NBA playoff series in Charlotte, North Carolina, on Saturday.
Photo: AP
The Hornets led by five points at halftime and held the Heat scoreless for almost seven minutes in an 18-0 scoring run in the third quarter that built their lead to 71-53.
The cushion grew to as many as 24 points in the fourth quarter as six Charlotte players finished in double figures.
It was a complete reversal from the Heat's 106-80 home win in Game 1 and a 115-103 win in Game 2.
"Our intensity, our defense, our communication was so much better," Hornets coach Steve Clifford said. "So it's a good win, and if we can come back and play better in some areas Monday night, it'll give us a chance to tie the series."
Kemba Walker contributed 17 points and rookie Frank Kaminsky, part of yet another new starting lineup from coach Steve Clifford, added 15.
Marvin Williams notched a double-double of 12 points and 14 rebounds as the Hornets set a club post-season record for the fewest turnovers with four.
The Heat, who combined to shoot 57.8 percent in winning two games in Miami, hit 10 of their first 15 shots, but then struggled to find the basket.
They missed nine straight attempts during Charlotte's 18-0 run, connecting on 34.2 percent from the field for the game.
Luo Deng led the Heat with 19 points. Dwayne Wade scored 17, while Hassan Whiteside added 13 points and 18 rebounds for the Heat, who will try to rebound on the road in Game 4 today.
Meanwhile, the Michael Jordan-owned Hornets will be trying to build on the momentum of their first post-season win since they reached the Eastern Conference semi-finals in the 2001-2002 season.
They had been swept in two playoff series since.
"This is best of seven," Deng said. "We knew at some point they'd have a good game. It wasn't going to be one of those where you keep them quiet the whole series. They're good players and they responded."
In Dallas, the Oklahoma City Thunder moved another step closer to reaching the second round of the playoffs with a wire-to-wire 119-108 win over the Mavericks.
Oklahoma City have not trailed since their Game 2 loss and they now have a 3-1 lead in the best-of-seven series with Game 5 set for today.
History is against a Dallas comeback in the series as only nine teams in the NBA have rallied to win a best-of-seven playoff series after trailing 3-1.
Russell Westbrook had 25 points and 15 assists, while Kevin Durant finished with 19 points.
The game got physical when Durant was ejected with less than a minute left after the officials called him for a "flagrant" foul.
Durant had been trying to block a shot by Mavs guard Justin Anderson, but hit the top of the rookie's head instead of the ball.
"I texted him and told him I wasn't trying to hurt him," Durant said.
In Indianapolis, Indiana, French center Ian Mahinmi scored 22 points, pulled down 10 rebounds and handed out five assists to help the Indiana Pacers to a 100-83 series-tying win over the Toronto Raptors.
George Hill added 22 points for the Pacers, who knotted the Eastern Conference set at 2-2.
"Everybody has to be a scoring option for us and today they were," said Paul George, who scored 19 points for the Pacers. "Ian played amazing. You don't expect 22, 10 and five from him."
"Guys responded to our loss in Game 3, the ball moved and we made shots," George said.
Comments will be moderated. Keep comments relevant to the article. Remarks containing abusive and obscene language, personal attacks of any kind or promotion will be removed and the user banned. Final decision will be at the discretion of the Taipei Times.