Taiwan's Huang chokes out Badr
Taiwan's first female mixed martial arts (MMA) fighter, Jenny Huang, clinched her third victory in as many pro fights with a second-round submission of Egypt's Amira Badr at ONE Championship: Clash of Heroes in Kuala Lumpur, Malaysia, on Friday night.
The main event saw Malaysian-New Zealander Ev Ting fight the fight of his career as he dominated Philippine standout Eric "the Natural" Kelly on his way to a third-round submission win to put himself in title contention.
In Badr, Huang was facing a three-time Egyptian national wrestling champion who was making her pro MMA debut, in a bout fought at a catchweight of 49kg.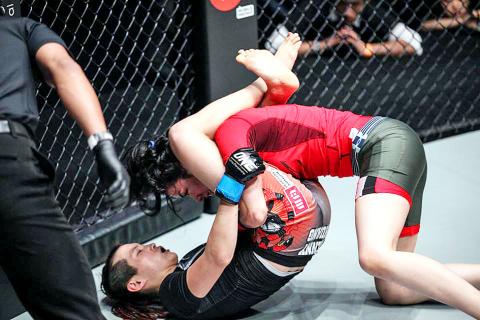 Taiwan's Jenny Huang, bottom, sinks a triangle choke on the way to submitting Egypt's Amira Badr in the second round of their ONE Championship catchweight fight in Kuala Lumpur, Malaysia, on Friday.
Photo: Courtesy of ONE Championship
ONE weight classes have been shaken up as a result of a new weigh-in policy that aims to protect fighters by preventing severe weight-cutting, after a ONE fighter died last month while trying to cut weight.
Huang quickly established her jab, which Badr answered with a straight right, before the wrestler attempted her first takedown, which Huang stuffed. Badr again attempted a takedown and Huang sprawled and took a guillotine, taking the Egyptian to the ground before she made her feet and escaped the choke. Huang stuffed Badr's next takedown attempt and answered the Egyptian's leg kicks with jabs and the occasional straight right.
With 1 minute, 27 seconds remaining, Huang connected with a booming straight right-left hook combo that sent Badr to the canvas. Smelling blood, Huang went in for the kill, landing right uppercuts from the clinch and big right hands that had Badr on the run until she clinched and answered with some right hooks of her own and bulled the Taiwanese against the cage. That blunted Huang's momentum and allowed Badr to recover somewhat, but the Taiwanese continued to land stinging straight rights and left hooks before punctuating the round with a thudding right hand.
Badr began the second round by attempting to trade with Huang, but Huang outlanded her and quickly had her backing off. Huang walked an increasingly tentative Badr down, peppering her with punches. Badr clinched and Huang began landing vicious uppercuts before taking a guillotine. Badr escaped, but her face was badly marked and she appeared hurt.
Badr rallied herself and scored a single-leg takedown, but Huang pulled guard and took a triangle choke, threatening an arm bar before forcing the tap-out with the choke at 3:09.
"I trained really hard leading to this fight," Huang told the Taipei Times after the match. "My coach, Sam [Sung Ming-yen], gave me a lot of motivation and pushed me really hard. I was very committed to win."
"I am improving and learning a lot more every day. Each fight helps me learn and improve and I am looking forward to fighting more ... and making a name for myself in the female division," she said.
The main event had former featherweights Kelly and Ting fighting at the new lightweight limit of 77.1kg.
The two began by trading big right hands soon after the opening bell. Ting landed a head kick, which Kelly answered with a takedown, taking Ting's back and working for the rear naked choke, to which he owed six of his 12 wins.
However, Ting escaped to end in top position and landed punishing knees. Ting followed with a barrage of punches, kicks and knees before Ting slipped while throwing a kick. Kelly pounced, following him to the ground and slipping a guillotine, but Ting was able to make his feet and escape.
Kelly landed knees in the clinch, before Ting scooped and threw the Filipino, throwing an axe-kick to his head that elicited a warning from referee Olivier Coste for stomping. Ting let go his ground-and-pound before allowing Kelly back to his feet, where he continued to land heavy punches on him to end the round.
Firmly in control, Ting continued to pressure Kelly in the second. However, Kelly managed a single-leg takedown and took Ting's back and began working for the rear naked choke. Ting managed to escape and take top position, landing punches to finish the round.
In the third frame, Ting backed Kelly into the cage. Kelly worked for a takedown in the clinch and Ting continued to land punches before taking a standing guillotine choke, pulling guard and tapping the Filipino out at 1:58.
The win improved Ting's record to 11-3-0, while Kelly fell to 12-2-0.
"He took me down a couple of times, and hit me a couple times, but my eyes are on the prize and I don't get distracted from punches. He has to put me out," Ting said cageside in the post-fight interview.
He had no hesitation when asked what was next for him.
"Marat Gafurov, I'm coming for you. Where's that belt at?" he said.
Comments will be moderated. Keep comments relevant to the article. Remarks containing abusive and obscene language, personal attacks of any kind or promotion will be removed and the user banned. Final decision will be at the discretion of the Taipei Times.