Taiwan defeated twice in Asia Rugby Sevens Series
Taiwan were on the receiving end of a pair of hidings in China yesterday, opening their Asia Rugby Sevens Series campaign with a 50-0 loss against Japan and a 37-5 drubbing from the hosts.
The weekend tournament in Qingdao saw Taiwan drawn in Group C with Japan and China, whose match-up resulted in an 21-7 victory for the visitors, who booked themselves a place in today's Cup competition.
Taiwan's results saw them into the Bowl division, in which they face the United Arab Emirates at 12:11pm today.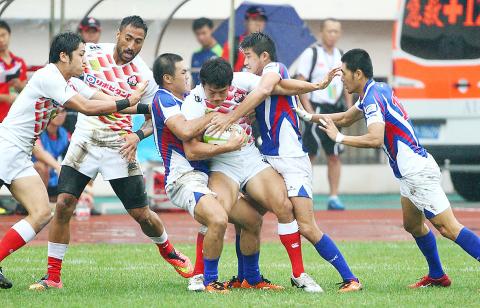 Taiwan players Wang Hsiang-an, center, and Yu Teng-huang, right, defend during their game against Japan at the Asia Rugby Sevens Series in Qingdao, China, yesterday.
Photo courtesy of Kao Ping-sen, TWRUGBYPIX.com
Against Japan, Taiwan let through Jamie Henry and Teruya Goto for a brace each, while Dai Ozawa, Haruki Saito, Masakatsu Hikosaka and Shohei Toyoshima also dotted down in an eight-try steam-rolling.
In Taiwan's second game, China scored through hat-tricks by Ma Chong and Jiang Liwei, while Chen Yonqiang and Wang Yakun scored one try each.
The lone scorer for Taiwan was Wei Li-han, with the replacement getting a consolation try against the hosts.
The Qingdao event is the first in the series, of which Hong Kong are the defending champions after sweeping all three tournaments last year.
A top-two finish in the Asian series would ensure a spot in the international qualifiers for the next HSBC Sevens World Series, which begins later this year.
Looming above all this season is the Asia Rugby Sevens Qualifier in November, which would put Asia's sole men's team through to next year's Rio Olympics, where sevens is to debut.
The single-event Olympic qualifier is to be held in Hong Kong on Nov. 7 and Nov. 8, involving 12 regional teams, including Taiwan, the Philippines, Singapore, China, Thailand, Malaysia, Iran and Kazakhstan.
The China Sevens is also the opening tournament of the Asia Rugby Women's Sevens Series, the first of two events that serve as the prelude to a two-leg qualification series for the Olympics.
Eight Asian women's teams are taking part in both the series and Olympic qualifiers: Hong Kong, China, Japan, Kazakhstan, Singapore, Sri Lanka, Thailand and Uzbekistan.
Comments will be moderated. Keep comments relevant to the article. Remarks containing abusive and obscene language, personal attacks of any kind or promotion will be removed and the user banned. Final decision will be at the discretion of the Taipei Times.