FIFA official Julio Rocha charged with corruption
One of the seven FIFA officials arrested in Switzerland has been charged with money laundering and corruption charges in Nicaragua, a prosecutor said, expecting an extradition to be completed soon.
Former Nicaraguan Football Federation president Julio Rocha has been detained in Switzerland since a raid on a hotel in Zurich, Switzerland, in May.
He last week agreed to be extradited to his home nation, according to Swiss officials.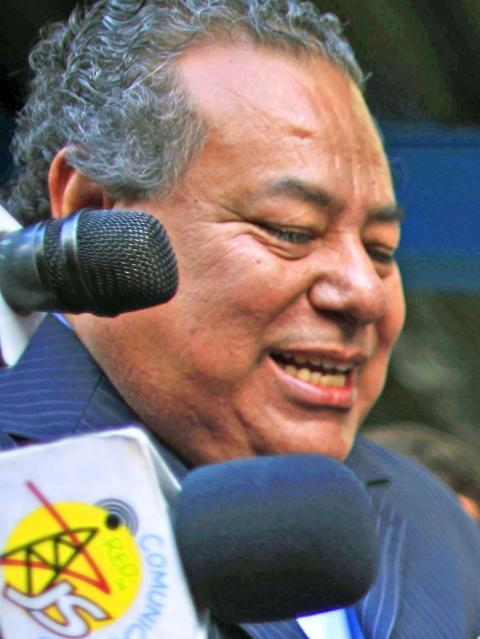 Former Nicaraguan Football Federation president Julio Rocha attends the inauguration of the construction of a new national soccer stadium in Managua on April 14.
Photo: AP
The charges against Rocha were filed on Aug. 4, prosecutor Julia Guido said.
Guido said investigations determined Rocha signed a broadcast rights agreement with a company from which he allegedly received a US$100,000 bribe, adding that she expected the extradition to be completed soon.
The US has also demanded Rocha's extradition as part of its probe into massive corruption at soccer's governing body.
EXTRADITION
A Swiss Ministry of Justice spokesperson last week said they would not carry out the extradition until US officials agree to put aside their request.
Rocha was part of Nicaragua's Olympic committee from 1997 to 2009 and from 2012 was a development officer at FIFA.
One of the other arrested officials, Jeffrey Webb, a native of the Cayman Islands and a former FIFA vice president, was extradited to the US last month.
The five remaining FIFA officials wanted by US authorities — all from South America or the CONCACAF zone of North and Central America and the Caribbean — have not yet agreed to be extradited.
They include former FIFA vice president Eugenio Figueredo of Uruguay, Costa Rican Eduardo Li, who was supposed to join the FIFA executive committee in May, former Brazilian Football Confederation president Jose Maria Marin, Costas Takkas, a Briton who worked for the Cayman Islands Football Association, and former Venezuelan Football Federation president Rafael Esquivel.
The seven were arrested during a dawn raid in Zurich on May 27 ahead of a FIFA congress.
The FIFA corruption case, which also targeted seven sports marketing executives, has shaken the soccer world and sparked worldwide calls for massive reform.
Comments will be moderated. Keep comments relevant to the article. Remarks containing abusive and obscene language, personal attacks of any kind or promotion will be removed and the user banned. Final decision will be at the discretion of the Taipei Times.