Taiwan 10s begins in Taoyuan
FUN AND GAMES: While some teams like Taoyuan City and New Taipei City remain focused on winning the cup, others plan to just enjoy the experience of the event
The fifth Taiwan Rugby Union 10s tournament got under way yesterday, with 16 teams, including one from Hong Kong, one from Macau and four veterans' teams, descending on Taoyuan Stadium for two days of rugby action, although not all of them were overly focused on winning.
In Pool A, Taoyuan City opened strongly with a 26-5 win over Taipei NTU Dreams.
Taoyuan captain Le Yu-feng said the team was on track to pick up a tournament victory.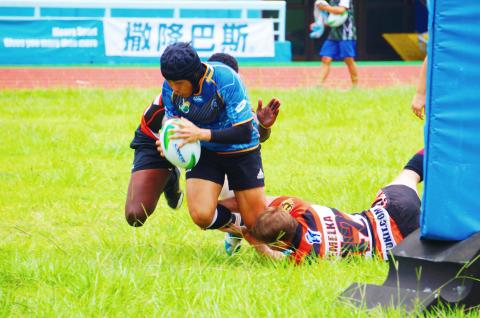 Taiwan Ronin's Roy Chen dives over for a try during their game against the Taipei Baboons at Taoyuan Stadium yesterday.
Photo: Grant Dexter, Taipei Times
"We are confident about tomorrow," he said. "Maybe we can win."
The other two Pool A teams were Fivewoods and New Taipei City, who met in Game 2, with New Taipei City running out the 19-7 winners.
New Taipei City captain Chiang Yi-hsin said his team played well.
"We are all working well together," he said. "We shall win tomorrow, because we can step it up."
In Pool B, Taipei Blacks beat Taoyuan Tachu 14-5.
Blacks player Randy Wei said he believes in his team.
"We will get stronger as we play more," Wei said.
Wei said it was his first outing with the Blacks.
"They helped me understand how to play in this team and enjoy myself," he said.
Teammate Sean Wang said they practice five days per week.
"Every week we have very physical training, because we train for [rugby] Sevens together," he said. "We are all Chien Kuo High School old boys and we train every day except Sundays and Mondays. Those are rest days."
He said some of the team plays for Taiwan's national team.
"Four of us went to Malaysia with the Taiwan team," Wang said.
Taiwan's 15-a-side team placed third in the four-team tournament, beating Thailand, losing to the hosts and just missing out on a win against the United Arab Emirates.
"Taiwan can improve, because the training time was too short," Wang said. "We only had two weeks."
Wang said he enjoys the 10s atmosphere each year.
"It's good to have the international teams here, as well as from across Taiwan," he said.
Also in Pool B, Hsinchu City beat Hong Kong Gaiwu 36-0.
In Pool C, the Taipei Baboons opened up with a 33-5 win over the Taiwan Ronin.
Ronin coach and captain Cullen Chen said he started the club in 2009.
However, before the game, he said: "We can't win, because we just want to play for fun. We just want to enjoy rugby."
"If we play hard, we might get hurt," he said. "So we are just here for fun."
Taichung Marauders captain Robbie Stark aimed a little higher.
"We are going for the bowl," Stark said before their 12-10 win in Pool C over Macau RFU.
"The club has been going for three years," Stark said. "However, for these boys, we are having our first practice in about an hour."
"We come from all across Taiwan, and by the end of the tournament, we are all friends," he added.
Macau captain Ricardo Pina said his side toured Taiwan last year and enjoyed it very much.
"It wasn't really about the results, it was more for the fun," he said. "However, it's a two-day tournament, which makes people a little less willing to travel."
In the Veterans Division, the Taipei Silverbacks, Taipei Blacks Senior, New Taipei Pirates and Kaohsiung 98 T-Rex faced off.
T-Rex coach Chern You-tsuen, the team's oldest member at 53, said they were there to enjoy the day.
"We will do our best in the three games," the Heng Yee Catholic High School physical education teacher said.
At the entrance to the stadium, Corne Venter, who operates Meat Mate, a maker of traditional homemade sausages — boerewors in Afrikaans — said he likes to "educate people on food," which is why he sets up a barbecue stand at events like the 10s.
"It's a bit quiet so far today, but it's not lunchtime yet," he said.
"It's a full-time job, which is going well," he said. "It's boring to teach, but this, I make a product that people want more of."
Meat Mate can be contacted at 0971-004-488.
Organizers the Taiwan Rugby Union describe the event as the nation's largest international rugby tournament.
Cup quarter-finals are to begin this morning at 9:30am at the stadium on Sanmin Road. The Cup final is to start at 5:50pm.
Comments will be moderated. Keep comments relevant to the article. Remarks containing abusive and obscene language, personal attacks of any kind or promotion will be removed and the user banned. Final decision will be at the discretion of the Taipei Times.