Briton Will Stevens gets chance at F1 with team Caterham
The last race of the Formula One season will be a first for Will Stevens, but the Briton showed no qualms about being thrown in at the deep, and slow, end with stricken Caterham on Thursday.
The 23-year-old's backers came up with the cash to secure him a race debut in tomorrow's Abu Dhabi Grand Prix at a team led by an administrator and facing closure if no buyer comes forward.
The confirmation came on the eve of first practice at Yas Marina, with Stevens made to sweat before the governing FIA granted the mandatory super license.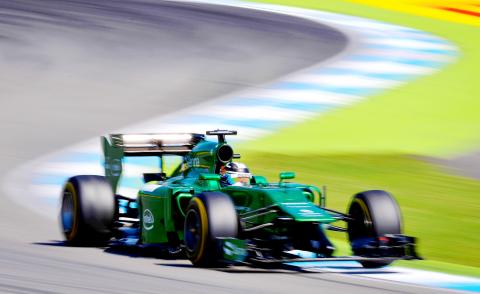 Caterham driver Kamui Kobayashi participates in a free practice session at the Hockenheimring in Germany on July 19.
Photo: EPA
Stevens, who has raced this year in the World Series by Renault 3.5 championship and tested for Caterham last year, said it was all worth it.
"Obviously the drivers coming in need to come to a deal with the team. I'd like to think my experience with the team counts a lot here and we're pushing to get in to F1, not only for this, but for the long term as well," he told reporters.
"We're here to hopefully stay, we're working towards getting a deal for next year," he added, referring to himself.
Caterham went into administration last month and have made 230 staff redundant, with the 40-strong crew in Abu Dhabi signed on a consultancy basis after the team raised money through a crowd-funding initiative.
Japan's Kamui Kobayashi is the team's other driver.
The aim, in a season that has already seen rivals Marussia fail, is to showcase the team's potential in the hope that a buyer might emerge. For Stevens, it is also to get himself noticed.
Swedish driver Marcus Ericsson, who had raced for Caterham until they missed races in Texas and Brazil, has already severed his ties with the team and signed for Sauber for next year.
Caterham have limited spare parts, and Kobayashi was expressing concerns about the safety of his car last month, but Stevens sounded unconcerned.
"Everyone here wants the car to be safe. That is the No. 1 priority, not just here, but at every single team," Stevens said. "I am absolutely certain that there are no issues at all with the car or anything around it. As a team we know what we need to do to come here."
Comments will be moderated. Keep comments relevant to the article. Remarks containing abusive and obscene language, personal attacks of any kind or promotion will be removed and the user banned. Final decision will be at the discretion of the Taipei Times.