Reymond wins 25km open for France at Euros
Axel Reymond claimed France's first gold medal at the European Swimming Championships by winning the 25km open water race on Sunday.
The 20-year-old Reymond finished strongly to win the grueling race in 4 hours, 59 minutes, 18.8 seconds — 12.4 seconds ahead of Russia's Evgenii Drattcev.
"The other distances are too short for me," the Frenchman said.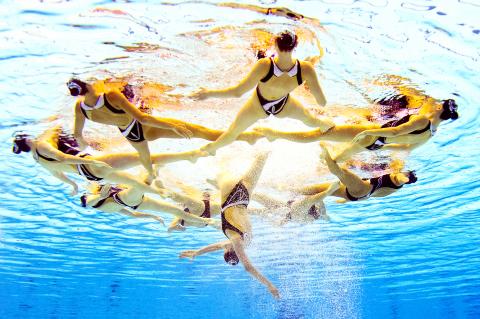 This picture taken with an underwater camera shows the gold medal-winning Ukraine team competing in the synchronized swimming free combination final at the LEN European Swimming Championships on Sunday in Berlin.
Photo: AFP
Edoardo Stochino of Italy beat Germany's Andreas Waschburger to the bronze by 1.6 seconds. They were more than nine-and-a-half minutes off Reymond's pace.
"Drattsev and me decided to leave the others behind and it worked," the Frenchman said.
Martina Grimaldi of Italy was the quickest woman in the event, taking gold in 5:19:14.1.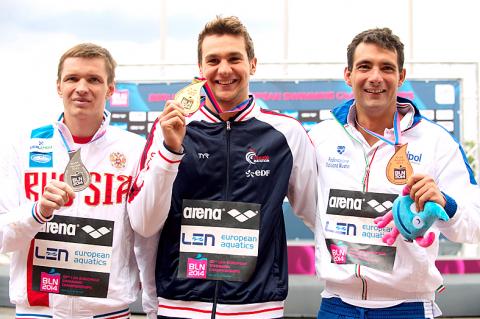 Axel Reymond from France, center, presents his medal after winning the men's 25km open at the European Swimming Championships in Berlin on Sunday.
Photo: EPA
Hungary's Anna Olasz and Germany's Angela Maurer were second and third respectively.
Svetlana Romashina continued Russia's domination of the synchronized swimming finals, taking gold with her solo routine. Spain's Ona Carbonell claimed the silver and Ukraine's Anna Voloshyna the bronze.
Russia, who won both the duet and team finals on Saturday, did not compete in the free combination final later on Sunday, when Lolita Ananasova and Olena Grechykhina claimed the gold for Ukraine.
Clara Basiana Canellas and Clara Camacho del Hoyo won silver for Spain, while Elisa Bozzo and Beatrice Callegari claimed the bronze in the last synchronized swimming session of the championship.
Comments will be moderated. Keep comments relevant to the article. Remarks containing abusive and obscene language, personal attacks of any kind or promotion will be removed and the user banned. Final decision will be at the discretion of the Taipei Times.