WORLD CUP: Suarez sorry Chiellini suffered 'result' of bite
Disgraced Uruguay striker Luis Suarez on Monday apologized to Italy defender Giorgio Chiellini for the bite that saw him banned for four months and expelled from the FIFA World Cup.
It is the first time Suarez has acknowledged that the Italian was bitten.
"The truth is that my colleague Giorgio Chiellini suffered the physical result of a bite in the collision he suffered with me. I deeply regret what occurred," the 27-year-old Liverpool striker said on Twitter. "I apologize to Giorgio Chiellini and the entire football family. I vow to the public there will never again be another incident like."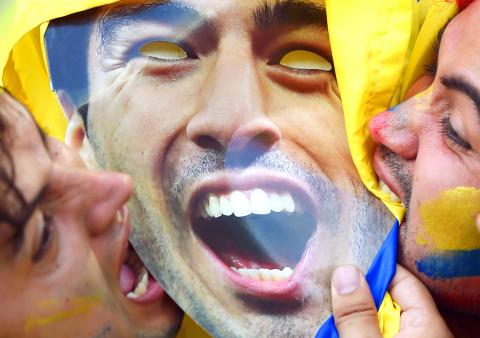 Colombia fans bite a cutout of Uruguay forward Luis Suarez's face at the last-16 FIFA World Cup match between the two sides in Rio de Janeiro, Brazil, on Saturday.
Photo: AFP
Chiellini, who said the ban was excessive, reacted quickly to the apology, tweeting back: "It's all forgotten. I hope FIFA will reduce your suspension."
Suarez bit Chiellini in Uruguay's 1-0 win over Italy on June 24 that took La Celeste into the World Cup last 16, before they were beaten by Colombia on Saturday.
The polemic striker initially denied the charges against him, telling a FIFA disciplinary commission that he lost his balance and there was no bite. Still, within 48 hours of the incident, he was handed a four-month ban from all soccer activities, suspended from nine internationals and fined US$112,000 for what was his third biting offense.
Suarez on Friday returned to Uruguay where the sanction has caused national outrage, with Uruguayan President Jose Mujica slamming FIFA leaders as "sons of bitches."
FIFA's disciplinary commission gave a damning assessment of Suarez's actions in its final report on the incident, which was leaked to various media outlets, and said "the offense was carried out directly against an opposing player, while the ball was not being disputed, and it was done deliberately, intentionally and without provocation."
Several soccer figures inside and outside FIFA have said Suarez — one of the best, but also most temperamental, strikers in the world — should seek counseling.
FIFA General-Secretary Jerome Valcke said at the World Cup that Suarez had to "find a way to stop doing it. He should go through a treatment. It is definitely wrong."
International professional players' union FIFPro said that soccer's world governing body should have made mandatory treatment part of its sanction.
Comments will be moderated. Keep comments relevant to the article. Remarks containing abusive and obscene language, personal attacks of any kind or promotion will be removed and the user banned. Final decision will be at the discretion of the Taipei Times.