Growth of Twenty20 cricket fuels corruption fears
As cricket's Twenty20 domestic champions battle it out for supremacy in South Africa, alarm bells are ringing that the proliferation of such tournaments has "considerably increased the risk" of match-fixing.
Less than a decade after the 20-over game made its debut in England, every major cricketing country now has its own Twenty20 tournament — attracting new fans and lucrative sponsorship deals, and the attention of illegal betting syndicates.
An Indian TV sting last week, in which six South Asian umpires were shown to be allegedly open to bribery, was just the latest in a line of scandals to have hit the sport, especially Twenty20 cricket.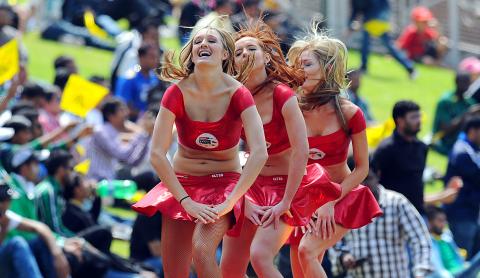 Cheerleaders perform during a Twenty20 Champions League match between the Chennal Super Kings and the Sydney Sixers at the Wanderers Stadium in Johannesburg, South Africa, on Sunday.
Photo: AFP
A recent review commissioned by the International Cricket Council (ICC) into its anti-corruption activities was unequivocal in pinpointing where the greatest threat to cricket's integrity lies.
"The view of those consulted is that the arrival of T20 cricket and the Indian Premier League has considerably increased the risk of match-fixing and spot-fixing," the review led by former Hong Kong solicitor-general Bertrand de Speville said.
The best known tournament is the Indian Premier League (IPL), a six-week jamboree infused with the glamor of Bollywood stars, as well as the biggest names in world cricket, but as the leagues spread across the cricketing world — from Bangladesh to Zimbabwe — experts say the dangers should be clear to all.
"The mushrooming of domestic T20 leagues brings in not merely sponsors, spectators and TV revenue, but also a surging interest from the betting mafia," writer Sharda Ugra argued in a recent commentary for the Cricinfo Web site. "They will not stop trying to find new footholds in the game. Protecting cricket's integrity does not only involve reacting to TV stings every few months. It is now a 24x7 undertaking."
The cash-rich IPL initially snubbed an offer by the ICC's anti-corruption unit to monitor matches for the first two editions in 2008 and 2009, but in a bid to quash speculation that it was a haven for match-fixers, it decided to enlist the unit from the third year onwards.
Five Indian cricketers were suspended during this year's IPL after a sting by the same Indian TV channel claimed to have unearthed evidence that no-balls could be arranged to order.
Other tournaments have also been tainted by scandal.
Bangladesh banned former international Shariful Haque indefinitely last month after he was found to have approached current star Mashrafe Mortaza for spot-fixing during its Twenty20 tournament.
During the Sri Lanka Premier League in August, the country's cricket chiefs were alerted to a possible match-fixing attempt by an owner of a team.
Sri Lanka Cricket announced an investigation at the time, but has remained silent on its progress.
Meanwhile, players and administrators of the Indian Cricket League, the ill-fated rival to the IPL, traded accusations of match-fixing after the tournament's demise in 2009.
The ICC established its anti-corruption unit under former London Metropolitan police chief Paul Condon after South Africa skipper Hansie Cronje was banned for life over a match-fixing scandal in 2000 and according to De Speville, the risk of corruption in cricket is not "any less today" than when Condon and his team began their work.
The ongoing Twenty20 Champions League in South Africa is not only policed by the ICC's anti-corruption unit, but also officiated by its elite panel of umpires.
However, not all the boards work with the ICC's monitors. Bangladesh, for example, posted their own security officials at their event, as well as hiring their own umpires. The Bangladesh Cricket Board insists that its own measures are adequate.
"We have already taken stringent measures to combat corruption, including spot-fixing during BPL or any domestic league," board spokesman Jalal Yunus said. "Betting and fixing in cricket is nothing new. It was there even when there was no T20 cricket."
However, the De Speville review said it was important to involve the ICC's anti-corruption unit (ACSU) in all cricket-related activities.
"One of the ACSU's central functions is to receive information about corruption," the report said. "Without good information about what is going on, getting to grips with the problem is impossible."
Comments will be moderated. Keep comments relevant to the article. Remarks containing abusive and obscene language, personal attacks of any kind or promotion will be removed and the user banned. Final decision will be at the discretion of the Taipei Times.