Blake stuns Bolt again at trials
ONE-TWO PUNCH: Yohan Blake beat Olympic champion Usain Bolt in the 200m dash two days after beating him in the 100m, leaving Bolt with plenty to prove in London
Yohan Blake upset reigning Olympic champ Usain Bolt by winning the 200m in 19.80 seconds at the Jamaican Olympic Athletic Trials on Sunday, just two days after beating him in the 100m.
It was the latest clash between the two Jamaican stars ahead of the London Olympics, where Bolt's supremacy in the sprinting world appears to be in danger.
Bolt finished second in 19.83, while Warren Weir also earned a ticket to the London Games by finishing third.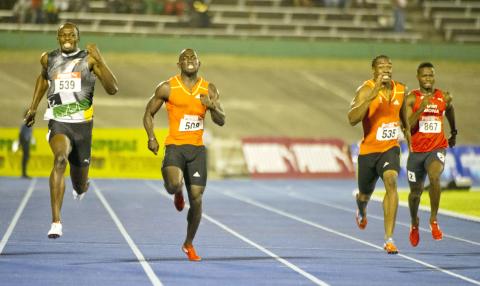 Jamaican sprinters Yohan Blake, second right, and Usain Bolt, left, run during the men's 200m dash final at the Jamaican Olympic trials in Kingston, Jamaica, on Sunday.
Photo: AFP
"I have been working hard and am seeing it paying off now," Blake said. "I was not surprised by the big win. I know what Bolt has to offer and I know he was not at 100 percent. I just tried to keep my form."
Blake had won his 200m semi-final in 19.93 seconds Saturday to set up another finals showdown with Bolt, who took his semi-final race in 20.26.
Blake produced his first upset of the weekend and one of the biggest in the sport this year by beating Bolt in Friday's 100m final with a time of 9.75 seconds, becoming the fourth fastest man ever in the event.
Bolt, the 100m and 200m Olympic champ and world record holder, was second in 9.86 seconds after a poor start and Asafa Powell was third in 9.88 seconds.
"I can't train for one person," Bolt said on Sunday. "No one was talking about Blake and see what he did."
Bolt says he now has plenty to prove heading into the Olympics and vowed to come back from these defeats.
"I am the Olympic champion and I have to show the world I am the best," Bolt said. "I will always make a comeback. It is not like I was blown away. I know what I need to do to get it right."
Blake ran the world-leading time on Sunday in the 200m, but he did not beat his personal best of 19.26, which he set in September last year.
Neither Blake nor Bolt have committed to running both sprints in London, saying they will leave the decision up to their Jamaican coach, Glen Mills.
Blake said he was not surprised by the weekend results, adding he "worked hard" to get in top form.
Bolt is confident he can get up to speed with an accelerated training regime leading up to the Summer Olympics.
"It's all about work and just needing to get my things together and get it right," Bolt said. "I got to get in the work and figure out what I did wrong. I have to work hard to get ready for the Olympics. I think I am a little bit weak, but three more weeks should be good enough to get back into shape."
Still, questions will surround Bolt, who had to receive medical treatment briefly on the track at National Stadium after crossing the finish line on Sunday. Trainers worked on his legs before Bolt got up and walked off the track.
Weir's third place finish (20.03) was also a surprise as he beat out Ashmeade Nickel (20.16) for a Games' spot.
On the women's side, Shelly-Ann Fraser-Pryce was also a double weekend winner as she clocked a personal best 22.10 in the 200m, ahead of Olympic silver medalist Sherone Simpson (22.37) and Veronica Campbell-Brown, who was third with a time of 22.42.
"I am tired," Fraser-Pryce said. "It is a personal best. Today was about execution and not winning, but I am glad for the win."
? US TRIALS
AFP, EUGENE, Oregon
Wallace Spearmon gave himself another chance at an Olympic medal in the 200m after being disqualified in the 2008 final by winning on Sunday at the US Olympic Track and Field Trials.
Spearmon, whose lane violation late in the Beijing Olympic final cost him a bronze medal, surged ahead with 50m remaining and took the trials title in a wind-aided 19.82 seconds, a 2.3m/second tailwind boosting him to the finish.
"That's something that has definitely been on my mind since 2008," Spearmon said. "It's hard enough to make one team. If I didn't make the team this year, that would have been on my mind for the rest of my life. This is a chance at redemption. I don't take my second chances lightly. I'm going to go out there and leave it all on the track."
Maurice Mitchell was second in 20.14 with Isiah Young third in 20.16 to join Spearmon in qualifying for the London Olympics, where they will face Jamaican superstars Yohan Blake and Usain Bolt, the reigning world and Olympic champion.
"As far as London, I don't really have times set," Spearmon said. "Everyone expects Jamaica to be 1-2. We could go out there and get first, second and third. You never know what to expect."
Shawn Crawford, the 2004 Olympic champion and 2008 Olympic runner-up in the 200, failed in his bid to reach London, finishing seventh in 20.37.
Former world champion Bershawn Jackson, third at the 2008 Olympics, will also miss London after being edged for third place in the men's 400m hurdles final.
"I'm disappointed. Not making the team is really tough," Jackson said. "We live for the Olympics. It's heartbreaking. It's probably the toughest race of my career that I messed up in."
Michael Tinsley, who was eliminated in the first round of the 2008 trials, was a shock 400m hurdles winner in 48.33, booking a surprise trip to his first Olympics at age 28.
"I'm just thankful to be in these guys' presence. It was an honor to come out on top," Tinsley said.
Angelo Taylor, the 2000 and 2008 Olympic champion, was leading comfortably when his left foot struck the penultimate hurdle, and jostled the hurdle in Jackson's lane.
"I saw Angelo hit hurdle nine and when I saw that I just went into overdrive," Tinsley said.
Jackson went off stride and it cost him dearly at the finish.
"Angelo Taylor hit my hurdle and threw off my stride pattern," Jackson said. "When that hurdle got hit, it threw my rhythm off."
Taylor, 33, was thrown off stride, but cleared the last hurdle and finished second in 48.57 to give himself a chance at a third Olympic title.
"I was really going for it when I clipped hurdle nine and that took the life out of me," Taylor said. "I'm thankful I was able to regain my composure and get over hurdle 10 and finish strong. It meant so much to make my fourth Olympics."
Former world champion Kerron Clement, a 2008 Olympic runner-up, dove across the finish line for third in 48.89, edging Jackson by .05 for a London berth.
"I knew I had to dive. I just dug deep and got third," Clement said.
World champion Lashinda Demus won the women's 400m hurdles in 53.98, becoming the second-fastest performer in the world this year behind Russia's Irina Davydova.
Two-time world champion Brittney Reese won the women's long jump with the best leap in the world this year at 7.15m. Janay DeLoach, who jumped a wind-aided 7.15 in qualifying, took third in 7.08 to join her on the team.
Morgan Uceny, last year's Diamond League champion, won the women's 1,500 in 4:04.59 to book a trip to London, as did runner-up Shannon Rowbury in 4:05.11 and reigning world champion Jenny Simpson, who took third in 4:05.17.
Leo Manzano, a 2008 Olympic semi-finalist, won the men's 1,500 in 3:35.75 with Matthew Centrowitz, third at last year's worlds, another .09 back in second to book his trip to London.
Comments will be moderated. Keep comments relevant to the article. Remarks containing abusive and obscene language, personal attacks of any kind or promotion will be removed and the user banned. Final decision will be at the discretion of the Taipei Times.