Brazil inmates seek redemption from the World Cup
Soccer is like a religion in Brazil and the 2014 World Cup is offering inmates in the South American host nation a shot at redemption.
"My life has changed direction," said sun-beaten Thiago Ferreira, a 26-year-old convicted drug trafficker who is helping renovate the Belo Horizonte soccer stadium, which will host a number of World Cup games.
Ferreira, who joined a state reintegration program, said he regretted his drug-dealing days and regarded his new job — he looks after the tools on the site — as "a great second chance" to rebuild his life.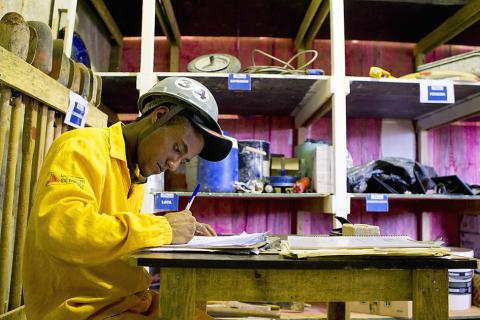 Thiago Ferreira, a 26-year-old convicted drug trafficker, works at the the Mineirao stadium construction site in Belo Horizonte, Brazil, on Dec. 14.
Photo: AFP
Under an agreement between the Brazilian government and local authorities in the 12 cities hosting 2014 World Cup games, at least 5 percent of the workers building or renovating the stadiums must be prisoners.
The inmates are selected after a rigorous evaluation process by a group of social workers, lawyers and psychologists.
In Belo Horizonte, capital of the southeastern state of Minas Gerais, Ferreira is one of 16 inmates from a local prison selected to work on the stadium alongside almost 1,500 other workers.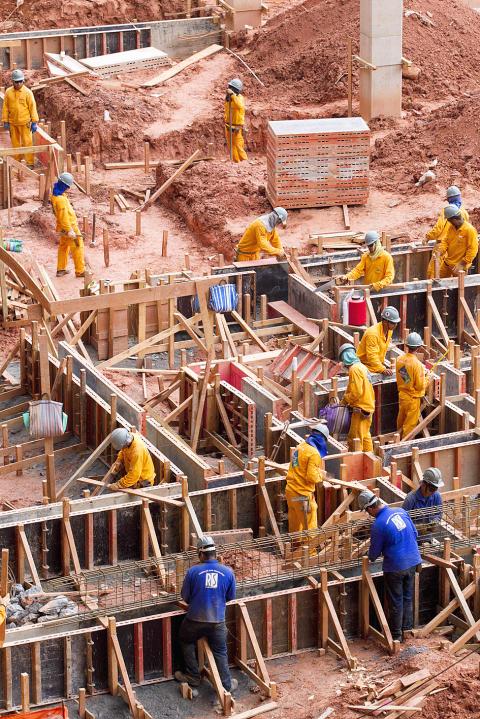 People work at the Mineirao stadium construction site in Belo Horizonte, Brazil, on Dec. 14.
Photo: AFP
Every morning, he wakes up at 4am to help complete the renovation of the the 67,000-seat Mineirao stadium by the deadline late this year.
Once finished, the stadium will host the FIFA Confederations Cup next year and the World Cup the following year.
For three days of work, each inmate earns one day off his sentence.
"For us who are in the semi-open prison regime, this is a great opportunity that we must seize because a life of crime has only two possible outcomes: the wheelchair or six feet under," Ferreira said.
After two years and five months in jail, he cannot wait to walk free next month and continue working at the Mineirao arena, where he is paid about 250 euros (US$320) a month, slightly above the minimum wage.
With that pay, he can support his wife, his one-month-old son and his mother.
"I hope to show my son all that I went through so that he does not make the same mistakes, and to give him all the things I did not have in my life," said Ferreira, who was entitled to conjugal visits, proudly showing pictures of his baby boy on his cellphone.
At 11am workers leave the rubble of the Mineirao and drop their tools in the shed run by Ferreira, turning the area into a makeshift cafeteria.
Francisco das Chagas Queiroz, who spent 17 years in jail for a bank robbery, is one of this month's model employees and has been rewarded for his efficiency and devotion to duty by being put in charge of logistics.
The 52-year-old Queiroz sees the recognition from his supervisors as "a great honor" and hopes to continue working on the site when he completes his sentence.
"It is clear I came here to make a difference. And with God's help, I succeeded and they appreciate my work. I was promoted after 12 days to help coordinate things," Queiroz said. "Work on the [stadium] reconstruction is an honor. To be valued in a big company is something that makes you feel good."
Queiroz expressed no remorse over his past crimes, saying: "I am what I am because of the difficulties I went through."
The former shopkeeper has a punishing daily schedule, starting work at the stadium at 5am, going to nursing school at 6pm, before returning to his cell close to midnight.
Reminiscing about his past, he said he began stealing in the 1980s when he was battling the military dictatorship, which held power from 1964 to 1985.
He said that in 1977 to 1978, he knew Dilma Rousseff, then a Marxist guerrilla and now Brazil's first woman president.
"She was awesome," Queiroz said admiringly. "She risked her life for others."
Comments will be moderated. Keep comments relevant to the article. Remarks containing abusive and obscene language, personal attacks of any kind or promotion will be removed and the user banned. Final decision will be at the discretion of the Taipei Times.