NHL: Maple Leafs rally to sneak past Flyers 3-2
Darryl Boyce scored with 4:30 left in the third period to rally the Toronto Maple Leafs to a 3-2 comeback victory over the Philadelphia Flyers on Thursday.
Nikolai Kulemin and Dion Phaneuf also scored for the Maple Leafs, coming off a 3-2 overtime victory over Pittsburgh at home on Wednesday night. Toronto, fighting for a playoff spot, 10-2-4 since the All-Star break.
Kris Versteeg scored twice for the Flyers against his former team. Toronto traded him to Philadelphia last month.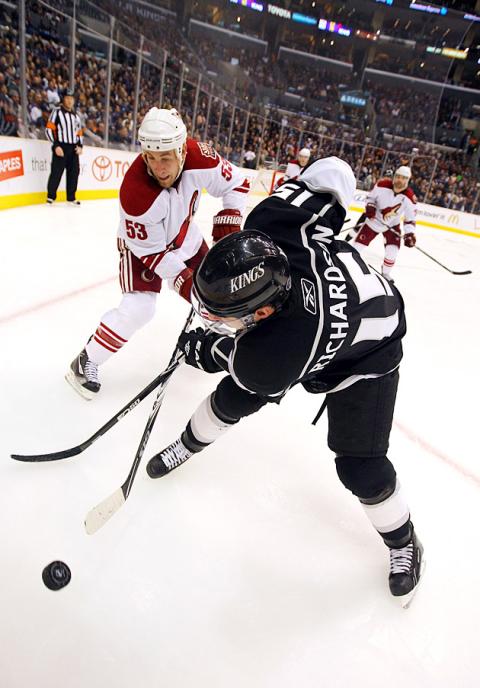 Brad Richardson, right, of the Los Angeles Kings and Derek Morris, left, of the Phoenix Coyotes vie for the puck during the second period at the Staples Center in Los Angeles on Thursday.
Photo: AFP
The Eastern Conference--leading Flyers lost consecutive games for the first time since December.
SHARKS 3, RED WINGS 1
In San Jose, California, Dany Heatley scored twice and Antti Niemi made 26 saves to lead San Jose to their eighth straight victory.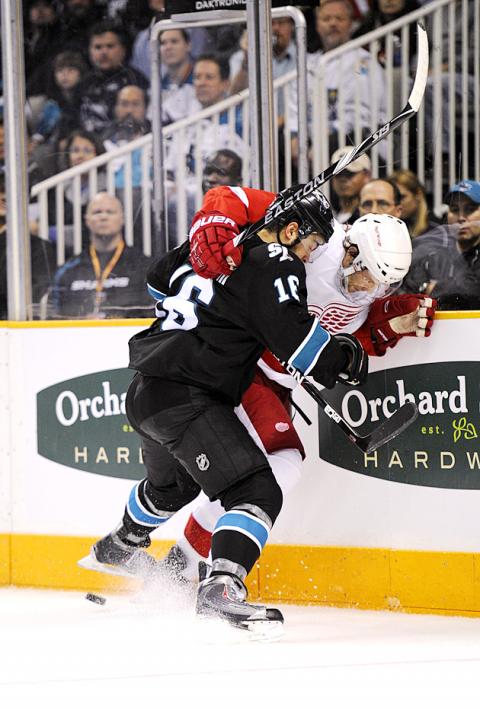 Devin Setoguchi, left, of the San Jose Sharks fights for the puck with Brad Stuart of the Detroit Red Wings during their game at the HP Pavilion in San Jose, California, on Thursday.
Photo: AFP
The win was the 17th in the past 20 games for the Sharks, who have moved from outside the playoff picture in mid-January to third place in the Western Conference, just three points behind second-place Detroit.
Tomas Holmstrom scored a power-play goal for the Red Wings.
BRUINS 2, LIGHTNING 1
In Boston, Milan Lucic broke a tie with 3:42 left as Boston won their seventh straight game to break to move into second place in the Eastern Conference.
Steven Kampfer also scored for the Bruins. The Bruins pulled two points ahead of Tampa Bay and clinched the tiebreaker with a 3-1 series victory.
Tim Thomas had 27 saves for the Bruins, allowing only Eric Brewer's goal.
HURRICANES 3, SABRES 2, OT
In Raleigh, North Carolina, Jamie McBain scored 26 seconds into overtime for Carolina.
Carolina defenseman Joni Pitkanen rushed the puck over the Sabres' blue line and waited for the trailing McBain. McBain's slap shot made it through traffic before sneaking through goalie Ryan Miller's legs. Chad LaRose and Jiri Tlusty also scored for Carolina. Cam Ward made 27 saves.
Brad Boyes scored his second goal in two games for the Sabres, Steve Montador also had a goal and Miller made 21 saves.
CAPITALS 3, BLUES 2
In Washington, newcomer Jason Arnott scored the tie-breaking goal with 5:19 left as Washington beat St Louis for their third straight victory.
Capitals goalie Michal Neuvirth stopped 25 shots to set a franchise record for wins by a rookie with 21. The 22-year-old topped Bob Mason, who won 20 in the 1986-1987 season.
Playing in his second game since being acquired in a trade with New Jersey, Arnott took a crossing pass from Alexander Semin and beat goalie Ty Conklin with a slap shot from the left circle.
Scott Hannan and Niklas Backstrom also scored and Alex Ovechkin had two assists for the Capitals. Alexander Steen and B.J. Crombeen scored for the Blues.
CANADIENS 4, PANTHERS 0
In Sunrise, Florida, Carey Price made 30 saves for his seventh shutout of the season, and Andrei Kostitsyn and Lars Eller each had a goal and an assist for Montreal.
Hal Gill and David Desharnais also scored for the Canadiens, who have won four of their last five. Travis Moen and James Wisniewski each had two assists.
Florida goalie Tomas Vokoun lasted only 8:54 before he was pulled after giving up two goals on three shots.
Backup Scott Clemmensen made 25 saves.
WILD 3, RANGERS 1
In New York, Casey Wellman, recalled from the minor leagues hours earlier, broke a second-period tie with his second NHL goal and Jose Theodore made 40 saves for the Minnesota.
Wellman was brought up on an emergency basis in case Cal Clutterbuck was unable to play following a hard hit he took from behind on Wednesday in Minnesota's loss to the New York Islanders.
Clutterbuck was in the lineup, but Wellman took the place of Jed Ortmeyer, sent down to Houston of the AHL.
Sean Avery scored for New York.
In other NHL play, it was:
‧ Oilers 4, Blue Jackets 2
‧ Senators 3, Thrashers 1
‧ Predators 3, Canucks 0
‧ Kings 1, Coyotes 0
Comments will be moderated. Keep comments relevant to the article. Remarks containing abusive and obscene language, personal attacks of any kind or promotion will be removed and the user banned. Final decision will be at the discretion of the Taipei Times.