Federer beats Fish for Cincinnati title
FLYING FISH After losing 13.5kg, Fish gave Federer a good run for his money as his agility on the court meant he could keep up with the well-rested Swiss
Roger Federer ended his mini-­vacation with another Masters title, winning the Cincinnati championship by beating Mardy Fish 6-7 (5), 7-6 (1), 6-4 in the final on Sunday.
A well-rested Federer was barely on the court all week because his opponents got hurt and his game was so good.
For the first time, the world's second-ranked player was pushed to the limit. Fish kept it as close as could be, dropping the final set after the match's only service break.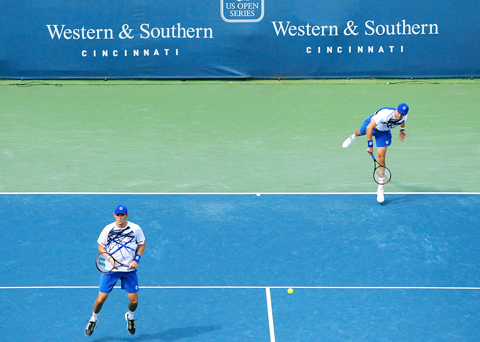 Bob and Mike Bryan serve to Mahesh Bhupathi of India and Max Mirnyi of Belarus during the finals on Day 7 of the Western & Southern Financial Group Masters at the Lindner Family Tennis Center on Sunday in Cincinnati, Ohio.
PHOTO: AFP
That time off came in handy.
"Maybe I was just a touch fitter than him today," Federer said.
Federer ended a streak of three straight losses in tournament finals, winning his first Masters event since Cincinnati last year.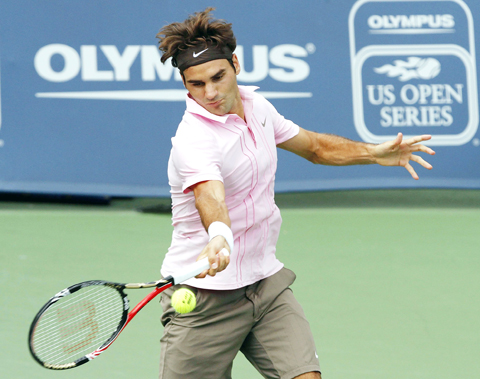 Roger Federer of Switzerland hits a return to Mardy Fish of the US during their championship match at the Western & Southern Financial Group Masters tennis tournament in Cincinnati, Ohio, on ­Sunday.
PHOTO: REUTERS
His 63rd career title tied Bjorn Borg for fifth place in the Open Era. Pete Sampras is fourth at 64, and Jimmy Connors holds the record with 109.
It took him 2 hours, 40 minutes to close it out — an eternity compared to how the rest of the week had gone.
Credit Fish for making him sweat one out.
The American had surgery on his left knee in September last year, then set about rebuilding his body. He changed his diet, lost 13.5kg and gained a lot of speed on the court.
This Fish can fly.
His agility allowed him to extend points and keep up with Federer, who was clearly fresher. Federer lost to Andy Murray in the title match at Toronto on Sunday last week, came to town and got a mini-break.
He was on court for only 28 minutes in his opening match before Denis Istomin hurt his ankle. Federer didn't even have to leave the locker room to advance a day later. Philipp Kohlschreiber dropped out because of a sore shoulder.
Federer sailed through his next two matches, winning each in two tidy sets. Fish provided his first real test.
The 28-year-old American is on the best stretch of his career, going 17-2 since last month with titles at Newport and Atlanta. He'd won five in a row against top-10 opponents, gaining confidence with each upset.
The title match was an opportunity for a breakthrough win. Fish had reached only two other Masters finals — including Cincinnati in 2003 against close friend Andy Roddick — and lost both of them.
"I desperately want to sort of have my career maybe be remembered by a big tournament or something like that," he said. "So I've wanted badly to win a real big one. This would have been perfect."
Three games into the title match, Federer knew this one wouldn't be easy.
With Fish serving, the third game dragged on for 13 minutes — nearly half as long as Federer's opening match — and 24 points. Fish fought off a pair of break points before holding serve with an ace.
"You lose that game there, and you know he might steamroll you," Fish said.
Fish's serve had been at its best all week. He'd served 70 aces and had won 85 percent of the points off his first serve, the best in the tournament. He struggled with it early but hung in there, extending the opening set to the place where he's been best — a tiebreaker.
Fish is 18-5 in tiebreakers this season, showing a lot of confidence when it comes down to a few pressure points. Federer got up 5-4 in the tiebreaker and was serving the next two points with a chance to close it out.
Instead, Fish hit an overhead winner and Federer dumped a backhand into the net. Fish then finished it off with a 203kph serve.
It was the first set that Federer lost during his brief week on court. It lasted 70 minutes — as long as Federer's semi-final match on Saturday night.
The second set was even tighter, with Federer fighting off the only break point. He was more aggressive in this tiebreaker, coming to the net to take control, then closing it out with a 196kph ace.
Federer got the only service break of the match to go ahead 5-4 in the final set, leaving him in a good frame of mind heading into the US Open.
"I've been playing well the last couple weeks, and today was just another proof that I'm playing really well," said Federer, who won five straight US Open titles before losing to Juan Martin del Potro last year. "It's nice knowing that the hard work already in the offseason after Wimbledon pays off right away."
Bob and Mike Bryan won their 64th career doubles title, beating Mahesh Bhupathi and Max Mirnyi 6-3, 6-4 to close the US$2.4 million Western & Southern Financial Group Masters.
Comments will be moderated. Keep comments relevant to the article. Remarks containing abusive and obscene language, personal attacks of any kind or promotion will be removed and the user banned. Final decision will be at the discretion of the Taipei Times.