Six world records tumble on first night
SUPERSUITS YOU: Unheralded Ariana Kukors, who only got into the race when one of her US teammates pulled out, smashed the 200m individual medley world record
Six world records tumbled on the first night of World Championship swimming on Sunday, but with the record books turned upside down, Michael Phelps ended up in a familiar spot — the winner's podium.
The half-dozen records yielded in the evening's eight events at the Foro Italico included two in one event, and while Phelps wasn't part of the spree, he did have a role in the US' upset victory in the men's 4x100m freestyle.
Italy's Federica Pellegrini thrilled home fans by lowering her own world mark to win the women's 400m freestyle and German Paul Biedermann also notched a world record in winning the men's 400m freestyle.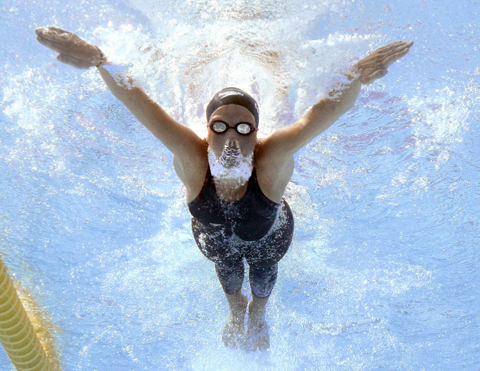 Zimbabwe's Kirsty Coventry competes in the heats of the women's 200m individual medley at the World Swimming Championships in Rome on Sunday.
PHOTO: AP
The Netherland's Olympic gold medal-winning women's 4x100m freestyle relay team lowered their world record to add a world title to their list of accomplishments — overcoming an individual 100m freestyle world record for Germany's Britta Steffen in the lead-off leg of that race.
Swedish teenager Sarah Sjostrom and Ariana Kukors of the US nabbed their world records in semi-finals — Sjostrom in the women's 100m butterfly and Kukors in the women's 200m individual medley.
The men's 4x100m freestyle relay didn't produce a world record, just scintillating racing in which a US team led by Phelps and anchored by Nathan Adrian triumphed, Russia snatched silver and France's vaunted freestyle sprinters were relegated to bronze.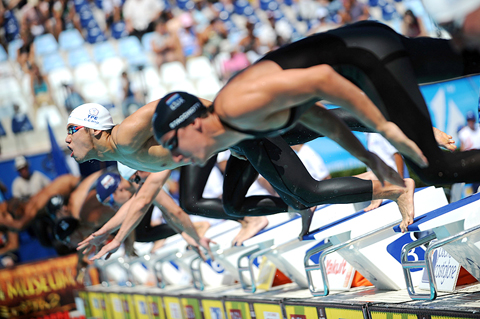 Taiwan's Hsu Chi-chieh, left, dives at the start of his men's 50m butterfly heat at the World Swimming Championships in Rome on Sunday.
PHOTO: AFP
Adrian's final leg echoed Jason Lezak's gutsy performance in Beijing, when he caught Bernard on the final lap to secure the victory and keep Phelps on course to win a record eight gold medals at one Olympic Games.
The record-shattering exploits were widely predicted after the decision to allow the current generation of high-tech supersuits.
FINA, world swimming's governing body has pledged to roll back suit technology starting next year after claims the suits enhance performance artificially, but Sunday's results promised a frenzied farewell to the controversial attire.
Three world records fell in the first three events, starting with Sjostrom's 56.44 seconds in the women's 100m butterfly semis. That broke one of the oldest records on the women's books, the 56.61 seconds set by Inge de Bruijn of the Netherlands at the Sydney Olympics in 2000.
Next up was Biedermann, whose 400m freestyle victory in 3 minutes, 40.07 seconds broke an iconic mark, the 3 minutes, 40.08 seconds set by Australian legend Ian Thorpe in 2002.
Biedermann powered past Tunisian Oussama Mellouli to lift the crown, Mellouli finishing second and China's Olympic silver medalist Zhang Lin third.
Reigning world and Olympic champion Park Tae-hwan wasn't in the mix, having failed to qualify for the final.
World record No. 3 went to unheralded Kukors, who only got into the race when one of the two US women who qualified at the trials pulled out. She clocked 2 minutes, 7.03 seconds, to better a mark held by Australian Stephanie Rice, who settled for the second-fastest semi-final time.
For more than 11,000 Italian fans, however, the high point was Pellegrini's 400m freestyle triumph, with a time of 3 minutes, 59.15 seconds that made her the first woman to break the four-minute barrier.
Dogged Briton Joanne Jackson, who held the world record earlier this year, settled for silver ahead of compatriot and Olympic gold medalist Rebecca Adlington.
In the women's relay, the Dutch quartet of Inge Dekker, Ranomi Kromowidjojo, Frederike Heemskerk and Marleen Veldhuis rallied from fifth after the first leg to win in 3 minutes, 31.72 seconds. Germany settled for silver, despite the record-breaking exploits of Steffen, who led off in an individual record of 50.22 seconds, while Australia captured bronze. Germany's time of 3 minutes, 31.83 seconds and Australia's 3 minutes, 33.01 seconds were both under the previous world record.
Publication Notes
Taiwan's swimmers
SUNDAY, JULY 26
Women's 100m butterfly
Ting Sheng-yo ranked 69/102,
time 1:03.77 (eliminated)
Chen Ting ranked 76/102,
time 1:05.06 (eliminated)
Men's 400m freestyle
Chien Jui-ting ranked 49/94,
time 3:59.78 (eliminated)
Lin Kuan-ting ranked 55/94,
time 4:04.61 (eliminated)
Pan Kai-wen ranked 56/94,
time 4:04.92 (eliminated)
Men's 50m butterfly
Hsu Chi-chieh ranked 87/204,
time 25.25 (eliminated)
Women's 400m freestyle
Yang Chin-kuei ranked 29/57,
time 4:15.96 (eliminated)
Ting Sheng-yo ranked 46/57,
time 4:33.72 (eliminated)
Men's 100m breaststroke
Wang Wei-wen ranked 81/142,
time 1:04.86 (eliminated)
Comments will be moderated. Keep comments relevant to the article. Remarks containing abusive and obscene language, personal attacks of any kind or promotion will be removed and the user banned. Final decision will be at the discretion of the Taipei Times.