Miguel Cotto retains title with bloody split decision
Puerto Rico's Miguel Cotto retained his World Boxing Organization welterweight title with a grueling split decision win over Joshua Clottey of Ghana at Madison Square Garden on Saturday night.
Judges Don Trella and John McKaie scored the bout for Cotto, 116-111 and 115-112 respectively. Tom Miller scored the bout 114-113 for former IBF champion Clottey.
At times it appeared the contest would not last long enough for the judges to play a role.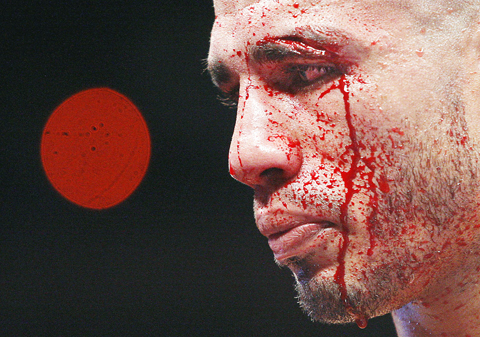 Boxer Miguel Cotto bleeds during the fourth round of his WBO World Welterwight Title fight against Joshua Clottey in New York on Saturday.
PHOTO: REUTERS
Cotto knocked down Clottey with a stiff left hand at the end of the first round, but the challenger recovered to take the second, as both men sought to land left hooks and uppercuts to body and head.
At the end of the third round, a clash of heads opened a gash on Cotto's left eyelid that bled profusely throughout the fight, blocking the Puerto Rican's vision and leaving him vulnerable to Clottey's powerful right hands.
Clottey slipped and fell to the canvas during a clinch in the fifth and appeared to hurt his knee. He writhed in apparent pain before referee Arthur Mercante urged him to his feet.
Pressing the advantage, Cotto, 34-1 (27 KOs), dominated the sixth, pinning Clottey in a corner for over half the round, but the Ghanaian rallied to dominate the next three rounds, landing his right hands against the apparently tiring champion.
By the end of the ninth, however, Cotto seemed to have regained his confidence.
He appeared to shade the 10th round on the strength of a pair of powerful left hooks, and spent the final two rounds circling his challenger, firing quick flurries and then moving away before Clottey could respond.
"I just tried to keep my plan and forget about the cut," said Cotto. "I just tried to forget about the blood running into my eye and make my people proud."
On the undercard, Ivan Calderon retained his world junior flyweight title after bleeding from an accidental headbutt forced a stop to his fight against Rodel Mayol and the judges declared it a draw on Saturday.
Comments will be moderated. Keep comments relevant to the article. Remarks containing abusive and obscene language, personal attacks of any kind or promotion will be removed and the user banned. Final decision will be at the discretion of the Taipei Times.