NFL: Cardinals defeat Eagles to reach first Super Bowl
BEEN A LONG TIME Arizona's 32-25 win gave them the chance to end a 61-year spell without a title, the second-longest in North American professional sports
Kurt Warner threw four touchdown passes, three to Larry Fitzgerald, and the Arizona Cardinals withstood a late rally on Sunday to beat Philadelphia 32-25, advancing to their first Super Bowl.
The Cardinals, who won their only National Football League crown in 1947 when they were based in Chicago, will face play in the 43rd Super Bowl championship against the Pittsburgh Steelers on Feb. 1 in Tampa, Florida.
The Cardinals' 61-season championship drought is the second-longest active span without a title in North American professional sports, eclipsed only by the 100-year gap since baseball's Chicago Cubs won the 1908 World Series crown.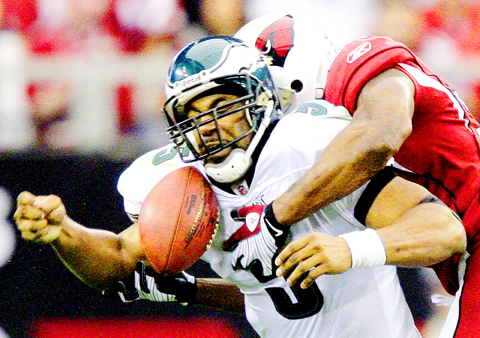 Philadelphia Eagles quarterback Donovan McNabb fumbles the ball as he is sacked by Arizona Cardinals safety Adrian Wilson during the second half of the NFL NFC championship game in Glendale, Arizona, on Sunday.
PHOTO: AP
Warner connected with Fitzgerald on scoring tosses of one, nine and 62 yards in the first half to give the Cardinals a 24-6 half-time lead before the Eagles rallied late in the third quarter with two touchdowns just 3:19 apart.
Donovan McNabb connected with Brent Celek on touchdown passes of six and 31 yards to lift Philadelphia back into contention, although kicker David Akers was wide right on the conversion kick for the second score, leaving Arizona ahead 24-19.
Akers had made 45 successful conversion kicks in a row before botching one in the critical situation.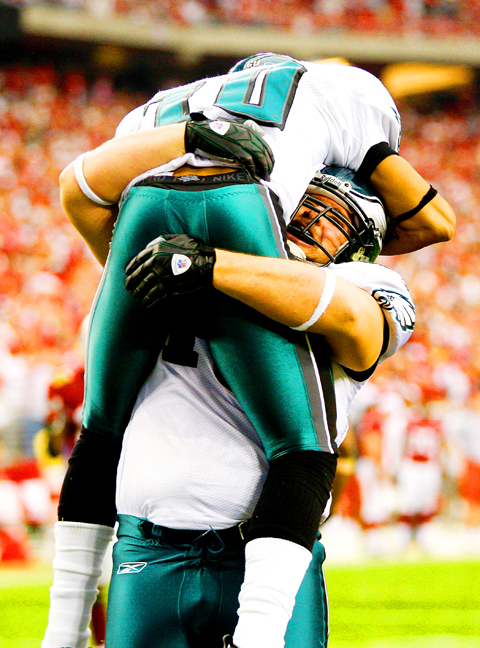 Philadelphia Eagles wide receiver DeSean Jackson, top, shares an embrace with Dan Klecko after catching a 62-yard touchdown pass against the Arizona Cardinals in Glendale, Arizona, on Sunday.
PHOTO: AFP
The Eagles struck again on their next possession to grab their first lead.
McNabb launched a long throw to rookie DeSean Jackson, who raced past Arizona defenders, made a juggling catch and high-stepped into the end zone to complete a 62-yard touchdown play, leaving the Eagles ahead 25-24 with 10:45 remaining.
But Arizona answered with a 14-play, 72-yard march that ended with Warner flipping a nine-yard touchdown pass to Tim Hightower and a two-point conversion toss to Ben Patrick, putting the Cardinals back in front 32-25 with 2:53 to go.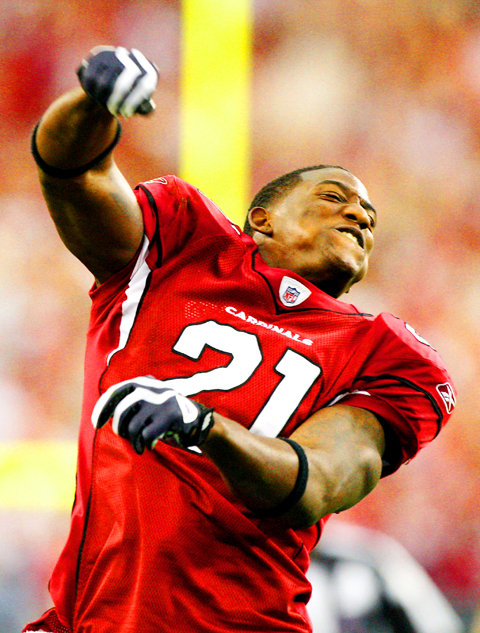 Cardinals Safety Antrel Rolle celebrates after the game in Glendale, Arizona, on Sunday.
PHOTO: AFP
Needing a touchdown to equalize, the Eagles drove to the Arizona 47-yard line with 1:57 remaining but a fourth-down McNabb pass was incomplete, although the Eagles sought a pass interference penalty on Arizona that was not given.
Arizona surrendered the ball with time for only one play.
The Eagles attempted a rugby-style, razzle-dazzle series of laterals, but the Cardinals intercepted the ball and ended Philadelphia's last hope.
"This one hurts," Reid said. "I'm proud of the guys for getting here. They battled their hearts out. There can be only one happy team."
The Eagles fell to 1-4 in National Conference championship games under Reid, whose Eagles lost to New England in the 2005 Super Bowl.
The Cardinals, who had won only two playoff games in their history before this season, have won three in a row to reach what will be Warner's third Super Bowl. He won with the St Louis Rams in 2000 and lost with them in 2002.
Comments will be moderated. Keep comments relevant to the article. Remarks containing abusive and obscene language, personal attacks of any kind or promotion will be removed and the user banned. Final decision will be at the discretion of the Taipei Times.