Bonds hits No. 740 as Giants win
Barry Bonds hit his 740th home run on Sunday, connecting for the second consecutive game and helping Matt Cain earn his first win of the season in the San Francisco Giants' 2-1 victory over the Arizona Diamondbacks.
Cain (1-1) pitched a three-hitter for his third career complete game and first since a one-hitter on May 21 last year at Oakland. He struck out four and walked four.
Bonds moved within 15 homers of Aaron's Major League Baseball career record as, with two outs in the fourth inning, he sent the first pitch from Yusmeiro Petit (0-1) into the seats in the right-field arcade for his sixth homer of the season.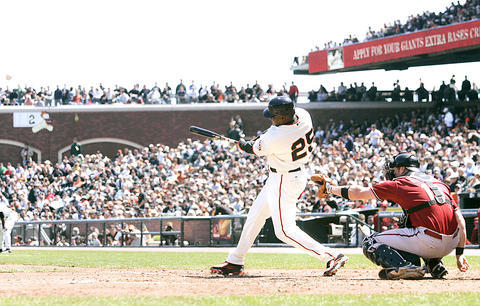 The San Francisco Giants' Barry Bonds hits his 740th career home run off Arizona Diamondbacks pitcher Yusmeiro Petit in the fourth inning of their game in San Francisco, California, on Sunday. The Giants won 2-1.
PHOTO: AP
Phillies 9, Reds 3
In Cincinnati, Ryan Howard homered in his first game back from an injury to help Freddy Garcia earn his first National League victory.
Howard missed the last three games with a sprained ligament just below his left knee.
The NL MVP hit his second homer of the season, a two-run shot in the ninth, and knocked in three runs.
Chase Utley had a pair of doubles and Wes Helms had three hits for Philadelphia, which has won three of four games and posted consecutive victories for the first time this season.
Braves 9, Mets 6
In New York, Kelly Johnson started the day with a home run against Tom Glavine and finished off the Mets with another homer off Aaron Heilman (1-2).
Johnson homered on the first pitch of the game, then hit a tiebreaking, three-run drive in the eighth inning for Atlanta.
John Smoltz allowed six runs and nine hits in five innings. Glavine went six for the Mets, giving up three runs and seven hits.
Brewers 4, Astros 3
In Milwaukee, Dave Bush pitched into the ninth inning to post another strong performance against the Houston Astros.
Bush (2-1) allowed three runs and five hits in eight-plus innings to improve to 3-0 in his career against the Astros. He struck out seven and walked one.
Marlins 12, Nationals 6
In Miami, Dan Uggla homered twice and drove in six runs and Miguel Cabrera hit a drive into the upper deck for Florida.
Wes Obermueller earned his first victory in almost two years and Josh Willingham also homered for the Marlins. Uggla had three hits.
Obermueller (1-0) allowed two runs and four hits in six-plus innings. He walked four and struck out five. Kevin Gregg pitched three innings to earn his first save.
Cardinals 12, Cubs 9
In Chicago, Albert Pujols hit a three-run homer in the 10th inning, Scott Rolen rapped out a career-best five hits and St. Louis beat the Cubs after blowing a two-run lead in the ninth.
Preston Wilson singled to start the 10th inning against Ryan Dempster (0-1). One out later, David Eckstein singled off Aramis Ramirez's glove at third. Pujols then a drove a long homer to center field, his fifth of the season.
Rockies 4, Padres 2
In Denver, Jason Hirsh outpitched Greg Maddux for the second time this season to lead the Rockies to the win.
Hirsh (2-1) went seven innings, giving up two runs and four hits and striking out seven.
Brian Fuentes got three outs for his fourth save in as many chances. Khalil Greene hit his fourth home run for the Padres.
Pirates 7, Dodgers 5
In Los Angeles, Adam LaRoche homered and Pittsburgh snapped a four-game losing streak.
Chris Duffy had three hits, stole two bases and scored two runs and Tom Gorzelanny allowed three runs in six innings for the Pirates. Pittsburgh avoided a three-game sweep a day after failing to capitalize on three wild pitches and a throwing error by the Dodgers in a 7-3, 10-inning loss on Saturday.
Marcus Thames hit a tying homer with two outs in the ninth inning, Placido Polanco singled home the winning run in the 12th and the Detroit Tigers rallied to beat the Chicago White Sox 6-5 on Sunday.
Thames hit a two-run shot off David Aardsma to tie the score at 5 and help the Tigers avoid a three-game sweep against their rivals in the AL Central Division.
The Tigers lost their previous three extra-inning games at home this year and hadn't won one in Detroit since June 24 against St. Louis.
Rangers 4, Athletics 3
In Arlington, Texas, Hank Blalock hit a two-run single and Texas scored three times in the eighth to beat Oakland.
Eric Gagne got one out in the ninth for the Rangers before leaving with a strained right hip after he landed awkwardly after throwing a pitch to Mark Ellis.
Gagne eventually limped off the field and is day to day. Akinori Otsuka came on for his second save.
Angels 6, Mariners 1
In Anaheim, California, the Angels' Ervin Santana allowed one run over seven innings and Los Angeles completed a three-game sweep by handing Seattle its sixth straight loss.
Santana (2-2) scattered six hits, struck out five and walked one batter. The only run against him came in the fifth when Adrian Beltre led off with a tape-measure homer to left-center.
Royals 3, Twins 1
In Kansas City, Missouri, Jorge De La Rosa pitched a career-high eight innings and retired 16 in a row during one stretch to lead Kansas City over Minnesota for its first series victory of the year.
Mike Sweeney had three hits and an RBI for the Royals. Ross Gload hit a two-run homer.
De La Rosa (2-1) allowed five hits, struck out four and walked one.
Joakim Soria earned his second save.
Indians 6, Devil Rays 4
In St. Petersburg, Florida, Ryan Garko hit a go-ahead, three-run homer in the ninth inning and Cleveland rallied past Tampa Bay to overcome an outstanding pitching performance by James Shields.
Shields matched a Devil Rays record with 12 strikeouts and B.J. Upton hit a tiebreaking single in the eighth to help Tampa Bay take a 4-2 lead.
But in the ninth, Victor Martinez made it a one-run game with a one-out RBI single off Brian Stokes (1-3). Garko then sent a 2-2 pitch into the left-field stands to put the Indians up 6-4.
Orioles 7, Blue Jays 3
In Baltimore, Nick Markakis and Miguel Tejada each had three RBIs and Baltimore beat Toronto to complete its first three-game home sweep of the Blue Jays in 13 years.
Steve Trachsel (1-1) allowed one run in five innings to earn his first victory with the Orioles, who have won four straight and eight of nine.
It's Baltimore's second four-game winning streak of the season. The Orioles won four in a row only once last year.
Comments will be moderated. Keep comments relevant to the article. Remarks containing abusive and obscene language, personal attacks of any kind or promotion will be removed and the user banned. Final decision will be at the discretion of the Taipei Times.