Valuev to fight Chagaev
TALLEST OF ALL TIME The 2.13m and 148kg boxer from Russia will tower over his opponent, who is 'only' 1.85m and 102kg but still believes that he can record a win
Russian giant Nikolai Valuev is going to look bigger than ever today in his WBA title defense against Ruslan Chagaev, who is nicknamed "White Tyson."
The tallest heavyweight champion of all time at 2.13m and 148kg will tower over the challenger, who is 1.85m and about 102kg.
Massiveness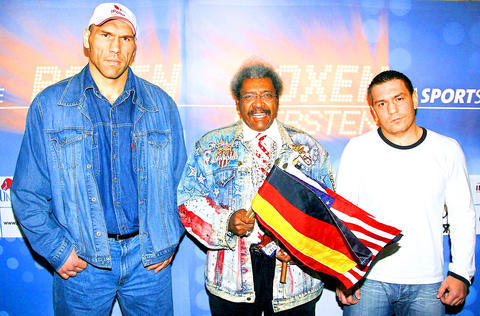 Heavyweight champion Nikolai Valuev, left, promoter Don King, center, and challenger Ruslan Chagaev pose during a press conference at the Porsche Arena in Stuttgart, Germany, on Thursday. Valuev will defend his title against Chagaev today.
PHOTO: EPA
Chagaev's camp wants the fighter to know how to handle the size difference, which is why a plasma television billed as the world's largest -- 2.27m wide -- was acquired so that he had a screen sizable enough to get a sense of Valuev's massiveness on tape.
Sparring partners the size of basketball players have also been shuttled in to Uzbekistan.
"Sometimes I will stand on a box for Ruslan to hit and get a feel for his size," Chagaev trainer Michael Timm said.
"Facing a seven-footer [2.13m] certainly is very difficult," Timm said.
Defeating Savon
But Chagaev (22-0 with one draw and 17 knockouts) likes to point out that he is one of the few to defeat Cuban legend Felix Savon -- a 1.98m fighter -- as an amateur.
"I can beat Valuev," said Chagaev, who patterns his fighting style after Mike Tyson.
"I've beaten big favored opponents before," he said.
Valuev is making his fourth title defense and first mandatory against Chagaev, his No. 1 challenger but not a man expected to stop him from reaching two main goals.
Valuev is 46-0 and chasing Rocky Marciano's record for unbeaten fighters at 49-0.
He would risk that, however, for a unification bout with International Boxing Federation champ Wladimir Klitschko, a huge bout that would be welcomed in many parts of the world.
`Raised fists'
"I'm ready. I'm waiting in the ring with raised fists," Valuev said.
Klitschko, who is also eager for the fight, doesn't expect Chagaev to spoil what would be a huge payday.
"I give Chagaev very little chance," Klitschko said.
The awkward-looking Valuev has the reputation of having grown better and more agile with every fight since he took the title from John Ruiz in December 2005.
Valuev is also thought to have a granite chin, although he hasn't been tested by the division's real power punchers like Klitschko or Samuel Peter.
"Valuev has never flinched when hit in the head, but I know Ruslan has rocks in his fist," Timm said.
"But the tactic is more to pressure him, to make him miss, he said.
Comments will be moderated. Keep comments relevant to the article. Remarks containing abusive and obscene language, personal attacks of any kind or promotion will be removed and the user banned. Final decision will be at the discretion of the Taipei Times.