Rutgers kicks Louisville out of national title chase
Rutgers arrived and kicked No. 3 Louisville right out of the national championship scramble.
The program that once set the standard for college football futility jumped into the title picture on Thursday by rallying from a big deficit for a 28-25 victory over Louisville.
On his second chance, Jeremy Ito kicked a 28-yard tiebreaking field goal with 13 seconds left and the second consecutive showdown between Big East unbeatens went to No. 15 Rutgers (9-0, 4-0).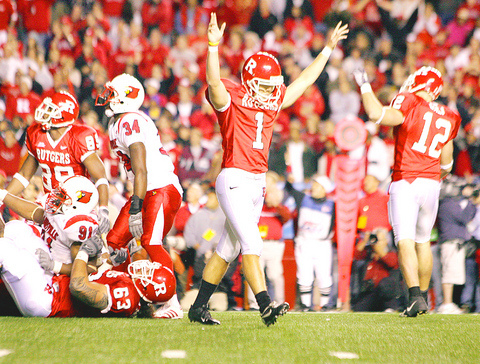 Rutgers' Jeremy Ito, 1, celebrates his field goal with 13 seconds left to put his team ahead of Louisville by a score of 28-25 in NCAA football action on Thursday in Piscataway, New Jersey.
PHOTO: AP
Just a week ago, it was Louisville (8-1, 3-1) celebrating the biggest win in school history, a 44-34 victory over West Virginia that vaulted the Cardinals into the thick of the national championship race.
This time, it was Rutgers' turn to party.
The Scarlet Knights shut out the high-scoring Cardinals in the second half, erased an 18-point deficit and got the ball with 5:28 left in the fourth quarter at their own 9.
Brian Leonard went 26 yards after catching a pass in the flats to get Rutgers into Louisville territory and Ray Rice broke a 20-yard run to get into field-goal range.
Ito missed a 33-yarder with 18 seconds left but Louisville was called for an offsides penalty. Ito got another shot and made a perfect kick.
The final play, appropriately, was a sack of Brian Brohm by a Rutgers defense that proved itself worthy of the No. 2 ranking in the country.
Fans flooded the field to swarm the players after time ran out.
Rice, the Heisman Trophy candidate -- yes the Scarlet Knights even have one of those -- ran 22 times for 131 yards and two touchdowns.
Brohm, who looked like a Heisman contender last week, went just 13-for-27 for 163 yards and was sacked five times, twice each by Jamel Meekins and Devraun Thompson.
BYU 55, Wyoming 7
At Provo, Utah, John Beck passed for 313 yards and two touchdowns and moved up to second on Brigham Young's career passing list as the Cougars clinched a share of their first conference title in five years by beating the Wyoming Cowboys.
Beck also had two 1-yard touchdown runs to lead BYU (8-2, 6-0 Mountain West) to its seventh straight win and an emphatic return to the top 25.
Curtis Brown also ran for two touchdowns, McKay Jacobson returned a punt 77 yards for a score and BYU gained 454 yards of offense against Wyoming (5-6, 4-3), who had the top-rated defense in the Mountain West.
Wyoming allowed 50 points for the first time since a 51-34 loss to Air Force in October 2000.
Comments will be moderated. Keep comments relevant to the article. Remarks containing abusive and obscene language, personal attacks of any kind or promotion will be removed and the user banned. Final decision will be at the discretion of the Taipei Times.