Taiwan beats African champs
VOLLEYBALL VIXENS After posting an historic first-ever win over hosts Japan on Tuesday, the Taiwanese women's squad made no mistakes as they defeated Kenya yesterday
Taiwan continued their excellent performance in the women's event at the World Volleyball Championships yesterday, beating African champions Kenya for their second straight win.
The Taiwanese squad, which posted a historic first-ever win over hosts Japan on Tuesday, moved a step forward towards the next stage of the tournament with a 25-13, 25-9, 29-27 win in the six-team Pool A round robin.
"For us, every match is a challenge in this tournament. We prepared for today's match as well. It was a good experience to play against Kenya," Taiwan's captain Chen Shu-li (陳淑俐) said.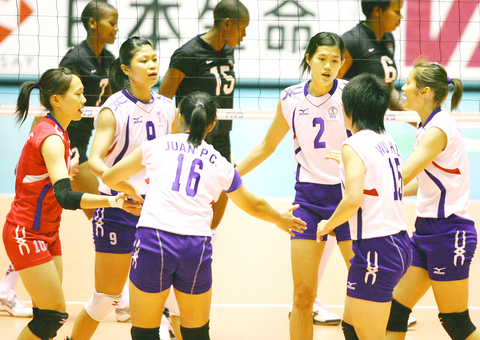 Taiwanese players celebrate after winning a point against Kenya during their first-round match at the World Volleyball Championships in Tokyo yesterday.
PHOTO: AFP
The Kenyan team squandered several set points before losing the match in 71 minutes.
"The Kenyan players are shy. It always takes some time to start playing their own game and we usually don't have enough information about our opponents," Kenya's Japanese coach Sadatoshi Sugawara said.
"We start to cope with our opponents after a match has started. We have to get into top gear from the very beginning for the remaining matches. But today Taiwan never made mistakes. They tried to keep the ball in play without an error. They are a wonderful team, as if they have been playing for 10 years together," Sugawara added.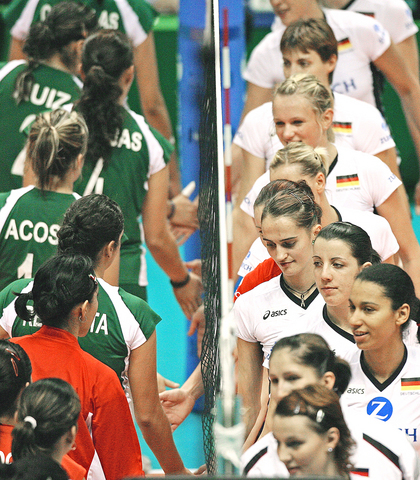 Mexican players, left, shake hands with their German rivals after their Pool B match in the Volleyball World Championships in Japan yesterday.
PHOTO: AFP
Meanwhile, Taiwan's coach Lin Kuang-hung (林光宏) said: "The Kenyan team has a height advantage. Furthermore, they have a good Japanese coach. I saw their real potential in the third set. They have a bright future."
European champions Poland, who needed four sets to beat Kenya on Tuesday, were stretched the distance before beating South Korea, 25-21, 23-25, 26-24, 23-25, 15-12, to post a 2-0 record.
"We were really concentrating well throughout the fight, because we know the Korean team. We played them in the Grand Prix and we lost 2-3, so we really wanted to win today's match," Polish captain Joanna Mirek said.
Coach Klos Ireneusz said: "It's a pity we couldn't finish the match in the fourth set when we had the score 21-17. Obviously my players didn't concentrate well, but all five sets were very dramatic, so I'm very, very happy."
In other action, favorites Brazil and Russia remained unbeaten, while Serbia and Montenegro, who stunned defending champions Italy on Tuesday, did it again, beating three-time world champions Cuba 25-22, 22-25, 25-20, 25-23.
"We know only Costa Rica were ranked below us in this tournament, but nevertheless we were convinced that this was not a real picture of the situation," Serbian coach Zoran Terzic said. "We are glad that we showed our potential against such a good team like Italy and Cuba."
Team captain Vesna Citakovic added: "I don't think we can become the world champions after only two wins, but I'm glad we came into this game with huge motivation and that we managed to win it. We played well today."
The Brazilians, who have dominated South American play in the past six years and the World Grand Prix in the past three years, outgunned Asian silver medallists Kazakhstan 25-17, 25-13, 25-16 in Pool C in Kobe.
Puerto Rico notched its first win, beating Cameroon 25-17, 25-23, 25-20.
Sydney and Athens Olympic silver medallists Russia prevailed over Azerbaijan in four sets, 25-19, 25-21, 19-25, 25-20, while Germany outplayed Mexico 25-18, 25-21, 25-19 in Pool B in Sapporo.
In Pool D in Nagoya with Serbia and Montenegro, Turkey defeated two-time former African champions Egypt, 25-11, 25-12, 25-8.
Brazil, Russia, Germany and Serbia and Montenegro all have 2-0 records, with the top four teams from each group advancing to the second stage.
Comments will be moderated. Keep comments relevant to the article. Remarks containing abusive and obscene language, personal attacks of any kind or promotion will be removed and the user banned. Final decision will be at the discretion of the Taipei Times.