Forsberg, Esche shine for Flyers
ICE HOCKEY Philadelphia, off to one of their poorest season starts in franchise history, won their third game in 11 by defeating the Chicago Blackhawks
Peter Forsberg scored twice, including a spectacular goal in the third period, and Robert Esche recorded his 10th career shutout as the Philadelphia Flyers beat the Chicago Blackhawks 3-0 in the NHL on Monday.
It was only the third win in 11 games for the Flyers, off to one of their poorest starts in franchise history. The Blackhawks have dropped five straight after winning three of four.
Esche, making only his third start, stopped 26 shots in his first win of the season. He was especially sharp in the second period when he made 15 saves.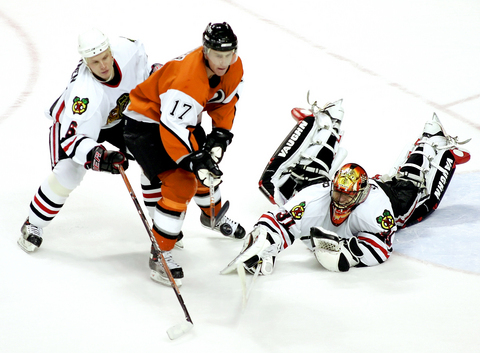 Chicago Blackhawks defenseman Lasse Kukkonen, left, of Finland, Philadelphia Flyers center Jeff Carter, center, and Blackhawks goalie Brian Boucher battle for the puck in front of the net during the third period of their NHL game on Monday in Philadelphia, Pennsylvania. The Flyers won 3-0.
PHOTO: AP
Chicago's Brian Boucher, a first-round draft pick of the Flyers in 1995, was almost as effective in stopping 32 shots. Boucher played for the third straight game, replacing injured regular Nikolai Khabibulin.
Simon Gagne added an empty-net goal with 28 seconds left.
Maple Leafs 4, Thrashers 2
At Toronto, Darcy Tucker scored two power-play goals and Toronto won its eighth straight against Atlanta.
Tomas Kaberle and Jeff O'Neill also scored for Toronto, which won consecutive games for the first time this season.
The Thrashers lost for just the second time in regulation, and were coming off a big victory on Saturday when they snapped Buffalo's season-opening winning streak at 10. But their troubles against Toronto continued. Atlanta has been outscored 37-9 during the skid and hasn't beaten the Maple Leafs in three years.
Ilya Kovalchuk and Brad Larsen scored for Atlanta.
Capitals 4, Flames 2
At Calgary, Alberta, Richard Zednik scored his first two goals of the season, leading Washington over Calgary.
Zednik was recently demoted to Washington's fourth line, but it was that trio that connected with 4:06 left in the second period to break a 1-1 tie and give the Capitals the lead for good.
Zednik scored the eventual winner at 10:27 of the third when Alexander Ovechkin's pass sent him in on a breakaway. Jarome Iginla scored less than two minutes later to get the Flames back within a goal, but Calgary couldn't get another puck past Olaf Kolzig, who made 38 saves.
Dainius Zubrus also scored twice for Washington, including an empty-net goal with 19 seconds left. Ovechkin had two assists.
Kristian Huselius scored the other goal for Calgary.
Ducks 6, Blues 5, SO
At St. Louis, Teemu Selanne and Ryan Getzlaf scored in the shootout to lift Anaheim over St. Louis after the Ducks squandered a pair of two-goal leads.
Jean-Sebastien Giguere made one save in the tiebreaker and watched St. Louis' other attempt go wide, as the Ducks tied idle Buffalo with a NHL-high 21 points.
Christan Backman gave St. Louis a 1-0 lead just 31 seconds in.
Travis Moen, Francois Beauchemin, Todd Merchant scored for Anaheim to make it 3-1.
The Blues erased that deficit on goals by Dennis Wideman and Lee Stempniak.
Anaheim's Scott Niedermayer and Dustin Penner pushed the Ducks' lead to 5-3 with power-play goals in a 43-second span in the third period.
Keith Tkachuk netted his first of the season on a power play with 5:10 remaining in the third period, and Radek Dvorak got St. Louis even 5-5 at 18:56.
Comments will be moderated. Keep comments relevant to the article. Remarks containing abusive and obscene language, personal attacks of any kind or promotion will be removed and the user banned. Final decision will be at the discretion of the Taipei Times.