Malaysian deputy PM calls for `sepak takraw' to be made an Olympic sport
The centuries-old Malay ball game sepak takraw should be promoted internationally and become an Olympic sport, Malaysia's deputy prime minister was quoted yesterday as saying.
Sepak takraw, which is similar to volleyball but played with feet instead of hands, is popular across Asia, and there are 46 sepak takraw associations worldwide, Deputy Prime Minister Najib Razak said as he opened the World Sepak Takraw Championships in northern Penang state late on Tuesday, according to the Star newspaper.
Malaysia's game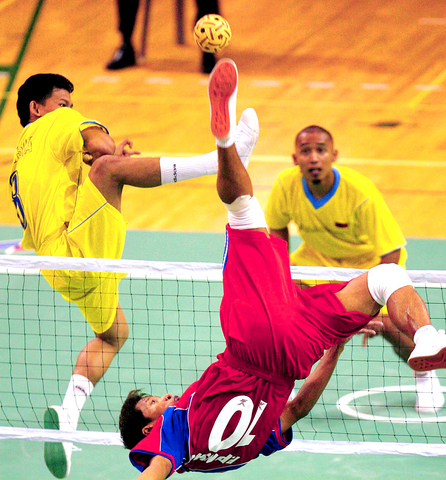 Thailand's Permsap Poonsak, center, makes an acrobatic kick against Malaysia as his teammate Mohamad Zaki stands by at right in the background during the Asian Games Sepak Takraw men's team final competition in Busan, South Korea, in this Oct. 6, 2002 photo.
PHOTO: AP
Najib said the sport -- the only one to originate in Malaysia -- should therefore be included in more mainstream international sporting competitions, including the Olympics and the Commonwealth Games, the newspaper said.
"If taekwondo can be associated with South Korea, then when sepak takraw becomes a world sport, it will automatically be identified with Malaysia and this part of the world," Najib said.
Najib and his aides were not immediately reachable for comment yesterday.
He said the Cabinet Committee on Sports will meet next month to consider how to develop the sport internationally and with the aim of establishing a sepak takraw academy, according to the Star.
Rattan ball
A takraw is a woven rattan ball, and "sepak takraw" literally translates from Malay as "kicking the ball." It has been played in Malay communities across Asia for hundreds of years.
Teams from Malaysia, Thailand, Singapore, Myanmar, Indonesia, South Korea, Japan, Philippine, Vietnam, Brunei and Pakistan are taking part in the World Sepak Takraw Championships, Aug. 23-30.
Comments will be moderated. Keep comments relevant to the article. Remarks containing abusive and obscene language, personal attacks of any kind or promotion will be removed and the user banned. Final decision will be at the discretion of the Taipei Times.