Fastest men in the world reluctant to take each other on
Since May, two sprinters have shared the title of the world's fastest man: Justin Gatlin, 24, of the US and Asafa Powell, 23, of Jamaica.
They are held together by their 100m record of 9.77 seconds, but efforts to bring them together on the track have been fruitless, giving track and field a taste of the cat-and-mouse tactics more commonly associated with boxing.
Gatlin and Powell were scheduled to compete this Friday in their first head-to-head showdown since Gatlin tied Powell's record on May 12. But Gatlin withdrew on July 14 from the Norwich Union London Grand Prix at Crystal Palace, citing an injury to his right calf and knee.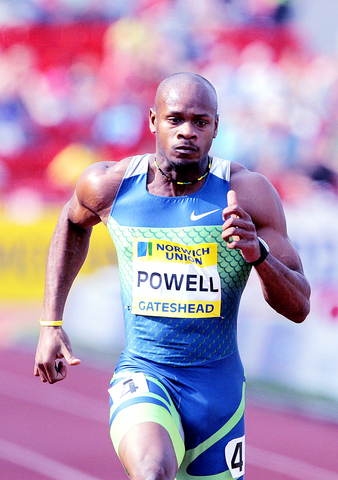 Asafa Powell runs the 100m in 9.77 seconds at the British Grand Prix in Gateshead, England, on June 11.
PHOTO: AP
They were also scheduled to race last month, at Gateshead in England, but Gatlin pulled out of that meet, too. Gatlin's agent, the former hurdler Renaldo Nehemiah, said at the time that the weather for the Gateshead race was potentially too cold, raising the risk of injury. He also acknowledged that he was trying to preserve the intrigue, ideally until the world championships next summer.
Ian Stewart, the director for the Gateshead and Crystal Palace meets, said a contract was negotiated in November.
"They pull out whenever they want; it's like the Wild West," he said. "They want to be paid and treated like professionals, but they don't want to act like them. It's a nightmare."
The Gatlin-Powell saga may have been started at the 2004 Olympics in Athens. The spotlight in the 100 was on Powell and Maurice Greene, but Gatlin stole the show, winning the gold medal. Greene had to settle for bronze, and Powell finished fifth.
Powell first set the world record of 9.77 on June 14 last year, at a Grand Prix meet in Athens. Last July, he ran in a field with Gatlin in the Norwich Union Grand Prix, but Powell pulled up with a groin injury that kept him out of the world championships in August. Gatlin cruised to victory in 9.89 seconds in the Grand Prix race, then won gold at the worlds in 9.88.
Gatlin thought he broke Powell's record on May 12 in Doha, Qatar, running 9.76. But five days later, the International Association of Athletics Federations ruled that the actual time was 9.766 seconds and that it should have been rounded up to 9.77. The ruling resulted in a shared record for Gatlin and Powell.
Powell ran 9.77 again on June 11 at Gateshead, in a field that did not include Gatlin. And when Gatlin pulled out of this week's meet, it only fueled speculation that he was avoiding Powell.
"If he's going to wait until something happens to me, then he is avoiding me," Powell said in a telephone interview from Stockholm, where he was to race in the DN Galan meet yesterday. "Maybe he's waiting until he thinks I'm vulnerable.
"I heard that he has been injured. I'm not sure how true that is," Powell said.
Gatlin declined to respond to Powell's comments.
"I don't want to waste my breath," he said in a telephone interview.
The next opportunity for them to run head-to-head is next month at the Golden League meets in Zurich and Brussels. Powell said he was communicating with event directors about arranging it.
The Brussels meet, which begins Aug. 25, may be the more likely opportunity. Zurich, held a week earlier, may not be ideal for Gatlin because it would probably be his first race since recovering from injury.
Gatlin said he was in no rush to prove himself to Powell, especially after beating him in the Olympics two years ago.
"I do what I can do on the track," he said. "I'm not worried about when Asafa's going to be where. Right now, I have the advantage, I'm the man of the hour. Asafa has to find me."
Powell does not seem as patient. "I'm ready to run anytime, and I want to get it over with," he said. "I think people are getting tired of it."
The opportunity for a showdown between the fastest men in the world may be giving Gatlin and Powell leverage to demand higher appearance fees and bigger prizes for breaking the world record. Powell's agent, Paul Doyle, does not see it that way.
"Going from someone who's never held it before to someone who's the world-record holder, you're going to at least triple your income," Doyle said.
Comments will be moderated. Keep comments relevant to the article. Remarks containing abusive and obscene language, personal attacks of any kind or promotion will be removed and the user banned. Final decision will be at the discretion of the Taipei Times.