New Jersey Nets watch lead disappear before coming back to beat Miami Heat
Vince Carter scored 27 points, Jason Kidd added 22, and the New Jersey Nets saw most of a 28-point third-quarter lead vanish before hanging on to beat the Miami Heat 100-88 in Game 1 of the Eastern Conference semifinals on Monday.
Richard Jefferson had 20 points before leaving the game in the third quarter with an ankle injury. X-rays were negative and he left the arena in a walking boot.
Dwyane Wade scored 25 points for Miami, which got 20 points and 10 rebounds from Shaquille O'Neal -- who was not effective until late, sitting most of the first half with foul trouble. Jason Williams added 12 points for the Heat, who were doomed by 17 turnovers that led to 24 New Jersey points.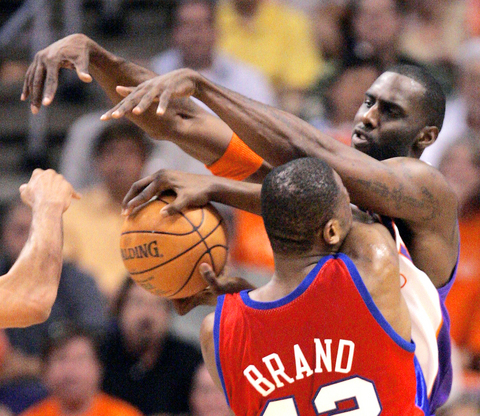 The Phoenix Suns' Tim Thomas, right, fouls the Los Angeles Clippers' Elton Brand in Phoenix, Arizona, on Monday. The Suns won 130-123.
PHOTO: AP
Game 2 is today in Miami.
Nenad Krstic added 11 points for New Jersey, which also got nine rebounds and seven assists from Kidd. Udonis Haslem had 10 points for Miami.
Suns 130, Clippers 123
At Phoenix, Steve Nash had 31 points and 12 assists, and Phoenix pulled away over a five-minute stretch of the fourth quarter to beat Los Angeles in the opener of their Western Conference semifinal series.
Shawn Marion had 20 points and 15 rebounds, including 10-of-10 free throws for the Suns, who were 24-of-25 at the line. Raja Bell added 22 points, Boris Diaw 19 and Leandro Barbosa 17 for a Phoenix team playing 48 hours after eliminating the Los Angeles Lakers in seven games.
Elton Brand scored 40, but only two in the final 8:33 for the Clippers, who hadn't played in a week since beating Denver in five games for their first playoff series triumph in 30 years. Sam Cassell added 28 points.
Los Angeles shot 59 percent and still couldn't keep up with the Suns, who shot 55 percent. Phoenix has averaged 122 points in winning its last four playoff games after falling behind the Lakers 3-1.
Defensive Player of the Year
Detroit Pistons center Ben Wallace won the National Basketball Association's Defensive Player of the Year award on Monday for the fourth time in five years for his ability to guard Shaquille O'Neal and LeBron James.
Wallace is one of only two players in league history to win the award four times. Wallace won the award last year and in the 2003 and 2002 seasons.
"He deserves it," said James, who was held to 22 points in Detroit's 113-86 win in Game 1 of their second-round playoff series on Sunday. "You have to be aggressive when you go to the hole, because he's capable of blocking your shot or stripping you."
Detroit won an NBA-high and franchise-record 64 games during the regular season. Wallace was selected an All-Star for the fourth straight year.
Wallace ranked fourth in the NBA in rebounding (11.3), ninth in blocks (2.2) and 10th in steals (1.78) -- the only player among the top 10 in all three categories.
He became the fifth player in league history to have 100 blocks and 100 steals in six straight seasons, a list that includes Hakeem Olajuwon, Julius Erving, Sam Lacey and David Robinson.
Wallace scored 7.3 points a game this season and has not averaged double digits in any of his 10 years in the league.
Despite his lack of scoring, he's been key to the Pistons' success, which included the NBA title in 2004.
Detroit acquired him from Orlando along with Chucky Atkins in a sign-and-trade deal for Grant Hill before the 2000-01 season.
Rookie of the Year
New Orleans Hornets point guard Chris Paul, who led all first-year players in points, assists, steals and other categories, will be named the NBA's Rookie of the Year.
A person within the league told The Associated Press of Paul's award on Monday on condition of anonymity because the official announcement was scheduled for today. Paul is scheduled to be in New Orleans that day for a team-related function.
Paul was drafted as the No. 4 overall pick in the 2005 NBA draft, and he quickly emerged as one of the Hornets' best players. Among rookies, he ranked first in points (16.1), assists (7.8), steals (2.2), double-doubles (21), minutes played (36.4) and triple doubles (2).
"I couldn't have asked for a better rookie season," Paul said after the Hornets' season ended in the middle of last month.
With Paul running the show, the Hornets improved from 18 wins last season to 38 this season and stayed in the playoff chase until the final week of the season. He joined Brevin Knight (1997-98) as the only NBA rookies ever to lead the league in steals, with 175.
The selection was hardly a surprise. Paul won all six Rookie of the Month honors in the Western Conference and was the only unanimous selection to the NBA's All-Rookie Team last week. Others selected to that team by league head coaches were Toronto's Charlie Villanueva, Milwaukee's Andrew Bogut, Utah's Deron Williams and New York's Channing Frye.
In an interview before word of Paul's selection came out, team owner George Shinn spoke about his rookie star without being prompted.
"I learned a long time ago that the difference in a good player and a great player is character, and Chris Paul is character right from the soles of his feet to the top of his head," Shinn said.
Paul will try out for the US national team this summer and plans to hold basketball camps back home in North Carolina and in Oklahoma City. He also announced plans on Monday for a "Winston-Salem Weekend" in North Carolina this September to benefit his charitable foundation, the CP3 Foundation.
"Winning the award wouldn't have been possible without my teammates," Paul told the New Orleans Times-Picayune on its Web site on Monday. "Guys like David West and Speedy Claxton made things easier for me. I just tried to play the same way every game."
Comments will be moderated. Keep comments relevant to the article. Remarks containing abusive and obscene language, personal attacks of any kind or promotion will be removed and the user banned. Final decision will be at the discretion of the Taipei Times.