Jepkosgei in 800m heaven
COMMONWEALTH GAMES Janeth Jepkosgei sprinted past Kenia Sinclair and world champion Maria Mutola in the final meters to win her first major international title
Janeth Jepkosgei caused an upset in the 800m, beating former Olympic and three-time world champion Maria Mutola, who ended up in third place yesterday at the Commonwealth Games.
Jepkosgei won in one minute, 57.88 seconds.
Favorites Kenia Sinclair and Mutola had led the race until then.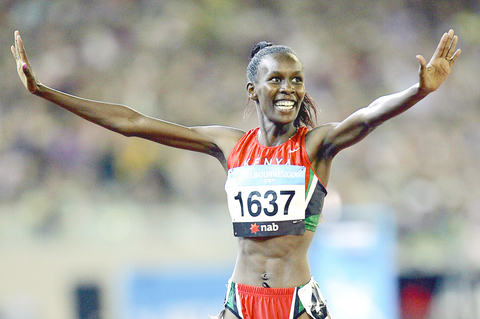 Kenya's Janeth Jepkosgei celebrates after winning the gold medal in the women's 800m at the Melbourne Cricket Ground during the Commonwealth Games in Melbourne, Australia, yesterday.
PHOTO: AP
The 22-year-old Kenyan has never competed at an Olympic, Commonwealth or world championships before.
Mutola, 33, is a former three-time world champion but didn't race at last year's championships in Helsinki, Finland. Olympic champion in 2000 and fourth in 2004, Mutola won her seventh world indoor title over 800m in Moscow on March 12.
She was chasing her third consecutive Commonwealth Games 800 title.
Sinclair, meanwhile, ran a personal best of 1:58.16, with Mutola clocking 1:58.77.
Jamaica continued its domination of the sprint events, with Brigitte Foster-Hylton winning the 100m hurdles. She took the lead a third of the way through, beating Canada's Angela Whyte and Jamaican teammate Delloreen Ennis-London, who finished second at the last world championships.
"Words can't say how happy I am," Foster-Hylton said. "It's the friendly games, it's the Commonwealth and this is very special to me."
Foster-Hylton, the bronze medalist in Helsinki, won in 12.76, with Whyte clocking 12.94. Defending champion Lacena Golding-Clarke was fourth.
Jamaica has now won gold in the men's and women's 100m and 200m and both sprint hurdle events.
Ezekiel Kemboi Yano led a Kenyan sweep in the 3,000m steeplechase, winning in eight minutes, 18.17 seconds. Wesley Kiprotich Keoch was second and Reuben Kosgei Seroney third.
Yano had to sprint past lapped runner Sapolai Yao of Papua New Guinea to win. Yao's final lap was cheered by the 83,000 spectators on another balmy evening at the Melbourne Cricket Ground.
The men's 4x100m relay heats provided a few upsets.
England was disqualified for a bad final baton change. Mark Lewis-Francis couldn't grab the baton from Marlon Devonish in time and also veered out of his lane. Lewis-Francis, Devonish and Darren Campbell were all members of the relay team that won gold at the Athens Olympics in 2004. Andrew Turner ran the opening leg in place of the injured Jason Gardener, who also ran in Athens.
"Before tonight we were confident, we're a team," Campbell said. "At the end of the day, we've messed up, but we're a team even when we lose."
The Nigeria and Trinidad and Tobago teams also dropped their batons.
Jamaica will be the favorite for today's finals, with 100m champion Asafa Powell chasing down a five-meter lead by Australia's Ambrose Ezenwa at the final changeover to win their heat.
Stuart Rendell of Australia defended his hammer throw title with a games record 77.53m, with Canada's James Steacy second and South Africa's Christiaan Harmse third.
Nathan Deakes defended his 50km walk title in a games record three hours, 42 minutes, 53 seconds. Duane Cousins was in second place with 4km left of the race but was disqualified for lifting.
New Zealand's Tony Sargisson was second -- almost 16 minutes behind -- with Australia's Chris Erickson third.
Commonwealth Games officials confirmed that two Indian weightlifters had failed doping tests, increasing the chances that India could be banned from international weightlifting competition for up to five years.
Commonwealth Games Federation president Mike Fennell said the two Indian athletes had tested positive to the banned steroid stanozonol in a pre-games test.
Fennell said that the A and B samples for both athletes were positive and the cases were sent to the Court of Arbitration for Sport.
He said he could not release the names of the athletes until the ruling by CAS, which can impose two-year bans for steroid use.
However, AP has been told by Indian team officials, speaking on condition of anonymity, that Edwin Raju, who finished fourth in the men's 56kg class at the games, and Tejinder Singh, who withdrew from the men's 85kg division on Monday, failed tests conducted four days before the March 15 opening ceremony.
India chef de mission H.J. Dora, who is also head of the Indian weightlifting federation, was surprised by the positive cases but determined to enforce life bans if the CAS hearing confirms guilt.
missing in action
Athletes from war-torn Sierra Leone who went missing from the Commonwealth Games village phoned team officials and said they didn't want to return, and the prime minister warned competitors yesterday they could be treated as illegal immigrants if they tried to stay in Australia.
Commonwealth Games Federation officials said there was no consideration being given to banning countries with a history of having athletes go missing from the event, as the problem escalated at the Melbourne Games.
Sierra Leone team officials said yesterday that two more of its competitors had gone missing from the athletes village.
Half of Sierra Leone's squad of 22 athletes were missing with three days of competition remaining.
Comments will be moderated. Keep comments relevant to the article. Remarks containing abusive and obscene language, personal attacks of any kind or promotion will be removed and the user banned. Final decision will be at the discretion of the Taipei Times.