NCAA's leading scorers now out of running
More than ever, the road to the Final Four is wide open. But the subtext of this college basketball season has become who will win -- who should win -- the Naismith player of the year award: Duke's J.J. Redick or Gonzaga's Adam Morrison?
The question becomes even more complex now, because Redick and Morrison have been eliminated from the NCAA tournament.
Redick's chances took a major hit Thursday night as Louisiana State held him to 11 points and upset top-seeded Duke 62-54 in the Atlanta Regional semifinals. Morrison scored 24 points, but Gonzaga lost here to UCLA 73-71 and Morrison missed two key shots down the stretch that could have sealed a victory.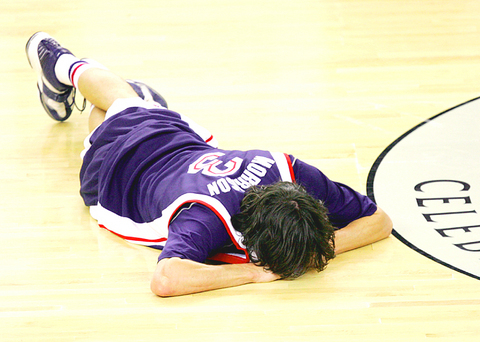 Gonzaga's Adam Morrison falls to the floor after losing to UCLA in their NCAA Tournament regional semifinal game in Oakland, California, on Thursday.
PHOTO: AP
This underlines my problem with individual awards in team sports. If Redick and Morrison are so valuable, why did their teams get eliminated? If we're really serious about what we say about the team we'd insist on a team standard: recognize all or recognize no one at all.
Our waffling on this issue reflects a growing ambivalence in the United States over sports and competition. We claim to like the team, but we're much more intrigued by individual prowess -- provided it belongs to the right individuals.
This season, Morrison and Redick are the right individuals in the right race. They are in a neck-and-neck battle for two honors: player of the year and scoring champion. Since 1970, only two were voted player of the year and won the scoring title in the same season: Pete Maravich of LSU in 1970 and Glenn Robinson of Purdue in 1994.
If I voted, I would make Morrison and Redick co-players of the year; if pushed, I'd vote for Morrison. He carried the weight of his program and of the West Coast Conference in the NCAA tournament.
He also represented the hopes of all the midmajors. A couple of weeks ago during the Missouri Valley Conference tournament, I spoke to a couple of Bradley players who said they hoped that their team would someday be regarded as a Gonzaga.
Gonzaga seems to have outgrown -- or feels it has outgrown -- its underdog niche. "I think we've kind of proven ourselves out in regards to that over a very long, long period of time here," coach Mark Few said Wednesday. "This is the eighth straight time we've been to the tournament. We've won games every year in this tournament except once."
Morrison agreed, saying, "I feel we've got to be considered one of the top-notch programs, not Cinderella anymore, because look at the type of players were getting now, too."
With all due respect to coach and player, Gonzaga will continue to be an underdog until it reaches the Final Four. That quest was set back and the NCAA tournament will go on without the two marquee players. Maybe Brandon Roy of Washington should have been a candidate for player of the year; his team is still alive.
But no one can take away Morrison's fine season.
"He' s seen everything," Few said of Morrison. "We've seen box and ones, triangles and twos, people face-guarding him."
Comments will be moderated. Keep comments relevant to the article. Remarks containing abusive and obscene language, personal attacks of any kind or promotion will be removed and the user banned. Final decision will be at the discretion of the Taipei Times.