Arakawa comes through
FINAL COUNTDOWN Shizuka Arakawa secured the first Olympic figure skating title for Japan and its first medal of any kind at this year's Winter Games
With rivals literally falling by the wayside, Shizuka Arakawa calmly and gracefully saved Japan from its worst Winter Games in 30 years with an upset triumph in women's figure skating.
While highly-favored Sasha Cohen and world champion Irina Slutskaya had tumbles, Arakawa performed an elegant and acrobatic routine to Puccini's Violin Fantasy of Turandot.
Her artistry and music selection delighted the Italian crowd and her five triple jumps wowed the judges, who awarded her a combined score for short and free programs that was almost eight points clear of second-place Cohen.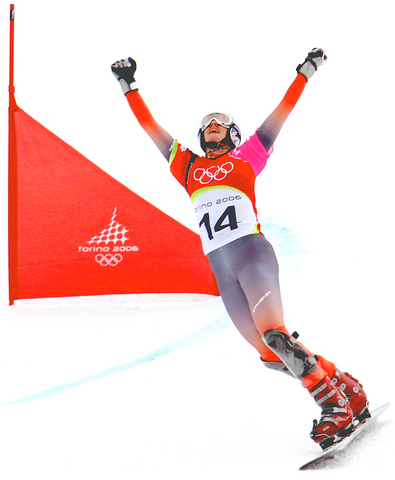 Daniela Meuli of Switzerland celebrates after winning the women's snowboard parallel final in Bardonecchia, Italy, on Thursday.
PHOTO: EPA
Cohen stumbled twice, ending the US' chances of a third consecutive women's Olympic title, and Russia's hopes of a sweep of all the figure skating gold medals in Turin dived when Slutskaya missed a landing. She finished with bronze.
"I'm just so surprised about all of this that I'm speechless," Arakawa said. "I never expected that I would be the first one to win a medal for Japan, so I didn't feel that pressure. But I'm very happy that I am the one who won it."
Arakawa's win pushed a doping scandal involving disgraced Austrian coach Walter Mayer into the background for a while.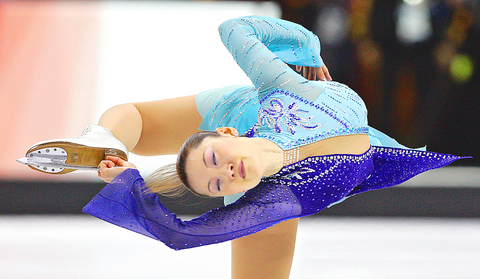 Shizuka Arakawa of Japan performs her gold medal winning routine during the women's free skate in Turin, Italy, on Thursday.
PHOTO: AP
And it came after Sweden improved on its best showing at a Winter Games when its 'rock star' women won the curling title 7-6 over Switzerland after an extra end. The Swedes, who recorded a video with a heavy-metal rock group before the Games, now hold the Olympic, World and European titles.
The victory gave Sweden its 11th medal at Turin -- beating the country's previous best Winter Olympic haul of 10 set in 1948 and 1956.
Earlier, Russia won its eighth gold medal of the games when it easily beat two-time defending champion Germany in the 4x6km biathlon relay. France finished third.
Anna Bogaliy started in place of Olga Pyleva, the only athlete expelled so far in the tightest drug net in Winter Olympics history, and gave her team a big lead at the first exchange that the Russians never gave up.
The Russian team of Bogaliy, Svetlana Ishmouratova, Olga Zaitseva and Albina Akhatova covered the San Sicario course in 1 hour, 16 minutes, 12.5 seconds.
Switzerland continued its dominance of the snowboarding parallel giant slalom when three-time defending World Cup champion Daniela Meuli won gold after her opponents in the semifinals and final crashed.
Philipp Schoch had won the men's event a day earlier, with brother Simon taking silver.
Amelie Kober of Germany won silver and Rosey Fletcher won the US' first ever medal in the event by taking bronze.
Away from the competition, the IOC said testing continued on doping samples taken from 10 Austrian athletes last weekend during raids of their accommodation in the Italian Alps.
The testing was carried out after Italian police raided the athletes' rooms and seized blood transfusion equipment and other materials linked to disgraced Austrian ski coach Mayer.
Austrian ski federation chief Peter Schroecksnadel met Thursday with prosecutors at Turin's main judicial offices, said Giampaolo Zancan, a top Italian lawyer hired by the Austrians.
"He is meeting prosecutors as a witness," Zancan told AP. "I accompanied him and left him there because as a witness he doesn't need a lawyer with him."
The results are expected to be released by tomorrow when the games end.
Han Xiaopeng became China's first Olympic gold medalist in freestyle skiing when he won the men's aerials on Thursday on the next-to-last jump at the Turin Winter Games.
Dmitri Dashinski of Belarus took silver and Vladimir Lebedev of Russia won bronze after coming in as only the 30th-ranked aerialist in the world.
"I never thought this would happen -- I'm overjoyed with such a win," said Han. "I feel like I'm in a dream.
"I was so happy to win the first gold medal for the Chinese team in the history on the snow."
Han did not qualify for the final at Salt Lake City four years ago or at the 2003 and 2005 world championships. The 22-year-old from Liaoyang has had three second-place finishes at World Cup events in the last two seasons and is third in the standings overall.
Han said he was physically suited to the event and promised big things in future.
"I think the men's aerials is designed for China and I'm happy to be the one to make this a reality," he said.
As promised, Jeret "Speedy" Peterson tried his trademark trick -- the Hurricane -- on the aerials course, but a bobble on the landing did him in.
The American finished seventh on a night when the world's best simply weren't making mistakes.
It was perfectionists like Han and Dashinski who took the day, not revolutionaries like Speedy.
The first- through sixth-place finishers all had brilliant landings on their second jumps, and though none of them were as intricate and difficult as Peterson's, those landing points made a difference.
Han earned 130.53 points on a conservative final jump to put him in first with 250.77.
When Dashinski couldn't match him, Han grabbed his country's flag and waved it.
"I didn't think about changing for a more difficult [last] jump," said Han. "I feel very comfortable about this jump -- I had the confidence."
He came through big after watching his female teammates grab the top three spots after the first round in the women's final the night before, only to walk away with a single silver.
Dashinksi was exhausted and surprised to end up with silver, although he admitted Han was jumping better than he'd ever seen him.
Lebedev was a surprise. Part of his success could be attributed to a watered-down field, the result of a mistake-filled night of qualifying that eliminated many of the top jumpers, including top-10 Americans Joe Pack and Ryan St. Onge.
Peterson tried the hardest trick in the sport, a triple somersault with five twists, three of which are crammed into the middle flip. It's even more difficult than the five-twister Ales Valenta used four years ago to win his gold -- so difficult, in fact, that Peterson can only remember landing it four times since he started doing it about a year ago.
Regrets? He had none.
"It was very hard," he said. "It was the hardest jump ever tried in competition and I'm very glad I threw it in the Olympics. I said I'd be first or 12th and I ended up somewhere in the middle. That's what it's all about."
Comments will be moderated. Keep comments relevant to the article. Remarks containing abusive and obscene language, personal attacks of any kind or promotion will be removed and the user banned. Final decision will be at the discretion of the Taipei Times.