Luge competitor prepares to race in Olympic Games
WINTER OLYMPICS Ma Chih-hung will show up in Turin next month to represent Taiwan in an event that tests the nerves and skills of participants
In just a few weeks, Ma Chih-hung (馬志鴻), a 19-year old athlete from Pingtung, will be competing in the men's single luge in the 2006 Winter Olympics in Turin, Italy. He will be the lone competitor in the Taiwanese team, though he will be accompanied teammates and coaches offering moral and logistical support.
It may come as a surprise that Taiwan would send an athlete to this year's Winter Olympics, however, early Olympic games were once a showcase for amateur athletes, and Taiwan sent a ski team in 1972, and in subsequent years, competitors in both bobsled and luge.
It's hard to imagine that local skiers fared well in the 1972 games in Sapporo, Japan, though they did have access to local training facilities as the opening of the Cross-Island Highway created new access to mountainous, snow-cap-ped areas of Taiwan.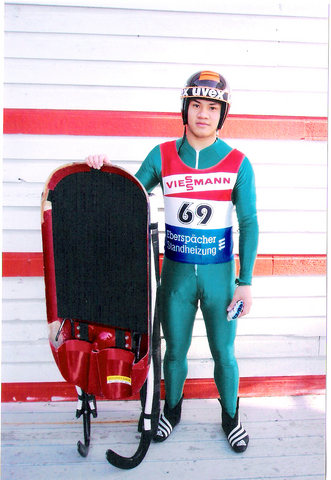 Ma Chih-hung, 19, prepared to take part in a World Cup luge competition in Calgary, Canada, on Dec. 10.
PHOTO: HSU CHI-YOU
And in early 1970, Taiwan opened its first ski slope atop Hehuanshan, a popular tourist spot which was newly outfitted with a ski gondola, a lodge and rental skis, a location particularly popular during the Lunar New Year Holiday.
The amateur nature of the Olympics at that time meant that each country was free to send their best athletes, and in some instances, athletes that were shockingly under-qualified to participate in international competition.
The infamous `eagle'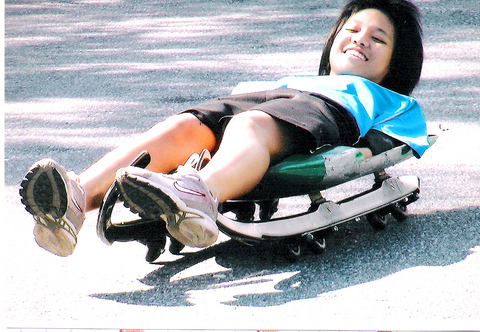 Taiwanese Hsieh Ching-shen takes part in Taiwan's first luge competition in Taitung on Dec. 9.
PHOTO: AP
The Olympics existed in this way until Eddie "The Eagle" Edwards of the UK appeared on the scene, or should we say, at the top of the ski jump at the Calgary 1988 Olympics. Despite little hope of earning a medal, let alone landing a single ski jump, Edwards earned an automatic bye into the competition because his country had no other ski jumpers.
Despite his instant celebrity, aided by thick glasses and a stocky build, Olympic officials worried he posed physical risk to himself and spectators, quickly drafting a new "Eddie the Eagle Rule" where Olympic athletes must compete in international events and place in the top 30 percent or among the top 50 competitors.
It's safe to say that early participation of Taiwan teams were akin to this brave Briton -- built more upon bravado rather than athletic skill.
Yet another impetus for Taiwan to join new sports came about as China began pressuring sporting federations around the world to exclude Taiwan from international competition. China was successful in banning Taiwan from participation in high profile sports such as cycling, wrestling and volleyball.
With Taiwan eliminated from participating in these sports, the national Olympic committee searched for other sports to fill the void, ultimately approving both funding and support for Olympic luge and bobsled programs. Luge, it seemed, would be a good choice because this sport became an Olympic sport only in 1964 at Innsbruck, Austria.
Both luge and bobsled share the same track, though starting points for the two differ, with bobsled requiring a longer starting gate and luge using a gate very similar to that of skiers.
Hehuanshan
To demonstrate their support, the Forestry Bureau, the overseer of ski operations at Hehuanshan, helped construct a "natural" track for luge and bobsled. This track was a simple 2m tunnel dug into the mountain slope extending for a total length of 1,500m and featuring an elevation drop of 300m. In winter, the track was flooded and becomes icy. The track has 12 to 15 turns and approximates conditions that Olympic luge and bobsledders face.
"The track was very useful for the first three to four years, but then heavy summer rains washed it away and we decided that it was no longer suitable for training" said Hsu Chi-you (許啟祐), president of the Amateur Chinese Taipei Luge and Bobsled Association.
The loss of a local track forced the association to send local athletes to month-long training programs in Europe, he said.
Hsu is a former Olympian who participated in the two-man bobsled competition Sarajevo in 1984. He said that Taiwan's team would have attended the Lake Placid games in 1980 if not for political issues and the barring of the local team as a result of pressure from China and eventually an International Olympic Committee ruling that there could only be one "Chinese" team.
Negotiations eventually produced a compromise that a Taiwan team could compete under the "Chinese Taipei" banner, though no flag or national anthem could be used.
Political wrangling, however, has less of an effect than the "Eddie the Eagle" rule, which has raised the bar on qualifying for competition in Olympic events. It has also reduced the number of Olympic athletes to just 2,500 at this year's competition.
Hsu said that luge participants must beat out three to five competitors from top-ranked European countries as well as North American competitors. A World Cup event in luge often attracts more than 100 competitors, with a finish in the top 30 gaining points toward Olympic qualification.
Of course, there is also the exorbitant cost of participating in these mostly European competitions which keeps away athletes from less developed countries, as well as talented amateurs who don't have state support.
In luge competition as speeds approach 80kph to 120kph on artificial tracks made from a concrete base, which is layered with wet snow and then soaked with water. Sidewalls are usually about 46cm high, keeping both luges and bob-sleds from flying off the straightaways. Larger turns have banks as high as 6m, often with an overhang of ice to help contain the sleds.
Many have died in this sport, which Hsu likens to "driving a race car with no breaks," and the 12 to 20 turns endured during the 60 second ride are enough to throw amateur riders off the track.
Otherwise, the rules are fairly simple in luge: a timed course, athletes must depart from "starting handles," and weight restrictions on the sleds as well as restrictions on the design and construction.
As with other timed sports, qualifying determines the start position, which can be important as track conditions may deteriorate as the event progresses.
The overall time is an aggregate of two or four runs down the course.
There is now doubt that Ma's participation in the upcoming Olympics is a triumph for Taiwan's Olympic committee.
Taiwan may produce many more luge competitors in the future with the improvement of dry-surface-training techniques and a growing number of street-luge competitions.
Comments will be moderated. Keep comments relevant to the article. Remarks containing abusive and obscene language, personal attacks of any kind or promotion will be removed and the user banned. Final decision will be at the discretion of the Taipei Times.