Khabibulin boosts 'Hawks
NATIONAL HOCKEY LEAGUE Nikolai Khabibulin signed a four-year, US$27.6-million deal with the Chicago Blackhawks as the struggling franchise hopes for a turnaround
Sure, Nikolai Khabibulin walks a different path, but it works. So why would anyone doubt him now?
Many hockey followers considered him off his rocker six-plus years ago, when Khabibulin -- then one of the NHL's best young goalies with the Phoenix Coyotes and still known as the "Bulin Wall" -- sat out most of two seasons because of a contract dispute and at one point suited up for the minor-league Long Beach Ice Dogs.
And how did that turn out? With a trade to Tampa Bay and, three years later, a Stanley Cup.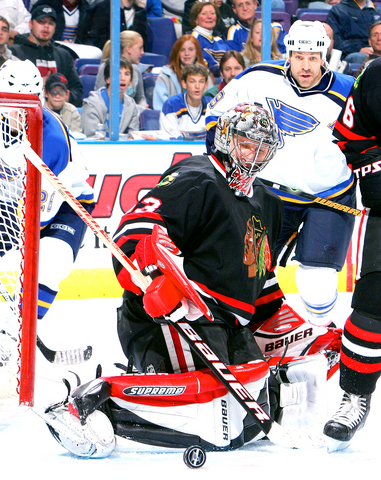 Goalie Nikolai Khabibulin, center, of the Chicago Blackhawks stops a shot as Doug Weight, right, of the St. Louis Blues looks for the rebound at the Savvis Center in St. Louis, Missouri, on Nov. 10. The Blackhawks defeated the Blues 4-2.
PHOTO: AFP
"You can't argue with that," Khabibulin, 32, said with a smile this week.
But some did. Greedy, many called the goalie back then, and again in August when Khabibulin spurned less-lucrative contract offers from the Lightning and other more competitive teams to sign a four-year, US$27.6-million deal with the Chicago Blackhawks, who won the fewest games in the NHL in 2003-2004.
So far, the situation has played out the way most expected. Khabibulin slumped early and although there have been signs of improvement all around, the Blackhawks will be hard-pressed to make the playoffs.
"I knew it would be a challenge," said Khabibulin, who enters tonight's game against the Kings with a 3.42 goals-against average. "I liked the direction that the Blackhawks were taking, so here I am."
There he is, seemingly in a world of his own. Some tout Khabibulin's confidence, while some suggest he is aloof and only signed with the Blackhawks because they offered him the most money. Jeremy Roenick, a former teammate, calls Khabibulin "an odd bird" but also professes great respect for the goalie.
"I guess Nik doesn't always follow the traditional route," said Chicago defenseman Jassen Cullimore, who also played four years in Tampa Bay with Khabibulin. "Not to stereotype, but I think maybe that's part of him being European; they tend to do things a little differently. He stands up for what he believes in.
"When he sat out for the year, he was standing up for himself and he thought he deserved what he wanted and that was it. Some people might say he's selfish or this or that, but what you've got to realize is that's a good attribute to have, to stand up for yourself and believe in yourself."
That hasn't been easy this year. On the night last month when the Lightning raised its Stanley Cup banner, the one Khabibulin helped win with a stellar playoff run that included five shutouts, the Blackhawks opened their season with a 5-3 home loss to the Mighty Ducks, and the trouble was only beginning.
Salary-cap issues handcuffed the Lightning's ability to re-sign Khabibulin this summer, but they made an effort to keep him, and talented teams such as the Detroit Red Wings also made a push, but the day he signed his contract, Khabibulin acknowledged that the Blackhawks "made the best offer."
"I'm not going to lie, [money] was certainly a part of it," Khabibulin said. "But besides that, you want to be in a situation where you feel that things are improving and are going to improve. I don't care how much money you make as a player, you want to be in a good situation and I think we can improve here.
"Our goal is to ultimately win the Cup one day."
Khabibulin has been there, although some questioned whether he could ever take a team to that level. There were whispers about his mental toughness, suggestions former teammates dispute.
"He's not as intense as most goaltenders would be," Roenick said, "but with him it's just sort of an attitude. It's confidence. I think he has the ability to go out there and never be nervous, because he trusts himself immensely. That confidence in himself is what makes him so good."
It's also what led to the previous round of criticism Khabibulin had to endure.
A restricted free agent in the summer of 1999, Khabibulin had just turned in a season with a 2.13 GAA, eight shutouts and a second consecutive All-Star Game appearance. After just five seasons, he held the Phoenix/Winnipeg career record with 21 shutouts.
Khabibulin got into a contract dispute, however, didn't play again until March 2000, after the trade. To stay in shape, Khabibulin played 33 games for the Ice Dogs, who then were in the International Hockey League -- hockey's equivalent of baseball's Triple-A -- as contract negotiations went nowhere.
"He was very professional the whole time," said Kings assistant coach John Van Boxmeer, who then served as coach of the Ice Dogs. "I think it was a pride factor for him. He felt he was worth a certain amount of money and he wasn't going to compromise."
That episode only confirmed that Khabibulin marches to his own beat. To outsiders he can be seen as cold and withdrawn, although it isn't unusual for goalies, by nature, to be a little different.
"I played with Eddie [Belfour], and they used to say the same things about him," former Lightning defenseman Brad Lukowich told the St. Petersburg Times during the 2004 playoff run. "He'd be on his end of the ice doing his own thing. Then the game would start, and he'd be unbeatable.
"That's the way it is with Habby now. If he wants a day off, give him a day off. If he wants to get in some work, let him get in some work. If he wants a steak, then by God, somebody get him a steak."
Peter Forsberg scored two goals and added an assist before sitting out the third period with a right groin strain as the Philadelphia Flyers beat the Boston Bruins 5-3 on Friday.
Simon Gagne had a goal and two assists and Antero Niitymaki made 25 saves, as the Flyers sent the Bruins to their seventh loss in eight games, and fourth consecutive at home.
Forsberg scored the game winner with 6:54 left in the second period, putting home the rebound of Gagne's shot. The Flyers said Forsberg's availability status will be evaluated daily.
Senators 6, Islanders 2
In Uniondale, New York, Dany Heatley stretched his point streak to 20 games with a first-period goal, and Vaclav Varada more than doubled his season point total with a goal and two assists in Ottawa's victory over New York.
Wild 5, Blues 3
In St. Paul, Minnesota, Pierre-Marc Bouchard scored twice in the final five minutes to spoil Keith Tkachuk's return to the Blues.
Bouchard scored even strength and power-play goals late as the Wild rallied from a 3-2 deficit.
Dean McAmmond scored his team-leading eighth and ninth goals of the season for the Blues.
Tkachuk, who missed 15 games with a rib injury, scored a second-period power-play goal for St. Louis, which has a league-low four wins.
Mighty Ducks 3, Red Wings 1
In Anaheim, California, Andy McDonald scored Anaheim's first goal and set up Teemu Selanne's winner during a power play midway through the third period, leading Anaheim over Detroit.
Avalanche 5, Blue Jackets 0
At Columbus, Ohio, Marek Svatos had a goal and two assists, Andrew Brunette added a goal and assist, and David Aebischer stopped 35 shots to help Colorado hand Columbus its seventh straight loss.
Ian Laperriere, Brad May and Joe Sakic also scored and Pierre Turgeon had two assists as Colorado improved to 15-0-1-1 against the Blue Jackets since Columbus came into the NHL five seasons ago.
Devils 8, Lightning 2
At Tampa, Florida, Viktor Kozlov had a goal and four assists, and New Jersey beat Tampa Bay.
Kozlov set career highs for points and assists in one game, helping the Devils sweep two games in Florida. New Jersey beat the Panthers 5-1 on Wednesday.
New Jersey got two goals each from Alexander Mogilny and Sergei Brylin. Mogilny has three since returning Wednesday after missing four games with a concussion.
Fredrik Modin and Martin St. Louis scored for Tampa Bay.
Sabres 3, Canadiens 1
At Buffalo, New York, Martin Biron made 40 saves, and Brian Campbell and Tim Connolly each had a goal and an assist to lift the host Sabres over Montreal.
Ales Kotalik also scored for the Sabres, who have won five of six. Buffalo has earned 11 of 12 points during the stretch.
Richard Zednik scored for Montreal, which lost for the third time in four games.
Kotalik is tied with Daniel Briere for the team lead in goals.
Hurricanes 4, Maple Leafs 3, SO
At Raleigh, North Carolina, Radim Vrbata and Matt Cullen scored in the shootout, lifting Carolina over Toronto.
Toronto's Mats Sundin and Jeff O'Neill were stopped during the shootout, leaving the Maple Leafs with back-to-back losses for the first time in nearly a month.
Bret Hedican, Eric Staal and Andrew Ladd, playing in his third NHL game, scored in regulation for Carolina, which snapped a season-high, three-game losing streak.
There was an extended video review of a potential Sundin goal 43 seconds into overtime that would have won it for Toronto, but it was waved off.
Chad Kilger, Jason Allison and former Hurricanes player O'Neill scored for Toronto, which has lost consecutive games for the first time in nearly a month.
Panthers 6, Penguins 3
At Sunrise, Florida, Olli Jokinen had his first career hat trick, scoring twice during Florida's four-goal first period, and the Panthers snapped a 12-game losing streak.
Kristian Huselius, Gary Roberts and Stephen Weiss also scored for Florida, which avoided tying the franchise record for consecutive losses. The Panthers had been 0-8-4 since winning 4-3 at Pittsburgh on Oct. 25.
Ziggy Palffy, Sidney Crosby and Erik Christensen had goals for Pittsburgh.
Coyotes 4, Stars 1
At Dallas, Curtis Joseph stopped 32 shots for his 406th career victory, and Phoenix ended Dallas' five-game winning streak.
Joseph and the Coyotes' penalty killers frustrated the Stars, who scored on only one of 12 power plays.
Oilers 2, Flames 1, SO
At Calgary, Alberta, Fernando Pisani scored the deciding goal in a shootout, and Mike Morrison made 27 saves. After each team's first three shooters failed to score, Pisani beat Miikka Kiprusoff through the legs on a deke.
Calgary's Chuck Kobasew was the final Flames shooter but he was turned aside by Morrison, giving the Oilers their fifth win in six games.
Radek Dvorak scored for Edmonton, which moved within two points of second-place Calgary in the Northwest Division.
Marcus Nilson scored for the Flames, who lost for only the second time in their last 12 (10-1-1).
Comments will be moderated. Keep comments relevant to the article. Remarks containing abusive and obscene language, personal attacks of any kind or promotion will be removed and the user banned. Final decision will be at the discretion of the Taipei Times.