Mariners sail past NY Yankees 5-1
Miguel Ojeda's first home run with Seattle helped the Mariners to a 5-1 victory over the New York Yankees on Thursday.
Yankees starter Jaret Wright was knocked out of the game by Raul Ibanez's line drive in the sixth inning. Wright left after being hit on the right collarbone and the right side of his neck. X-rays were negative.
"There's no question it was a momentum changer," Alex Rodriguez said. "He was breezing along and getting stronger."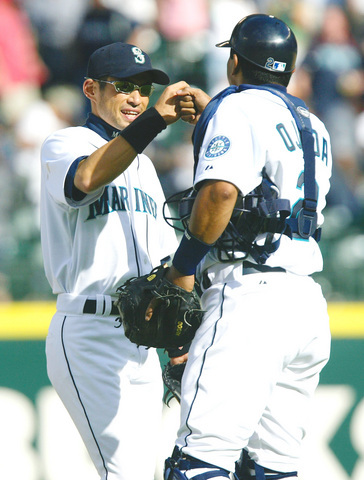 Ichiro Suzuki, left, of Japan, and catcher Miguel Ojeda of Mexico celebrate after the Mariners defeated the Yankees 5-1 at Safeco Field in Seattle, Thursday.
PHOTO: AFP
Wright pitched 5 1-3 innings, allowing one run and three hits.
"It was a pitcher's worst nightmare," he said. "You throw the ball and then it's right there on you. He got me pretty good."
Tanyon Sturtze (4-3) relieved Wright. He walked Richie Sexson, then got an out, but Dave Hansen singled to tie it at 1.
Ojeda, acquired in a trade with San Diego on July 30, homered with one out in the seventh, his 13th.
In the ninth, Adrian Beltre had an RBI double and Jose Lopez added a two-run homer, his first of the season.
Joel Pineiro pitched 6 2-3 innings, giving up one run and five hits with seven strikeouts. George Sherrill (3-2) got the last out of the seventh for the win.
Red Sox 7, Devil Rays 4
At Boston, John Olerud homered twice and drove in six runs as Boston came from behind for the third consecutive game to complete a four-game sweep.
The Red Sox have won 19 of 20 at home and scored at least seven runs in their last 14 games at Fenway Park. They have won five straight overall.
Bronson Arroyo (11-9) allowed four runs and nine hits in seven innings for his first win since Aug. 10. Mike Timlin got three outs for his fifth save.
Doug Waechter (5-9) allowed six runs -- five earned -- and eight hits in 6 1-3 innings.
Boston rallied from a 5-0 deficit on Tuesday and trailed 5-1 on Wednesday before winning both games 7-6. The Red Sox trailed 2-0 and 4-2 on Thursday night before scoring one in the fifth, then Olerud hit a three-run shot in the sixth to give Boston its first lead.
With the Yankees' 5-1 loss to Seattle earlier Thursday, Boston moved 3 1/2 games ahead of New York in the AL East.
White Sox 12, Tigers 3
At Chicago, Jose Contreras won his third straight start and A.J. Pierzynski went 3-for-3 with a homer and three RBIs as Chicago thrashed Detroit.
Jermaine Dye and Carl Everett also homered for the White Sox, who scored six runs in the eighth.
Contreras (10-7) allowed only one hit until the seventh, when the Tigers got three straight hits, including a two-run homer by Brandon Inge.
Craig Monroe added a solo shot in the eighth off Contreras, who gave up three runs and five hits in seven-plus innings.
Chicago led 1-0 before getting four straight hits off Jason Johnson (7-11) in the fourth. Pierzynski drove in one run with a ground-rule double and Juan Uribe added a two-run double.
Angels 3, Athletics 0
At Anaheim, California, rookie Ervin Santana pitched into the ninth inning and Robb Quinlan homered in Los Angeles' victory over Oakland.
The Angels won the final two games of the three-game series to draw even with the A's atop the AL West. The teams have a four-game series remaining Sept. 26-29 in Oakland.
Santana (8-6) allowed six hits, struck out four and walked none. He departed after Eric Chavez's one-out single in the ninth, and Francisco Rodriguez finished for his 32nd save in 37 chances.
Rodriguez pitched in all three games of the series, getting a loss in the opener and saves in the final two.
Chone Figgins went 3-for-3 for the Angels, scored the first run and stole two bases. Bengie Molina hit an RBI single off Joe Kennedy (3-1).
Jon Lieber allowed four hits in seven innings and David Bell blooped a two-run single in the first to lead the Philadelphia Phillies over the New York Mets 3-1.
Ryan Howard added a ninth-inning homer for Philadelphia, which began Thursday with a half-game lead in the National League wild-card race. The Phillies won two straight after wasting a lead in the opener of the three-game series.
Lieber (13-12) gave up his only run in the sixth when Jose Reyes led off with a triple and scored on Kaz Matsui's groundout. Lieber allowed two runs or fewer for the fifth time in his last six starts.
Ugueth Urbina pitched a perfect eighth, and Billy Wagner got three outs for his 32nd save in 34 chances.
"Right now, we're very confident. We're not letting one loss turn into two," said Wagner.
Glavine (10-12) nearly matched Lieber, giving up three hits and four walks in seven innings.
Braves 8, Nationals 7, 10 innings
At Atlanta, Andruw Jones led off the bottom of the 10th with his major league-leading 44th homer for Atlanta, which squandered a 7-1 lead before salvaging a split of the four-game series with its NL East rival.
Jones' homer came on a 1-2 pitch from Luis Ayala (8-7).
Kyle Davies (7-3), called up from the minors earlier in the day, got the win with three scoreless innings.
Jeff Francoeur hit a three-run homer and Chipper Jones added a two-run shot for the Braves.
Vinny Castilla had four RBIs for Washington, which tied it at 7 with a four-run seventh inning, all the runs coming with two outs.
Atlanta starter John Smoltz went five innings, giving up seven hits, three runs and striking out two.
Padres 6, Brewers 5
At Milwaukee, Khalil Greene hit a two-run homer in the eighth inning and San Diego crept back above .500 with the victory.
Greene's 11th homer of the season was off reliever Kane Davis (1-1) and it came one out after Joe Randa hit his career-high 37th double.
It was the third straight win for the Padres (67-66), who are above .500 for the first time since Aug. 12. They remain in first place in the NL West -- 5 1/2 games in front of Los Angeles -- and have gained two games in the standings since last being above .500.
Rudy Saenz (6-1) earned the win with one inning of relief.
The Brewers made it a one-run game when Wes Helms reached on an error by shortstop Greene and J.J. Hardy hit a two-run homer off Trevor Hoffman in the ninth. The closer still earned his 35th save in 37 opportunities.
Astros 3, Reds 1
At Houston, Roy Oswalt remained perfect against Cincinnati and Houston swept the three-game series.
The right-hander improved to 15-0 in 19 appearances against the Reds, the most wins without a loss by any pitcher against one team in major league history.
Oswalt (16-11) is 4-0 against the Reds this season and the Astros remained one-half game behind Philadelphia in the NL wild-card race. He went 5 2-3 innings and had a season-high 11 strikeouts. Oswalt, who allowed five hits and one walk, is 2-3 with two no-decisions in his last seven starts.
Brad Lidge pitched the ninth for his 32nd save.
Aaron Harang (9-12) allowed three runs and five hits in seven innings for Cincinnati, which had won 14 of its previous 16 road games before this series.
Indians reliever David Riske had his four-game suspension cut to three games on Thursday after he appealed the penalty for hitting Seattle's Ichiro Suzuki with a pitch on July 29.
Bob Watson, Major League Baseball's director of on-field operations, heard the case last week at Tampa Bay. Watson also reduced Riske's undisclosed fine.
Riske will begin serving his suspension on Friday.
Indians starter Kevin Millwood already served his five-game suspension for intentionally hitting a batter in the same game that Riske hit Suzuki in the back. Cleveland manager Eric Wedge and bench coach Robby Thompson were each suspended one game.
Mariners right-hander Shigetoshi Hasegawa was fined an undisclosed amount but was not suspended for intentionally hitting Cleveland's Grady Sizemore in the game at Safeco Field.
Comments will be moderated. Keep comments relevant to the article. Remarks containing abusive and obscene language, personal attacks of any kind or promotion will be removed and the user banned. Final decision will be at the discretion of the Taipei Times.