Vince Carter's visit highlights how far SBL has to go
National Basketball Association (NBA) All-Star Vince Carter's two-day visit to Taipei last week marked the second visit by active NBA players to Taiwan in the past two months, following Richard Jefferson, Luke Walton and Dwight Howard's visit to Taiwan in early-June.
Over 2,000 screaming fans gathered in downtown Taipei to witness one of the world's greatest slam dunkers showing jaw-dropping moves as part of a local three-on-three tournament that attracted local players from all age groups.
While enjoying the temporary frenzy that Carter has brought here, one cannot help but to think about the future of our own semi-professional basketball program -- the Super Basketball League (SBL), which will begin its third season in December.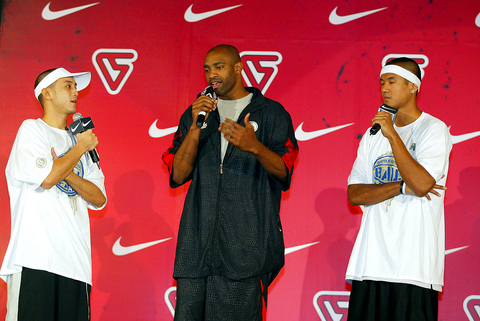 NBA All-Star Vince Carter of the New Jersey Nets discusses hoops at a press conference during his visit to Taipei last week.
PHOTO: PAUL HUANG
Will the league eventually achieve the same popularity as Taiwan's Chinese Professional Baseball League (CPBL), or will it remain a "beefed-up" version of the High School Basketball League (HBL) and the University Basketball Association (UBA), which mostly attracts teenagers and college students?
For the SBL to sustain the long-term viability of the NBA or the CPBL, it must find a way to generate broader appeal across the nation.
The SBL can begin striving towards this goal by holding some of its competitions at venues away from its current single location -- the Taipei Physical Education College Gymnasium.
Although there are concerns about the added expense associated with moving games outside of Taipei, the added exposure of bringing the games to Taichung, Tainan and Kaohsiung should more than justify the added expenses.
To enhance the appeal of the SBL to a broader demographic range, the league can consider packaging its top players and obtaining celebrity endorsers that are associated with male and female professionals with purchasing power and more social-economic clout.
Holding inter-league competitions with its Filipino counterpart, the Philippines Basketball Association, could also add an international flavor to the league and perhaps attract the support of the 50,000-plus foreign residents that live in Taiwan.
The SBL must consider its long-term viability. There are undoubtedly many hurdles that need to be faced, but seeds planted now may very well bear fruit in the years to come.
Comments will be moderated. Keep comments relevant to the article. Remarks containing abusive and obscene language, personal attacks of any kind or promotion will be removed and the user banned. Final decision will be at the discretion of the Taipei Times.