No place for honor in K-1: Akebono
Akebono realizes tradition and honor won't get him very far in the brutal sport of K-1, like they did in sumo.
The Hawaii-born giant, the first non-Japanese wrestler to reach sumo's highest rank of yokozuna or grand champion, has won only one of his seven K-1 matches and admits being a little confused by the new sport that combines elements of kickboxing, karate and taekwondo.
"I had the mentality of, `The yokozuna is not going out to disgrace your opponent,'" he said.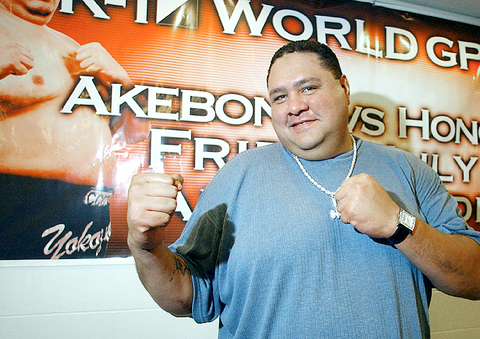 Akebono, 36, poses for a photo during a news conference at Aloha Stadium in Honolulu on Tuesday. The Hawaii-born giant, the first foreigner to reach sumo's highest rank of ``yokozuna,'' or grand champion, has won only one of his seven K-1 matches and acknowledges being a little confused by the new sport that combines elements of kickboxing, karate and taekwondo.
PHOTO: AP
"Lately, I've been able to change my attitude: if I don't go out there and hurt somebody, I'm going to get hurt myself. I still hold what I did in sumo very highly but this is a totally different game," he said.
Smiling and looking relaxed, Akebono, 36, is back home on the island of Oahu and co-headlining today's K-1 World Grand Prix in Hawaii. He has a huge opponent in South Korea's Choi Hong-man.
Known in his rural hometown of Waimanalo as Chad Rowan, Akebono has shed 27kg since retiring from sumo in 2001. He now carries 213kg on his 2.03m frame.
Not only is he lighter, he has regained the competitive fire he missed while "sitting at home for two-and-a-half years not doing anything."
He said it was the competition -- not the limelight or the money -- that lured him back into a ring.
"I'm not trying to make a name for myself. I already had one successful career in sumo," said Akebono, who became a Japanese citizen in 1996. "Basically for me now, I just want to know I fought the best in the world."
While Akebono has been a huge draw for K-1, which is wildly popular in Japan, many felt he was tarnishing the image of a grand champion by fighting in the bloody and glitzy sport. The title of yokozuna is considered a mark of honor and its holders are held to very high standards, even after leaving the raised ring.
An official of the Japan Sumo Association on Tuesday declined to comment, saying Akebono is a retired wrestler and the association usually does not comment on those who quit or retire.
"To me, I felt I did as much as I could do for sumo and I feel I took the proper channels in leaving the sport as gracefully as possible," Akebono said.
Akebono said his accomplishments and legacy in sumo have not been tarnished.
"No matter what they do, it's not going to ever be taken out of the record books," he said.
Akebono said K-1 has overtaken sumo in popularity in Japan over the past two or three years. But they are totally different sports.
"The Japanese do not look at sumo as a sport, it's more of an art to them," he said.
But losing hasn't been easy for Akebono, who won 11 Emperor's Cups in sumo.
"It's very frustrating," he said. "It is hard, but you have to realize, I knew when I came into the sport, it was going to be a hard road."
His trainer, Faii Falamoe of New Zealand, said it was a challenge to train someone Akebono's size. However, Akebono's desire and competitiveness were there, he said.
He taught Akebono blocks, knee attacks and to punch with a closed fist. In sumo, Akebono was used to powerful openhanded shoves and slaps.
Akebono, who came out of retirement and trained only two months for his unsuccessful K-1 debut in December 2003 against former NFL lineman Bob Sapp, said he has been receiving "on-the-job" training and is now trying to pace himself in bouts.
"I am getting used to this sport," he said. "It's not like something you can jump in and expect to do in two months. It took me a year to finally stand and fight for three minutes, three rounds."
Akebono promises today's fight will feature no running or chasing -- just two mega-heavyweights "unloading" on each other.
He downplays his first loss to Choi in March.
"Basically, I went to his backyard to fight him. Now he has to come to my hometown and fight me," he said. "Mentally, physically, I've been working hard. I know I cannot lose here in Hawaii."
Comments will be moderated. Keep comments relevant to the article. Remarks containing abusive and obscene language, personal attacks of any kind or promotion will be removed and the user banned. Final decision will be at the discretion of the Taipei Times.