DiMarco has eye on goal
Chris DiMarco's goal this week at The International is simple: wave to the crowd without playing the final hole. \nDiMarco had four birdies to complete his first round, then added nine more in the second for 31 points and a six-point lead before play was halted because of darkness Friday at The International. \nAt this rate, DiMarco might be able to skip a hole or two in the final round and still finish with enough points to win under the tournament's modified Stableford scoring system. \n"I've always said my goal is to have enough points when I finish the 17th hole to just walk in," DiMarco said. "Just finish, walk off 17 and just kind of wave to everybody as I'm going down 18." \nIt could be a long time before he gets to that point. \nRain and lightning ended Thursday's first round, forcing half the field to return Friday for up to 33 holes at hilly Castle Pines Golf Club. Two more rounds of storms hit Friday, setting up another marathon day in the altitude for 72 players. \nThe second round will be completed Saturday morning and the top 70 plus ties will continue on to the third round. \n"This course is a beast to walk and to walk 19 holes, its one too many," said Olin Browne, who was fourth with 17 points after playing 25 holes Friday. "You have to walk 32 holes and you're ready to slit your wrists at the end of the day." \nFirst-round leader Rod Pampling was second with 25 points through 11 holes of the second round. Bob Tway and Geoff Ogilvy each had 18 points and Browne made the biggest move of the day, tying the tournament record with 10 birdies in an 18-point second round. \nBut they might have a hard time catching DiMarco, who had 17 points in the second round of a format that gives players anywhere from 8 points for a double eagle to minus-3 for a double bogey or worse. \nAnd the way DiMarco has been putting, they might have no chance at all. \nHe's had just 49 putts in two rounds -- 22 in the second -- thanks to a change in stance before the final round of last week's Buick Open. DiMarco finished that tournament tied for 15th after closing with a 66, then shot 63 in a pro-am in Aspen earlier this week. \nHe's kept it rolling so far at The International. \nDiMarco had six points through eight holes Thursday before the round was stopped, then added eight more Friday morning to finish his first round. \nHe didn't stop there. \nDiMarco opened his second round with a birdie on the par-5 first, worth two points, and added three more on the front nine. He followed with birdies on Nos. 10, 12, 14, 15 and 17 before losing a point with a bogey on the difficult par-4 finishing hole, tapping in a 1-footer after the first delay of 53 minutes. \nIf DiMarco maintains this pace, he might get a chance to test the tournament rule that requires players to give their "best effort" on every hole. \nCorning Classic \nAP, Sylvania, Ohio \nMeg Mallon won a mental battle with the wind to share the second-round lead with Angela Jerman in the Jamie Farr Owens Corning Classic. \n"One hole I hit a 5-iron thinking the wind would knock it down," said Mallon, who shot a 2-under 69 Friday to match Jerman at 7-under 135. "I clubbed up on the next hole and ended up chipping from the back fringe. It really plays with your mind." \nAnd that was before the wind really started gusting in the afternoon. The lowest score of the day was two shots higher than the first round as scores rose by an average of almost a half stroke for the 144-player field. \nJerman, in her second season on the LPGA Tour, had five birdies and two bogeys in a 68. She pulled a 6-iron shot into the trees -- with the wind's help -- on the 16th hole and had to take an unplayable lie when the ball ended up next to a trunk. \nWith no wins and 18 missed cuts in 40 career LPGA starts, Jerman tried not to think about where she stood on the leaderboard. \n"My caddie [Dave Brooker] did a great job of talking about everything except golf, so it was a very relaxed atmosphere," she said.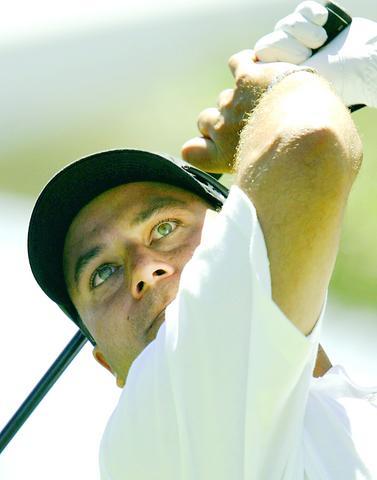 Chris DiMarco tees off on the ninth hole during the second round of The International at Castle Pines in Castle Rock, Colorado, Friday. DiMarco had nine birdies for the day.
PHOTO: AP
Comments will be moderated. Keep comments relevant to the article. Remarks containing abusive and obscene language, personal attacks of any kind or promotion will be removed and the user banned. Final decision will be at the discretion of the Taipei Times.