China, Japan face off in uneasy final
TENSE TIMES The Asian Cup final tomorrow has been marred by mud-slinging by both arch-rival finalists, but nevertheless promises to be a spectacular showdown
From territorial claims, to war atrocities and outrage over sex orgies, tensions between China and Japan are never far from bubbling to the surface. \nAnd now there's the boo boys at the Asian Cup, whose antics threaten to escalate into yet another diplomatic spat between the Asian giants. \nThe old adage that sport and politics don't mix falls on deaf ears in China, where niggling its neighbor about the past is jumped on at every opportunity. \nWhen China and Japan meet in the final of Asia's most prestigious football tournament in Beijing tomorrow, there will be more at stake than lifting the silverware -- national pride will be in play. \nJapan defeating China on home soil may not go down well with the hordes of rowdy fans who have heckled Japan throughout the tournament, booing their players and national anthem, still incensed over World War II atrocities. \nMany Chinese believe Japan has never fully faced up to its wartime past and its brutal occupation of Chinese territory before and during World War II, and security for the big match has been stepped up with 6,000 police on duty. \nIt is not just the war that riles Chinese. \nThe two sides routinely bicker over who owns a disputed chain of islands rich in oil resources in the East China Sea. \nRelations, meanwhile, took a dive last year when hundreds of Japanese tourists were implicated in an orgy with Chinese prostitutes in a south China hotel. \nThe three-day romp ignited a wave of anti-Japanese sentiment as it culminated on the eve of the anniversary of the start of Japan's World War II occupation of China on Sept. 18, 1931. \nMany people were convinced it was timed to humiliate China. \nThe depth of feeling is so great that in Chongqing, Japan's team bus was rushed by an angry mob while Japanese fans had to be escorted out of the stadium by riot police. \nPoliticians in Tokyo have become so irked by the antics that they've issued a formal complaint to their Chinese counterparts at the highest levels, calling on them to remove politics from sport. \nJapanese Foreign Minister Yoriko Kawaguchi reportedly called the booing "deplorable" while Prime Minister Junichiro Koizumi added: "It's a sports event. Why can't we just enjoy it?" \nAfter days of silence, China yesterday asked its fans to behave, while also using the opportunity to have a dig at the Japanese media. \n"We hope the Chinese and Japanese football fans will enjoy a wonderful match ... with good behavior," said foreign ministry spokesman Kong Quan, while saying it was "regrettable" that some Japanese media had linked the booing with politics. \nJapan Football Association President Saburo Kawabuchi meanwhile announced he would now attend the match after initially not planning the trip. \n"It is not desirable if the top man of the Japanese association is not present when the country is through to the final," he said. \nWith the final being broadcast live around the world, the Asian Football Confederation is conscious the fans' behavior does not bode well for the image of the game. \n"I hope the Chinese team will be well supported but at the same time, I am hoping that the China fans give the Japanese the same sort of treatment," said AFC general secretary Peter Velappan. \n"We all know Japan's fans were not the most welcomed in Chongqing but we are advocating fair play at the Asian Cup. Every team has the right to compete on common ground so let's finish the tournament on a real high." \nJapan's captain Tsuneyasu Miyamoto has no doubt that anti-Japanese feelings will be running high in Beijing. \n"They booed only at the start of our national anthem this time," said Miyamoto after their semi-final against Bahrain in Jinan. \n"However, they were still against us and I did feel the same sort of atmosphere as we had in Chongqing. But it will be nothing compared to that if we play against China in Beijing." \nJapanese questions \nJapanese media questioned if China was fit to host the 2008 Olympics yesterday in view of Chinese fans' hostility towards Japan's soccer team at the Asian Cup. \nBeijing, meanwhile, promised to take steps to protect Japanese players and fans at tomorrow's final, in which Japan plays against China. \nThe media comments came after China's Foreign Ministry urged soccer fans to be well-behaved, but also criticized Japan's media for linking the matches to politics. \nJapan's national side have faced hostile crowds in all their matches so far. Some Chinese fans carried banners reading "Looking into history, apologize to Asia people," a reference to Japan's military aggression before and during World War II. \nAfter Japan beat Thailand on July 24, Chinese fans converged on the Japan team bus, forcing it to depart without two players. \nResentment against Japan lingers in China over its aggression before and during World War II, despite ever-closer economic ties, and Prime Minister Junichiro Koizumi has fuelled the anger with his annual visits to a Tokyo shrine where war criminals are honored along with other war dead. \nSeveral Japanese papers devoted editorials to the topic. \n"Saturday's final match between Japan and China will test whether the country and its people are really ready to host the Olympic Games," the conservative Yomiuri Shimbun daily said. \nChinese Foreign Ministry spokesman Kong Quan urged fans to behave on Wednesday but also criticized Japan's media. \n"But it must also be pointed out that some Japanese media have stirred up and exaggerated the behavior of a few people, and even linked this with politics," Kong said in a statement on the ministry's Web site (www.fmprc.gov.cn). \n"We express our regret at this." \nJapan's liberal Asahi Shimbun newspaper pointed to historical reasons for Chinese resentment. \nBut the newspaper criticized the Chinese fans' behavior as immature and inappropriate for a sports event. \n"What we want them not to forget is that the final on Saturday [tomorrow] will be an opportunity to test the magnanimity of the Chinese people for the Olympics four years hence," it said. \nKoizumi raised the issue when outgoing Chinese ambassador to Japan Wu Dawei made a courtesy call yesterday. \nKoizumi said he hoped the final would be a good match in a spirit of sportsmanship and that the peoples of both countries could enjoy it, Japan's Foreign Ministry said in a statement. \nWu replied that China, as host country, would take necessary steps so Japan need not worry. \nSecurity alert \nAsian Cup security will be on a heightened state of alert for tomorrow's final between bitter rivals China and Japan in Beijing. \nMore than 6,000 security officials will be deployed, including riot police, soldiers and SWAT teams for a potentially explosive game full of historical and political overtones. \n"We have advised security staff to take extra care for the Japanese team and fans," said Peter Velappan, general secretary of the Asian Football Confederation (AFC. \n"Japanese fans will be seated together in a special marked area and given extra protection from police in plain clothes to make sure there are no missiles thrown." \nThere is still lingering resentment in China over Japan's military invasion and brutal occupation of parts of the country from 1931 to 1945. \nAs a result, the Japan team has been booed relentlessly during the Asian Cup, their team bus even being rushed by hordes of Chinese fans after one match. \n"As it is China against Japan there will be a very high level of security inside and outside the stadium," Velappan said. \n"Japanese fans have not been encouraged to come to China but we have been assured they will be safe and secure." \nExtra security has also been laid on for the Japan squad in and around their Beijing hotel, with tough screening measures in place. \nAt least 2,000 Japanese fans are expected to have tickets for the final in Beijing. The venue holds 65,000. \nBut Velappan was anxious to play down fears of crowd trouble, insisting the 1,000 extra security officials called in for the final were purely a precaution. \nMedia frenzy \nThe Asian Cup final between China and Japan is set to be beamed into more than 500 million homes throughout Asia, the Middle East and for the first time, Europe. \n"The final on Saturday [tomorrow] will be beamed into more than 500 million homes and is expected to set a viewing record for Asian football," said Mark Hardess, Senior Vice-President of Singapore-based World Sport Television. \nAll 32 matches of Asia's football showpiece, which kicked off on July 17, have been screened by Chinese broadcaster CCTV. \nGames have been relayed to scores of free-to-air networks and satellite channels including the pan-Asian ESPN Star Sports. \nAnd for the first time in the history of the tournament, the final will be broadcast live in Europe with Eurosport beaming to around 95 million households. \nAltogether 26 broadcasters will televise the match as Japan seek to defend their title against a Chinese team looking for their first ever Asian Cup crown.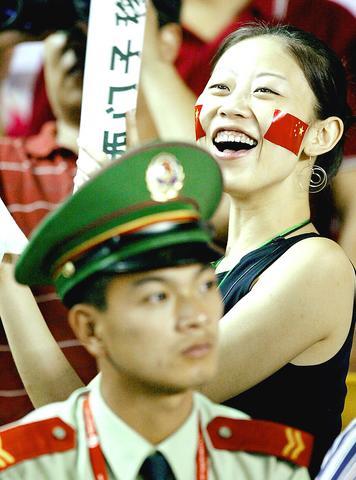 A Chinese paramilitary policeman watches whilst a fan enjoys herself at China's semifinal game against Iran during the 2004 Asian Cup Soccer tournament at the Workers Stadium in Beijing. Authorities said yesterday that they are taking no chances that the grudge Asian Cup final between China and Japan will turn nasty, drafting in more than 1,000 extra police to keep order.
PHOTO: AFP
Comments will be moderated. Keep comments relevant to the article. Remarks containing abusive and obscene language, personal attacks of any kind or promotion will be removed and the user banned. Final decision will be at the discretion of the Taipei Times.