Crocker sets record in butterfly
US OLYMPIC SWIMMING TRIALS Ian Crocker bettered his own mark in the 100m butterfly as Michael Phelps placed second. Gary Hall Jr. won the 50m freestyle event
Michael Phelps sure doesn't look so unbeatable now.
For the second straight day, Phelps touched the wall second at the US Olympic swimming trials -- beaten Tuesday by another world-record performance.
Ian Crocker eclipsed his own mark in the 100m butterfly to edge Phelps, whose quest to break Mark Spitz's record of seven Olympic gold medals appears more daunting than ever after 17 races over the past week.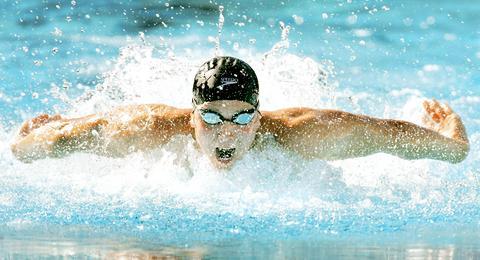 Ian Crocker on his way to breaking the world record in the 100m butterfly during qualifying for the US Olympic Team in Long Beach, California, Tuesday. Crocker completed the final heat in 50.76 seconds.
PHOTO: REUTERS
"I've never been under that kind of stress in a meet before," Phelps said. "I'm very relieved it's over."
If he thinks this was bad, just wait until the Olympics. Ian Thorpe and the rest of the world's top swimmers will be waiting, eager to deny Phelps his place in history.
Speaking of Athens, Gary Hall Jr. will be on hand to defend his title as the world's fastest Olympic swimmer after beating rival Jason Lezak in the 50m freestyle. But Brooke Bennett is done, failing to earn a chance to win her third straight gold in the 800m free.
Crocker led at the turn and withstood a challenge coming down the stretch, touching the wall in 50.76 seconds -- the sixth world record of the trials. Phelps finished in 51.15, the fourth-fastest time in history but not fast enough.
"He definitely took me out in the first 50m," Phelps said. "I couldn't play catch-up."
Aaron Peirsol beat Phelps in the 200m backstroke final Monday -- also setting a world record. Crocker's time beat the mark of 50.98 he set at last year's world championships in Barcelona.
Hall will be trying to win his second straight gold in the 50 free, having tied Anthony Ervin at Sydney four years ago. Hall equaled the sixth-fastest time in history at 21.91, while Lezak touched second in 22.05.
Their rivalry was spurred on by trash-talking and other antics by Hall, Lezak and their representatives. But the two seemed to get along just fine after the 50, shaking hands and exchanging smiles.
"There's nothing between us in the first place," said Lezak, who beat Hall in the 100m free. "We're both here to do a job. I did the job I was looking to do and I'm sure he's happy with what he did."
Ever the showman, Hall climbed atop a starting block and bowed to the cheering crowd. Then, still dripping wet and wearing nothing but his suit, he walked into the stands to hug his wife. Later, he strolled around the deck wearing a stars-and-stripes boxing robe, in keeping with his belief that the 50m is like a heavyweight fight.
"I just wanted to get to the other end of the pool," Hall said. "Last one there is a rotten egg."
Hall has eight sprinting and relay medals from the last two Olympics. He'll have a chance to add to that haul in Athens, becoming part of the first father-son duo to both qualify for three Olympics.
Bennett, who succeeded Janet Evans as the queen of American distance swimming, finished third behind Diana Munz and Kalyn Keller in the 800m free to miss a spot on the Olympic team.
Bennett won the 800m at Atlanta and pulled off a 400m-800m double at Sydney four years ago. But she hasn't been the same swimmer since undergoing surgery on both shoulders in 2001, struggling just to get out of the preliminaries.
"I gave it a good fight," Bennett said.
Munz, the 400m silver medalist in Sydney, won a great sprint to the wall in 8:26.06, barely edging Keller (8:26.33). Bennett was third at 8:29.39 -- her best time since surgery but nearly 10 seconds slower than the winning time in Sydney.
While Phelps became the first US swimmer to qualify in six individual events at the Olympics, the last two days cast serious doubts on his quest to break Spitz's record at the 1972 Munich Games.
Phelps and his coach, Bob Bowman, plan to decide in the next day or two whether to swim all six individual races in Athens, or go with a lighter schedule that might keep him stronger but give him fewer chances to beat Spitz.
Phelps has qualified for at least one relay and also wants to swim the other two, giving him as many as nine races at the Olympics.
Comments will be moderated. Keep comments relevant to the article. Remarks containing abusive and obscene language, personal attacks of any kind or promotion will be removed and the user banned. Final decision will be at the discretion of the Taipei Times.