Hewitt hungry for a little
FRENCH OPEN Aussie success in Paris is rarer than a French restaurant in the Outback, but Lleyton Hewitt has the skills, and even more importantly, he believes he can win it
A small, scrappy, resolute retriever, Lleyton Hewitt fits the profile of a French Open champion. \nExcept that he's Australian. The last player from Down Under to win the men's championship at Roland Garros was Rod Laver in 1969. \nHewitt thinks he can do it. \n"The more I play on this surface, the more confident I get," the Australian said after beating Xavier Malisse of Belgium 7-5, 6-2, 7-6 (6) in the fourth round Monday. "I believe in myself. I believe in my ability that I can match it with the best guys on this surface." \nHewitt will play for a berth in the semifinals when he faces Gaston Gaudio of Argentina on Wednesday. That would be the best effort yet at Roland Garros by Hewitt, a two-time Grand Slam champion who has never won a European clay-court title. \nLaver's run to the French Open title came the year he swept all four major events. Since then, the only Australians to reach the men's semifinals at Roland Garros have been Phil Dent in 1977 and Patrick Rafter in 1997. \nHewitt made the quarterfinals in 2001, the year he rose to No. 1, and he's ranked just 12th now. Still ... \n"I'm a lot better player on clay overall now, and more experienced, obviously, on this surface," he said. "Even when I was No. 1 in the world, I wasn't one of the big favorites, I don't think, to win this title." \nHewitt reached the quarterfinals by beating four Europeans, including No. 19-seeded Martin Verkerk of the Netherlands, the 2003 runner-up. Now he faces the unseeded Gaudio, one of four Argentines among the final eight. \nThe other quarterfinal Wednesday will match three-time champion Gustavo Kuerten of Brazil against David Nalbandian of Argentina. Kuerten, seeded 28th, beat Feliciano Lopez 6-3, 7-5, 6-4, and No. 8 Nalbandian ended No. 20 Marat Safin's wild run at Roland Garros, 7-5, 6-4, 6-7 (5), 6-3. \nSafin played with tape on both hands to cover blisters that developed during a five-set victory in the third round Saturday. He required treatment from a trainer at least seven times. \n"The hands I don't care about actually anymore, because I'm just a little bit frustrated," the former US Open champion said. "It was another big opportunity for me to fight for a title. To waste the opportunity this way is a pity." \nMalisse wasted repeated chances to extend his match against Hewitt. The Belgian held five set points in the third set and failed to close out the tiebreaker after leading 6-3. \n"I was just happy to get out of that third set and get off the court," Hewitt said. "You never know with this tournament. So many times you can have so many tough matches in the early stages, and you can wear yourself out." \nHewitt has played 16 sets in his four victories. Gaudio has played 17, including a 6-4, 7-5, 6-3 win Monday over Igor Andreev. \nThe Argentine and Hewitt are 2-2 in previous meetings and they've gone 1-1 this spring, with both matches on clay. In April, Hewitt came back from a set and 0-3 down to overcome Gaudio 1-6, 7-6 (5), 6-1 and saved two match points. \n"He's very confident on this surface," Hewitt said. "I'm still a long way away from winning the title." \nDavid Nalbandian thinks its "quite unusual." Gaston Gaudio says he's one step closer to a boyhood dream. \nArgentina has four players in a Grand Slam tournament's quarterfinals for the first time -- and perhaps that's not so shocking at the French Open, given their comfort on clay courts. \nBut tell that to them. \n"It's really surprising for everyone," said the eighth-seeded Nalbandian, who overpowered No. 20 Marat Safin of Russia 7-5, 6-4, 6-7 (5), 6-3 in the fourth round Monday. "It's incredible." \nGaudio beat another Russian, Igor Andreev, 6-4, 7-5, 6-3. \n"It's great, I never thought this could happen. To be four Argentines in the final!" said Gaudio, only once even as far as the fourth round at 20 previous majors. \nThey join compatriots Guillermo Coria and Juan Ignacio Chela in the final eight. Today, No. 3 Coria plays No. 5 Carlos Moya of Spain, and No. 22 Chela faces No. 9 Tim Henman of Britain. \nThe promising pack of Argentines is still chasing the glory of their role model Guillermo Vilas, the last Argentine to win the French Open -- in 1977. Vilas won a total of four Grand Slam titles. \nCoria, named after the former star, is considered the best clay-courter around with a 20-1 record this year. \nOn Wednesday, Gaudio meets No. 12 Lleyton Hewitt of Australia, while Nalbandian faces three-time French Open champion Gustavo Kuerten of Brazil. \nThere's another big Argentina-Brazil clash Wednesday: The countries' soccer teams square off in a World Cup qualifier. \n"Let's hope it's a victory -- 2-0," Nalbandian said. \nDIVIDED LOYALTIES \nKim Clijsters might have been divided over how to root when her fiancee Lleyton Hewitt faced Xavier Malisse. \nClijsters cheered for Malisse, a fellow Belgian, when he played 2002 French Open champion Albert Costa in the third round. \nBut Monday, she clapped only for Hewitt. \nHewitt, a former No. 1 and two-time major champion, cruised past fourth-round opponent Malisse 7-5, 6-2, 7-6 (6). \nOften, after hitting winners, Hewitt would glance over at Clijsters in the stands. Other times, he cheered himself on with cries of "Come on!" \nBAD LANGUAGE \nMarat Safin's argument is this: If other professional athletes can swear without getting fined, why not tennis players? \n"You haven't seen the soccer players? I mean we are pretty decent compared to them," Safin said, noting also that National Football League and National Basketball Association players in the US tend to use "a lot of good words" during games -- without penalty. \nPrompted by a reporter's question, Safin returned to his discussion of what's wrong with his sport. He said tennis has too many rules, which are sapping entertainment value for viewers. \nThe Russian, who is seldom shy about expressing his emotions on or off court, was fined US$500 earlier in the tournament for throwing a racket.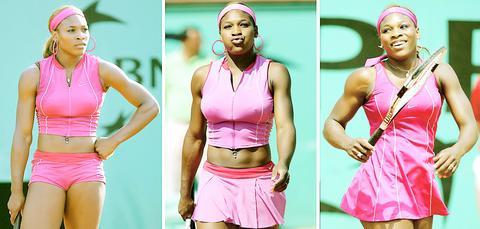 Serena Williams' outfits during her first three matches at the French Open in Paris. The American has her own line of clothing for on and off the court.
PHOTO: AFP
Comments will be moderated. Keep comments relevant to the article. Remarks containing abusive and obscene language, personal attacks of any kind or promotion will be removed and the user banned. Final decision will be at the discretion of the Taipei Times.