Safin defeats Mantilla in long match
FRENCH OPEN After a shot he hit for a winner, Marat Safin grabbed his shorts, pulled them down to his thighs and bent over. The umpire then penalized him one point
Marat Safin celebrated a particularly nifty shot at the French Open by mooning the crowd, which raised the question: What will he do if he wins the tournament?
The mercurial Russian advanced to the third round Friday by winning a two-day marathon against Felix Mantilla, 6-4, 2-6, 6-2, 6-7 (4), 11-9. The match was suspended Thursday because of darkness at 7-all in the fifth set and ended 24 minutes after it resumed when Mantilla sailed a backhand long.
Afterward, Safin was still annoyed about being penalized a point for dropping his shorts early in the fifth set Thursday.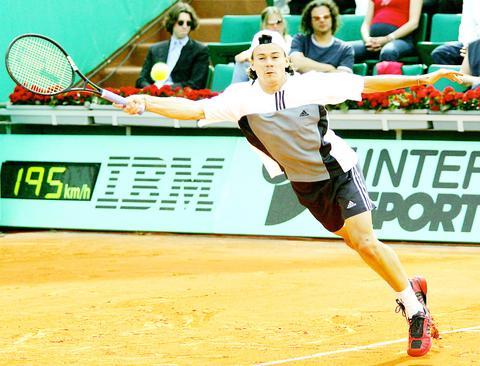 Argentine Guillermo Coria hits a return to Croatian Mario Ancic in the third round of the French Open at Roland Garros in Paris, Friday. Coria won the match 6-3, 6-1, 6-2.
PHOTO: EPA
"I felt it was a great point for me," the former US Open champion said. "I felt like pulling my pants down. What's bad about it?"
To celebrate a drop shot he hit for a winner, Safin grabbed his shorts, pulled them down to his thighs and leaned over. It appeared he wore underwear that remained in place, partially obscured by his long shirt. The crowd cheered and laughed.
"Nobody complained," Safin said. "Everybody was OK. It wasn't like really bad."
He hitched up his pants with a smile, but it disappeared when chair umpire Carlos Bernardes Jr. penalized Safin a point. The Russian argued in vain with Bernardes and ITF supervisor Mike Morrissey, then applauded the ruling facetiously before play resumed.
Safin said tennis officials discourage making the sport fun.
"They tried to destroy the match," he said. "All of the people who run the sport, they have no clue. It's a pity that the tennis is really going down the drain. Every year it's getting worse and worse and worse. There has to be a radical change, and I hope it will be really soon."
Grand Slam supervisors decided not to fine Safin for dropping his pants. He was fined US$500 for abusing his racket earlier in the match.
Top women's player Lindsay Davenport, long a paragon of tennis etiquette, agreed with Safin that the point penalty against him was an overreaction.
"I thought it was a little uncalled for," she said. "He definitely wasn't doing it in a fit of anger. They're always telling us to lighten up anyway."
Davenport, seeded fifth, reached the fourth round by beating American compatriot Marissa Irvin 6-1, 6-4.
No. 3 Amelie Mauresmo of France beat Arantxa Parra Santonja 6-3, 6-2. Mauresmo and Davenport could meet in the quarterfinals.
Zheng Jie became the first Chinese woman to reach the fourth round in a Grand Slam event by beating Tathiana Garbin 5-7, 7-6 (1), 6-2. Garbin upset defending champion Justine Henin-Hardenne in the second round.
No. 18 Maria Sharapova defeated fellow Russian Vera Zvonareva 6-3, 7-6 (3). Russian Nadia Petrova, a semifinalist last year, was upset by Marlene Weingartner 6-3, 6-2.
Petrova, seeded eighth, had five double-faults and lost her serve seven times. Her defeat guarantees a first-time Grand Slam semifinalist in that quarter of the draw.
"I'm very disappointed," Petrova said. "This French Open is screwed up. It's a very open draw this year. Anyone can be in the final."
Weingartner, 24, matched her best Grand Slam performance by reaching the round of 16. She lost to Petrova 6-0, 6-0 in their only previous meeting, which was last year.
"She's the type of player who can play unbelievable, and the next day she can play the worst," Petrova said.
Another Russian, No. 9 Elena Dementieva, advanced when No. 19 Anna Smashnova-Pistolesi retired in the third set because of cramps. Dementieva trailed 0-6, 7-6 (2), 0-1.
No. 14 Paola Suarez beat Tatiana Perebiynis 6-3, 6-3. No. 21 Magdalena Maleeva eliminated American Meghann Shaughnessy 6-3, 7-6 (3).
Fabrice Santoro's marathon run through the men's draw ended when he lost to fellow Frenchman Olivier Mutis 6-0, 6-2, 6-3. Santoro played the longest match of the Open era in the first round, and his three matches totaled 11 hours, 34 minutes.
It was a day of drubbings among the men. No. 3 Guillermo Coria, No. 5 Carlos Moya and No. 17 Tommy Robredo advanced, and none lost more than seven games.
Moya, the 1998 champion, won the first nine games and eliminated Raemon Sluiter 6-0, 6-3, 6-4. Coria beat Mario Ancic 6-3, 6-1, 6-2. Robredo defeated No. 11 Nicolas Massu 6-2, 6-0, 6-2.
No. 9 Tim Henman's match was close for one set. He reached the fourth round for the first time in nine appearances at Roland Garros by beating Galo Blanco 7-6 (3), 6-1, 6-2.
Two-time runner-up Alex Corretja lost to No. 22 Juan Ignacio Chela 6-4, 6-4, 4-6, 6-3.
Zheng Jie became the first Chinese woman to reach the fourth round of a Grand Slam event -- and her government will profit.
By winning on Friday at the French Open, Zheng is guaranteed 54,570 (about US$66,600). But most of it will be returned to the Chinese tennis machine.
"I can keep some percent," Zheng said through a translator after beating Tathiana Garbin of Italy 5-7, 7-6 (1), 6-2. Garbin's previous match was a victory over 2003 champion Justine Henin-Hardenne.
Zheng, 21, said successful Chinese players provide financial support for the system that helps them progress.
"The Chinese tennis association spends a lot of money on the players to let them travel abroad," Zheng said. "All the expenses are covered."
The previous best showing by a woman from China at a major tournament was Li Fang's run to the third round in the 1992 Australian Open.
Zheng faces Paola Suarez of Argentina on Sunday. No Chinese woman ever has won a WTA Tour event.
HOMETOWN CHEERS
Playing against a Frenchwoman before a partisan Parisian crowd appeals to Lindsay Davenport.
"That would be exciting," said fifth-seeded Davenport.
"It would be an exciting atmosphere to have the crowd against you and to see what you can pull off."
Davenport, who owns titles at every Grand Slam but Roland Garros, could meet No. 3 Amelie Mauresmo of France in the quarterfinals if both win on Sunday.
Each made quick work of their third-round matches on Friday. Davenport swept fellow American Marissa Irvin 6-1, 6-4, while Mauresmo beat Arantxa Parra Santonja of Spain 6-3, 6-2.
"I would love to be able to get through the next round and get a shot at Amelie in the quarters," Davenport said.
FINISH LINE
Fabrice Santoro's marathon run through the men's draw ended on Friday after 11 hours, 34 minutes of tennis in three matches.
"I don't think there's anywhere that doesn't hurt," he said.
Santoro lost in the third round to fellow Frenchman Olivier Mutis 6-0, 6-2, 6-3.
"The problem is that as soon as I had done two rallies, I had my heart in my throat," Santoro said. "I couldn't breathe. When the ball was 3m away, it felt as if it were 30 meters away."
Santoro played 136 games in three rounds, including the longest timed match of the Open era, which spanned the first two days of the tournament.
Mutis upset No. 2 Andy Roddick in the second round.
STILL PLAYING
With more work to be done, Tim Henman is happy to remain in Paris for at least another couple of days.
The No. 9-seeded Henman advanced to the fourth round for the first time in nine appearances at the French Open by beating Galo Blanco of Spain 7-6 (3), 6-1, 6-2 on Friday.
"I've spent plenty of weekends in Paris but they've usually [been] before the tournament starts, not in the middle of it," Henman said. "I'm happy to stay here as long as my hotel will have me."
Henman's grandfather, Henry Billington, reached the fourth round at Roland Garros in 1939. Henman next faces Frenchman Michael Llodra, who was 0-4 at Roland Garros until this year.
BACK TO DOUBLES
Martina Navratilova hasn't spent much time on the court so far at Roland Garros.
Navratilova and Lisa Raymond were up 6-2 in their second-round doubles match against Samantha Reeves and Tathiana Garbin, when Garbin retired with leg cramps. The match lasted 33 minutes.
Garbin had just lost her singles match against Zheng Jie.
On Tuesday, the 47-year-old Navratilova played her first Grand Slam singles match in 10 years. The comeback lasted barely an hour, and she lost to Gisela Dulko of Argentina.
Navratilova, the French Open singles champion in 1982 and 1984, has 31 Grand Slam doubles titles.
Comments will be moderated. Keep comments relevant to the article. Remarks containing abusive and obscene language, personal attacks of any kind or promotion will be removed and the user banned. Final decision will be at the discretion of the Taipei Times.