Schumacher has history in his sights
FLYING GERMAN The Ferrari driver just needs one point to take an unprecedented sixth world championship crown after winning in Indianapolis
Michael Schumacher arrived in the US looking for a Formula One showdown and he left on Sunday with one rival's title hopes dead and buried and another's barely alive. \nThe Ferrari hot shot must wait two more weeks for his unprecedented sixth crown but his US Grand Prix win killed off the challenge of Williams's swashbuckling Colombian Juan Pablo Montoya. \nOnly Finland's Kimi Raikkonen, 11 years the German's junior, remained a potential danger as Formula One's closest championship duel in years suddenly looked like a foregone conclusion. \nOne point is all Schumacher needs. \n"We still have a chance in Japan but it's more difficult now," 23-year-old Raikkonen told reporters. \nSchumacher has won for the last three years in Suzuka and will again be favorite on Oct. 12. He has 92 points to Raikkonen's 83. \nFerrari also regained the lead in the constructors' championship, although that battle is far closer with Williams three points behind and 18 at stake. Raikkonen's McLaren team are now out of contention in third place. \nThe post-race mood in the paddock was flat, apart from Ferrari celebrating their second win in a row after being lambasted at home in August as a team in crisis. \nThe suggestion that the title battle was all over bar the shouting could not be used for Montoya, for whom it was simply all over. \nHis army of supporters, who packed the main grandstand with their Colombian flags and banners of support, stopped their shouting long before Schumacher took the chequered flag as a race winner for the 70th time in his career. \nSchumacher refused to take anything for granted, even though history clearly beckoned. \n"Obviously, it's a very good position for us to start the last race," he said. "We just need one point basically. But you never know. \n"It was just outstanding in Monza," he said, referring to his last win in Ferrari's home race. "This tops it again. Who knows what will be the next? \n"I'm just so delighted and happy about the way things have gone. If you see everything, the amount of pressure that is on is still there, although you handle it. It's just so beautiful when you get the result in like that." \nThe irony of this most unpredictable of seasons is that Ferrari, whose runaway dominance last year led to a major rewriting of the rule book, are close to turning the clock back to where it was. \nThere have been first-time winners and a knife-edge championship battle has been fought but Ferrari and Schumacher remained ahead of the rest on Sunday. \nEqually important, the luck that seemed to have deserted Schumacher had clearly returned. \nTires were critical and Bridgestone, outgunned by Michelin in the European heat wave, came into their element in the colder North American conditions. \nPossibly the critical moment of Schumacher's race was when he made his first pitstop after his rivals and then came in again straight away to change to wet tires while others continued on less suitable rubber. \nSuzuka, Bridgestone's home track, is unlikely to offer Raikkonen as much of a chance as Indianapolis but his team were still ready to clutch at any straws. \n"There is still a tiny chance to win the world championship and that means that we will continue to fight in the last round at Suzuka," said Mercedes motorsport boss Norbert Haug.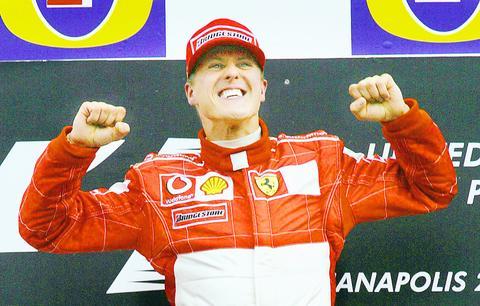 Ferrari driver Michael Schumacher celebrates after winning the United Stated Grand Prix Formula One race at Indianapolis Motor Speedway on Sunday.
PHOTO: AP
Comments will be moderated. Keep comments relevant to the article. Remarks containing abusive and obscene language, personal attacks of any kind or promotion will be removed and the user banned. Final decision will be at the discretion of the Taipei Times.