Damon gets three hits in an inning
Johnny Damon became the second player in Major League Baseball history with three hits in one inning and the Boston Red Sox scored 14 times in the first inning in a 25-8 rout of Florida on Friday.
Boston's leadoff hitter had a single, double and triple in the bottom of the first inning as the Red Sox set a major league record by scoring 10 runs before surrendering an out.
South Korea's Kim Byung-hyun rose to 2-1 by pitching the record-setting triumph, allowing five runs and seven hits in five innings with two walks and four strikeouts.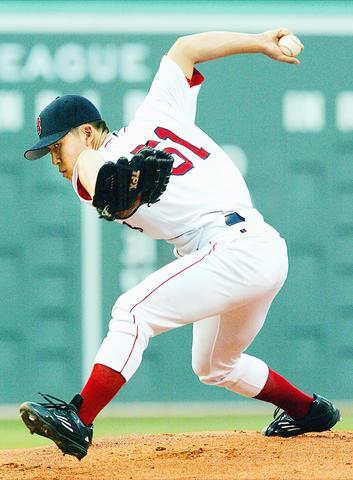 Boston's Kim Byung-hyun pitches to the Florida Marlins in the first inning at Fenway Park on Friday.
PHOTO: REUTERS
The only triple-hit inning before Damon's effort came by Boston's Gene Stephens in the seventh inning against Detroit on June 18, 1953, when the Red Sox established a major league record for runs in an inning with 17.
"Three hits. How about three at-bats? That doesn't happen too often [in one inning]," Damon said. "I had one of my worst batting practices of the year too. I'm definitely going to cherish it."
Damon went 5-for-7 at the plate as Boston tied another team mark with 28hits. Bill Mueller had four of them and drove in a career-high six runs as the Red Sox won their fifth game in a row.
"Our bats were rolling," Damon said."We had a few bloops in there, but our team came out swinging and it was wild."
The 25 runs was the second-highest total in team history, surpassed only by a 29-4 victory over the St. Louis Browns on June 8, 1950, when the Red Sox also collected 28 hits.
"I hope we come out fired up tomorrow," said Marlins manager Jack McKeon,who accused the Red Sox of running up the score. "I never thought this would happen. First time in my career I've seen 10 runs scored without an out."
In the historic first inning, the Marlins made two pitching changes before Allen Levrault got Nomar Garciaparra on a foul pop-up to catcher Ivan Rodriguez for Boston's first out of the game.
The first 11 Red Sox reached safely against starter Carl Pavano and Michael Tejera.
Every Boston starter had at least one hit in the first, with Walker delivering a pair of RBI singles and Kevin Millar contributing a run-scoring single and a sacrifice fly. Manny Ramirez hit a three-run homer in his first at-bat.
It could have been worse for the Marlins as Mueller easily was thrown out at the plate trying to score on Damon's third hit to finally end the 50-minute, 91-pitch inning. The Red Sox collected 13 hits in 14 at-bats in the frame.
"It was miserable. It was embarrassing," Marlins third baseman Mike Lowell said. "I've been in parts of innings where it's usually a lot of walks and a big hit, not just hit after hit after hit."
The 14 runs matched an American League record for the first inning, set by Cleveland against the Philadelphia Athletics in the second game of a 1950 double-header.
There was a scary moment in the bottom of the seventh, when Florida reliever Kevin Olsen was hit on the back of the head by a line drive off the bat of Todd Walker. He was conscious when carried from the field on a stretcher and taken to a nearby hospital, where he was listed in good condition.
"It was tough to watch," Walker said."I heard he was OK, but you hate to see that. You hate to see anybody get hurt accidentally. The game didn't seem so important after that."
A warning was issued by plate umpire Mark Carlson after Marlins right hander Blaine Neal hit David Ortiz in the bottom of the eighth. The night became even more bizarre in the ninth, when Boston's Hector Almonte threw behind Andy Fox and was ejected.
Both benches emptied and Ortiz had to be restrained from going after Neal, although no punches were thrown.
The Marlins' anger surfaced in the seventh when Walker was thrown out at the plate trying to score on Doug Mirabelli's flyout to center field with the Red Sox leading, 21-5.
Comments will be moderated. Keep comments relevant to the article. Remarks containing abusive and obscene language, personal attacks of any kind or promotion will be removed and the user banned. Final decision will be at the discretion of the Taipei Times.